At the Jomo Kenyatta University of Agriculture and Technology (JKUAT) in Kenya, JICA ex-participants involved in education and research are taking on the challenge of developing ventilators. The demand for ventilators is expected to surge due to an increase in the number of patients. This article is the third in the series which features ex-participants of JICA trainings who have returned to their respective countries and pursue efforts to fight COVID-19.
Development members including ex-participants assembling ventilators at Jomo Kenyatta University of Agriculture and Technology (JKUAT)
Utilizing programming knowledge to develop ventilators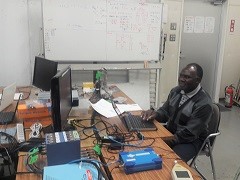 Technical Officer Daniel Omondi, at the time of his participation in "Mechanical and Production Engineering Training towards Innovation through Acoustics Engineering Studies " at Tottori University
"The knowledge and skills in computer numerical control (CNC) programming and machining that I learned at Tottori University are now being utilized in the design of ventilator equipment and in the manufacture of ventilator components under development."
This was said by one of the members of the development team, senior technologist Daniel Omondi of the College of Engineering & Technology at JKUAT. He is a former participant of the "Mechanical and Production Engineering Training towards Innovation through Acoustics Engineering Studies" held at Tottori University for the development of industrial human resources in Kenya. Taking advantage of the lessons learned in training, he now is involved in development.
"In the development of ventilators, I am responsible for the selection of materials and the size of the machines, as well as the molding and design process of parts, using materials sourced from the university. In addition, I design missing parts and check whether the ventilator works properly," he says.
Boniface Kariuki, an acting chief technologist of the development team, says, "in addition to the programming skills learned in Japan, our attitude toward accurate research and development is also leading to improved productivity and efficiency." Mr. Kariuki was a participant of the first batch of the Master's Degree and Internship Program of African Business Education Initiative for Youth (ABE Initiative). He studied at the Graduate School of Environmental Science, Hokkaido University, for two years from 2014.
"The development team has no researchers or engineers who have been involved in the development of these medical devices, and it is not easy to incorporate the necessary actions for patients using ventilators. However, all team members are working hard on the development amid the fumbling situation of repeated trial and error," he describes the new challenge.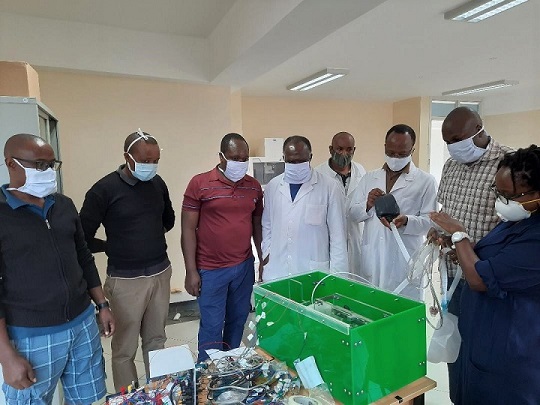 Development members discussing how to manufacture the ventilators. Fourth from right is Mr. Kariuki and on his left is Mr. Omondi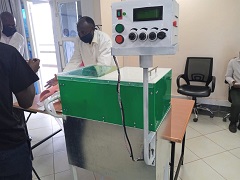 A ventilator under development at JKUAT
According to the Kenyan Ministry of Health, as of June 23, a total of 4,797 COVID-19 infections (125 deaths) were reported. To compensate for the shortage of ventilators due to the spread of infection, ex-participants are proceeding with their development in the face of many constraints, such as the difficulty of obtaining parts, with restrictions on moving between cities, and due to store closures.
Promoting practical "manufacturing"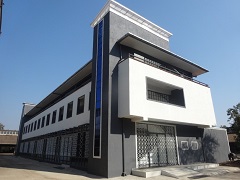 The Engineering Workshop's iPIC: Innovation and Prototyping Integrated Center, at JKUAT
"This ventilator is characterized by its ability to use sunlight as a power source, its lightness, ease of transport, and portability. Also, 85 percent of the parts are procured and manufactured domestically," says Benard Ikua, deputy vice chancellor (administration) of JKUAT. This ventilator is being developed at the University's Engineering Workshop's 'Innovation and Prototyping Integrated Center (iPIC)'.
Prof. Ikua studied mechanical engineering at Tottori University's Faculty of Engineering from 1996 to 2002 and received his Ph.D. Based on the Tottori University's Manufacturing Education Practice Center as a model, he led to set up a manufacturing center at JKUAT. Completed in 2017, the center's efforts to develop practical manufacturing methods have led to the development of this ventilator.
JKUAT is working on the development of ventilators and disinfectants as well as web-based infection trend prediction systems and applications to trace the history of infected persons' contacts in order to fight the spread of COVID-19 infections.
Since 1977, JICA has been providing support to JKUAT through the provision of equipment and technical cooperation. Currently, JKUAT is one of Kenya's leading universities in sciences, technology and innovation. Furthermore, in the graduate university initiative (Pan-African University) launched by the African Union in 2010 to improve the level of higher education in the region, JKUAT has been designated as a hub university in the field of basic science and technological innovation. It has been playing an essential role as a hub university in the African region, accepting a large number of international students from various African countries every year.