The ties and networks of ex-participants are helping to overcome the crisis. In the fourth of the series of ex-participants, who are making use of their learning in Japan to fight COVID-19 in their respective countries, we feature ones in Nepal and Bhutan.
In a world surrounded by the COVID 19 pandemic, online seminars are being held as part of knowledge sharing, information dissemination, and discussions, primarily to overcome the cross-border crisis. Similarly, a webinar was held between Nepal and Bhutan, where ex-participants of JICA Alumni Association participated, in order to discuss the countermeasures against the virus. This was the first such seminar to be undertaken between the participants.
Some of the major extracts from the seminar are presented as below;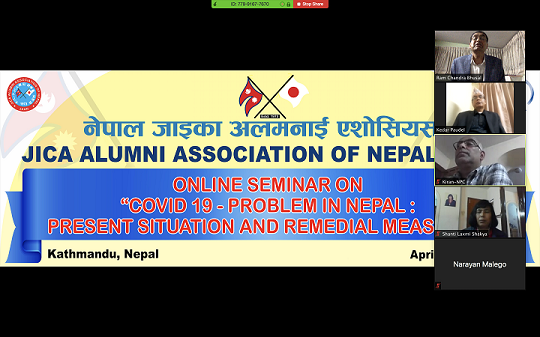 Online seminar hosted by ex-participants from Nepal and Bhutan
One hundred and ten senior government officials and ex-participants from both countries joined in
In Nepal and Bhutan, although the spread of infection has been suppressed to a certain extent (see Note), an online seminar was held at the end of April in order for ex-participants to share the necessary knowledge and effective countermeasures under unpredictable circumstances. Approximately 110 people participated, including high-ranking officials from both countries, ex-participants, and their families. For two and a half hours, discussions were held on the current status of COVID-19, effective measures currently being implemented by both governments, and the future economic impact of the virus. These discussions provided an opportunity for participants to learn from each other.
Note: According to the governments of both countries, as of June 28, Nepal had 12,772 COVID-19 infections (28 deaths) ; Bhutan 76 infections (zero deaths).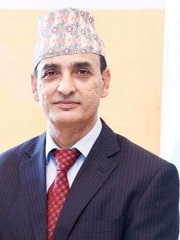 Dr. Basu Dev Pandey of the Epidemiology and Disease Control Division, Ministry of Health and Population of Nepal
"Through JICA's training, I learned not only various diagnostic techniques but also policy and decision-making. The knowledge and skills I gained through this training are now instrumental in combating the virus. I hope that the participants in both countries will utilize the knowledge they have gained through this seminar in their future lives and work," says one of the presenters at the online seminar, Dr. Basu Dev Pandey, Director of Epidemiology and Disease Control Division, Ministry of Health and Population of Nepal.
In 1995, he was a participant of a JICA training program on "research in tropical medicine" at Nagasaki University. He returned to Japan in 2000 and earned a doctorate at the university. He served as a visiting professor at the university between 2001 and 2003. Subsequently, taking advantage of what he learned in Japan, he contributes to policy decisions in the field of health as the Director of the Sukra Raj Tropical and Infectious Disease Hospital in Nepal.
Dr. Pandey is currently responsible for the development of guidelines for measures against COVID-19, coordination with domestic medical institutions, research institutes, and municipalities, and collaboration with WHO. At the seminar, in addition to discussing the current situation in Nepal, he talked about how the government has been responding to the COVID-19 pandemic despite the limitations on equipment and necessary human resources.
With regards to the holding of this online seminar, Dr. Ram Chandra Bhusal, President of JICA Alumni Association Nepal (JAAN), says, "The purpose of this online seminar is not only to share correct knowledge about the virus but also to provide participants and their families with opportunities to think about COVID-19 and to raise their awareness. The most important thing is to protect the lives of people in the community, their families, and themselves. I believe that the sharing of knowledge at this seminar will lead to overcoming the crisis in each region and country as soon as possible."
Utilizing medical waste disposal training
Yangchen Lhamu, Vice President of JAAB, on the online seminar explaining how Bhutan is dealing with COVID-19 and its impact on society
During the online seminar, Yangchen Lhamu, Vice President of JICA Alumni Association Bhutan (JAAB), explained Bhutan's countermeasures against COVID-19. Some of the ex-participants from Bhutan expressed their feelings that, "Effective responses to COVID-19 seem to be occurring globally and the experience of other countries could be utilized in Bhutan."
In Bhutan as well, a number of ex-participants are active on the front line in the fight against COVID-19. One of them, Pem Zam, a program analyst at the Ministry of Health, is struggling every day to prevent in-hospital infections and on the issue of proper disposal of medical waste. In 2016, she participated in the "Program for the Specialist of Healthcare-Associated Infection Prevention and Control" conducted by JICA Tokyo. After returning to Bhutan, she made use of her training to prepare guidelines for treating infectious diseases and the handling of medical waste in the country. These guidelines are now playing an important role.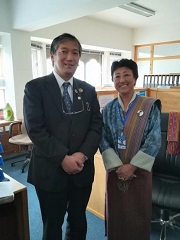 Pem Zam (right), a program analyst at the Ministry of Health of Bhutan, and WATANABE Kozo, Chief Representative, JICA Bhutan Office
To prevent the spread of COVID-19, everyone returning to Bhutan are required to quarantine for three weeks. This results in the generation of 500 kilograms of waste per day from quarantine facilities. In the face of these challenges, Ms. Pem Zam is working to acquire funds, select a location, and obtain permits to introduce Bhutan's first incinerator. "The results of the training are being utilized in the fight against the coronavirus in Bhutan," she says.
More than 6,000 people from Nepal and over 2,000 people from Bhutan have participated in various JICA training programs to date. In the face of the global crisis of the spread of COVID-19, ex-participants are making use of the knowledge and skills they acquired in Japan in their respective countries. Furthermore, the network formed through training in Japan transcends borders and is a powerful driving force for overcoming these difficulties together.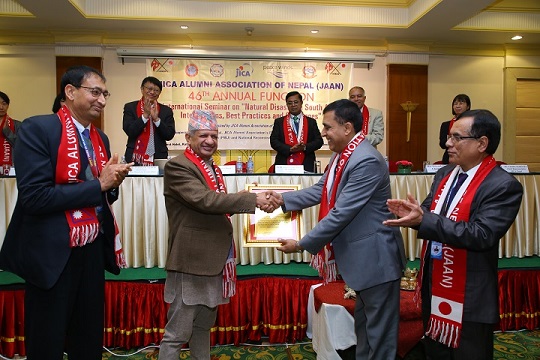 The alumni meeting of the South Asia JICA Ex-Participants' Association held in Nepal last December was attended by ex-participants from India, Bangladesh, Bhutan, and the Maldives. Lively discussions were held on the theme of "disaster reduction," which is a common issue in South Asia. The ex-participants' network has become a major force for solving local issues