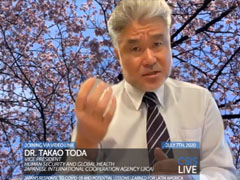 On July 7th, Dr. Takao TODA, JICA Vice President for Human Security and Global Health, made introductory remarks at an event on "Japan's Response to Covid-19 and Potential Lessons Learned for Latin America" hosted by the Center for Strategic International Studies (CSIS). Dr. Toda emphasized the importance of global networks among countries including Japan, the U.S. and Latin American in supporting the efforts of the free, democratic world to defeat COVID-19, by building trust and resilience in societies, including resilient health systems.

Dr. Toda discussed three crucial pillars for a successful COVID-19 response in Latin America and beyond: 1) "maximum utilization of the wisdom, experiences and information available in the world, 2) "sincere and transparent political leadership," and 3) "power of the people." Providing an example of political leadership, Dr. Toda lauded the actions of the Costa Rican Minister of Health, Dr. Daniel Salas Peraza, and Mr. Alexander Solís Delgado, President of the National Emergency Commission (CNE) of Costa Rica—two exemplary leaders who have effectively led the containment of COVID-19 in their country. He also praised the production of simple, low-cost ventilators and Personal Protective Equipment (PPE) through industry-university-government collaborations across the region. Finally, he described the importance of knowledge and information sharing between Japan and LAC countries. In this vein, he provided examples of promising collaboration initiatives, including COVID-19 case examinations jointly conducted by University of Campinas in Brazil and Chiba University, and webinar sharing Japan's experience to address Mexico's issues in the provision of mental health support for vulnerable children.

On Japan's COVID-19 response, Dr. Michael Green, Senior Vice President for Asia and Japan Chair at CSIS, described Japan's handling of the COVID-19 outbreak as successful for a variety of reasons, including an adequate emphasis on prospective and retrospective tracing, robust natural disaster preparedness, nearly complete realization of universal health coverage, and country-wide availability of public health clinics. Praising Japan's strengths, Dr. Green asserted that other countries have lots to learn from Japan. He also reasoned that Japan is now considered the "most trusted partner" in Southeast Asia, largely due to the long history of Japanese Official Development Assistance to the region. He also exalted the human networks that JICA has built in Southeast Asia, and commended JICA for tapping on those networks to provide quick and effective responses to the COVID-19 pandemic. He contended that Latin America could get more out of Japan utilizing the strong historical ties between Japan and Latin America.

Meanwhile, Ms. Katie Taylor, Executive Director of the Pan-American Development Foundation (PADF), noted that Latin America is the epicenter of the COVID-19 outbreak in the world and argued that Japan/JICA has a lot to offer to Latin American and Caribbean countries in terms of assistance for disaster preparedness, digitalization, and improvement of health systems.

Mr. Runde, Senior Vice President of CSIS, who moderated the event, spoke about opportunities for Japan-LAC collaboration in the post COVID-19 era, including fostering a digital transformation and revisiting supply chains. In response, Dr. Green commented that Japanese companies are trying to reduce their risks by diversifying supply chains, and also said that APEC member countries and FTA signatory countries enjoy certain advantages to achieve supply chain diversification. He also voiced concerns about the fact that, while some countries such as the U.S., Japan, Vietnam and the UK are banning Huawei from building 5G networks for them due to security reasons, countries in Latin America may be tempted to open their doors to Huawei, lured by promises of a holistic digital infrastructure package at a marginal cost.