Ex-participants, who returned to their home countries after a training course in Japan with JICA, are fighting COVID-19, but they are not limited to people in the field of medicine. In this article, the fifth in the series of ex-participants, we feature ones in Malaysia and Palestine who provide crucial social services such as mental care counseling and contaminated waste management.
Establishment of a Psychosocial Support Hotline: Malaysia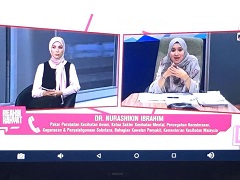 Dr. Nurashikin binti Ibrahim, head coordinator (right), explaining the hotline on a major local satellite broadcast
"'In the event of sudden large-scale damage, human and economic cooperation is needed not only from the relevant departments and agencies but also from other ministries, agencies, and NGOs.' This lesson learned from JICA's course led to the establishment of 'COVID-19 Psychosocial Support Hotline' in cooperation with NGOs."
This is voiced in tandem by Dr. Nurashikin binti Ibrahim, head coordinator, Mental Health and Psychosocial Support Services, and Ruhana binti Mahmod, head of Psychology Counselling Department of the Ministry of Health of Malaysia.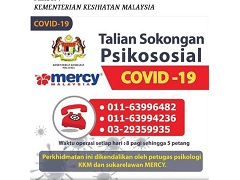 COVID-19 Psychosocial Support Hotline website
A total of 15 officials from the Ministry of Health and 30 volunteers from the NGO are working on the hotline. They give a helping hand to citizens who suffered from various issues such as stress, anxiety, depression, suicidal ideation, suicide among primary relations, family conflicts, violence, and financial distresscaused by COIVD-19. The counseling staffs listen sincerely to each of these issues, provide advice on how to relieve stress, and consult with specialized agencies.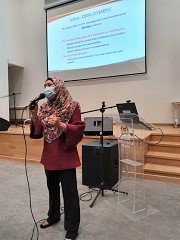 Head Coordinator Dr. Nurashikin briefs the staff before the counseling commences
"The mental health of healthcare providers addressing citizens' concerns is also important. The mental health preparedness is another thing we recognized during the course." JICA's course, which was attended by Dr. Nurashikin and others, was LEP (Look East Policy) 2.0 Psychosocial Response for Disaster. Specialists in the medical and psychological fields of Malaysia learned psychological care for victims after a disaster. They also visited disaster-stricken areas in Japan, such as Hyogo Prefecture and Kumamoto Prefecture, and inspected mental care initiatives of local governments for residents. Over a three-year period beginning in FY 2017, 32 people have participated from Malaysia.
Dr. KATO Hiroshi, director of the Hyogo Institute for Traumatic Stress, the partnership organization of the course, and Dr. OSAWA Tomoko, chief researcher of the institute, sent the following hearty cheers on the activities of Dr. Nurashikin.
"After returning to your home country, I believe that the knowledge, conviction, and network of participated colleagues that you acquired during your time in Japan is being utilized to the fullest extent possible to prepare for disasters, including coronavirus. Going forward, please continue to bring out the resilience of the citizens and create a living environment for them in a Malaysian style. And don't forget to take care of yourself, too."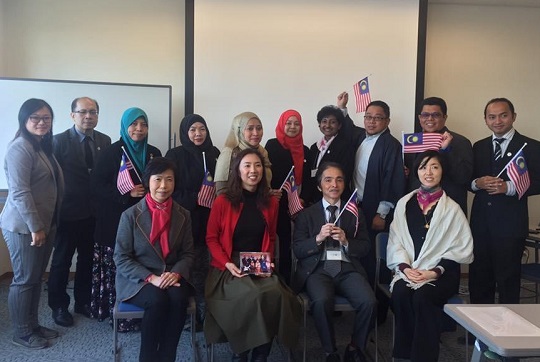 Malaysian participants celebrate their course completion with Dr. Kato and Dr. Osawa in JICA Kansai (February 2018)
In order to disseminate the knowledge that ex-participants have learned, they have been preparing educational awareness materials and guidelines based on their experience in Japanese disaster countermeasures, as well as holding seminars and exchanges of opinions with other ministries and NGOs. With regard to public awareness-raising initiatives through television and radio, they have set a goal of conducting awareness activities at least once a year. This year, in response to heightened anxiety about the COVID-19, more than five such activities have already been implemented.
According to the Malaysian Ministry of Health, as of June 29, 8,637 people were infected (121 deaths). With the exception of illegal foreign workers, the number of infected people is on the decline. However, the Recovery Conditional Movement Control Order was introduced until Aug. 31, barring international borders. It is still expected that the Psychosocial Support Hotline will continue to play its role.
Preventing the spread of infection in the Gaza Strip through appropriate treatment of medical waste: Palestine
The Palestinian Gaza Strip is densely populated and has a fragile medical system, so there is a danger of an explosive spread of the COVID-19 infection. As of June 29, there were 72 people infected with the virus (one death) in the Gaza Strip. All of those affected are returnees to Gaza from outside the territory, and have been confirmed to be infected while waiting in quarantine. There are no infections outside of the facility.
Ali Barhoum, director of the Southern Regional Administrative Council of the Gaza Strip
Ali Barhoum, director of the Southern Regional Administrative Council of the Gaza Strip, is responsible for the management of medical waste at quarantine facilities as preventive measures at the border. This proper management is important so that the virus not be transmitted into the Gaza Strip. His task covers collecting and disposing of waste from quarantine facilities where Gazan residents returning from outside the territory must wait until they are tested to be negative.
Mr. Barhoum visited Japan approximately 25 years ago, immediately after the Palestinian Authority's establishment, and participated in JICA's training on waste management. Now, he takes the lead as the head of waste management in southern Gaza. Since 2017, he has been working with JICA to strengthen the management system for medical waste in the Gaza Strip. "This initiative has proven effective in responding to the current COVID-19 crisis," he says.

"It is possible that waste discharged from the quarantine facility may be contaminated with viruses. Therefore, appropriate infection control measures are required for treatment. Workers wear masks, gloves and so on. The collected waste is sterilized and transported to the final landfill site according to the prescribed procedure," Mr. Barhoum explains. The establishment of a management system has led to appropriate responses in the event of an emergency. He goes on to say, "The techniques to comprehensively manage the technical and financial aspects that we learned during the training are being utilized in the current operations."


(Right) Medical waste sorted and sterilized from medical institutions is collected in special containers
(Left) Workers disinfecting vehicles for waste transport

In central and southern Gaza, which is under the jurisdiction of the Gaza Southern Regional Administrative Council, approximately 2,500 people have been quarantined at 13 facilities, and 6 tons of waste have been discharged since the Health Authority started quarantines. To contain the infection, safe and appropriate waste management is in operation at quarantine facilities to protect 920,000 people in central and southern Gaza from the threat of the virus.