Timor-Leste is the youngest country in Asia, which gained independence in 2002. Since April 2000, before its independence, JICA has been assisting in the national development in Timor-Leste. Over the following 20 years, Timor-Leste entered a period of reconstruction, forming the foundation of the country, and now is embarking on a period of development, extending economic growth and stability in daily life to all the people of the country.
Among the support of a wide range of fields, the development of human resources responsible for nation-building has been the most important priority among the forms of assistance. We look back at the progress of cooperation in the area of human resources development in order to enhance higher education, including teacher training at the Faculty of Engineering, Science and Technology (FoEST) of the National University of Timor-Leste (UNTL).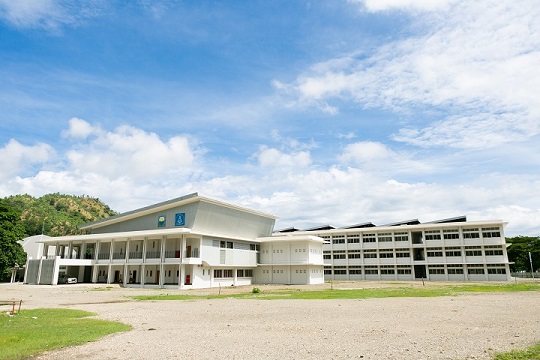 The new building of the Faculty of Engineering, Science and Technology, National University of Timor-Leste, which was completed in January 2020 with the support of Government of Japan. As the country's only national university's engineering faculty, it is at the core of human resource development in technology
Passing on knowledge and experience gained over 20 years
"Everyone is easy-going in Timor-Leste. At the beginning of my assignment, it was common for university instructors and undergraduates to be late for practical training or lectures. In response, we came up with 'Shinkansen Time,' using an analogy from the Japanese Shinkansen (bullet train) time schedule, and made punctuality our slogan."
Saying this with a laugh is SHIMAKAWA Koichi, professor emeritus of Gifu University, who has been teaching at FoEST-UNTL as an expert in electronics and electrical engineering since 2003. "Shinkansen Time," which keeps schedules firmly in place, has gradually taken root and has become an important keyword among the engineering departments.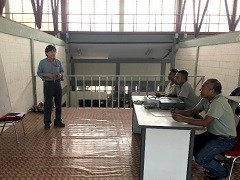 Professor Shimakawa as a JICA Expert (left) giving a lecture at FoEST-UNTL
"There is a strong sense of awareness that 'we are building our own country,' and UNTL instructors are very enthusiastic about communicating the knowledge and experience they have gained over the past two decades to students. For example, the faculty members who have studied in Japan are voluntarily introducing a seminar-type of graduation thesis guidance. This is something that has never been seen before at universities in Timor-Leste," Professor Shimakawa describes their ambition and enthusiasm.
In 2001, JICA began renovating facilities at FoEST-UNTL. The new faculty building was completed in January 2020. Today, JICA's support for students and instructors continues, including the dispatch of Japanese experts and interns.
UNTL's dean of FoEST, Ruben Jeronimo Freitas, and lectures of the Electronics and Electrical Engineering Department also received direct guidance from JICA experts.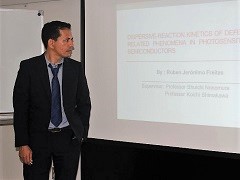 Professor Ruben Jeronimo Freitas, dean of FoEST-UNTL
"In addition to improving the abilities of FoEST instructors, the results of JICA's assistance, such as improving curriculums and the quality of education methods, are very significant. Professor Shimakawa taught us not to expect any sudden big change, but to aim for substantial improvement little by little. I remember him saying many times the Japanese phrase "chotto chotto (little, little)," says Mr. Freitas, with a smile.
Nurturing human resources at the ports and harbors, the lifeline of the country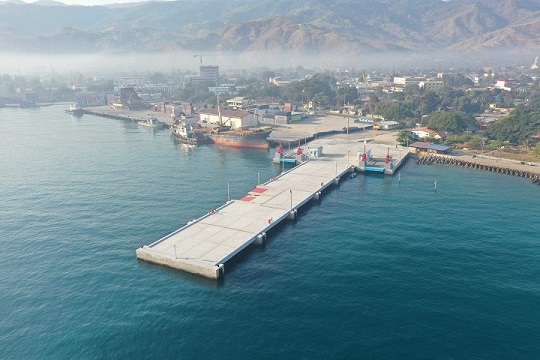 The new ferry terminal in the capital city of Díli, which was completed with the support of Government of Japan. Two vessels can be berthed at the same time and it can operate 24 hours a day. (Photo courtesy of Tobishima Corporation)
For Timor-Leste, an island country that depends heavily on imports for many of its daily necessities, port development is an important issue. While JICA is focusing on the infrastructure development of port and harbor facilities, it is also focusing on the development of relevant human resources.
Jose Madeira Marques, vice president of the Port Authority (APORTIL), which supervises and manages port operations including Dili Port, is one of those human resources. He visited Japan as a participant of a JICA training program in 2007, when he was a member of the National Maritime Transport Authority (DNTM), and learned the basics of ship safety for approximately four months. After returning to his home country, he continued to study at JICA seminars and other events even after he assumed the role of director for port maintenance.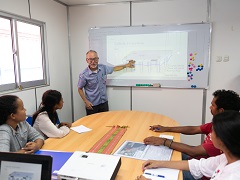 SASA Kenji, a JICA expert (center) and a former staff of the Yokohama City Port Authority, provides generous advice on the maritime state of Japan's knowledge on ports and harbors in Timor-Leste
"It was Mr. Marques who asked me questions very enthusiastically from the beginning of the session. Thinking more questions will be asked in-depth during the following session, I set up a time for individual explanations just for him," says JICA Expert SASA Kenji, who served as a lecturer at a seminar attended by Mr. Marques, the vice president of APORTIL.
Subsequently, Mr. Marques and Expert Sasa cooperated to implement port development projects, and now they are responsible for overseeing and supervising the "JICA Project on Strategic Port Development Master Plan in Timor-Leste." The two play a leading role in the port sector in Timor-Leste.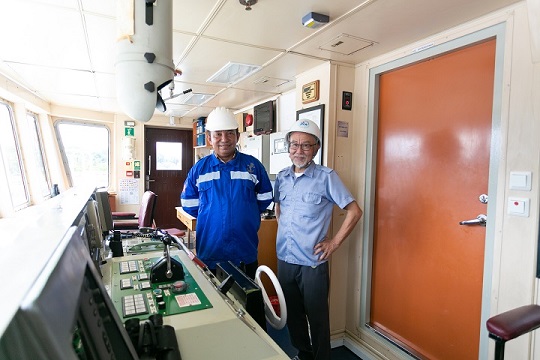 Mr. Jose Madeira Marques, vice president of APORTIL, and Expert Sasa
Nurtured human resources active in various roles
JICA's 20-year support for human resource development has generated mutual cooperation in various parts of Timor-Leste. FoEST-UNTL, in collaboration with APORTIL, continues research on tide level observation, which is important for port and harbor management. In addition, a growing number of graduates from FoEST-UNTL have joined APORTIL, and this has resulted in an expanding circle of cooperation through the development of human resources.
JICA will continue to support the new development of Timor-Leste based on the three pillars of "further development of infrastructure," "continued diversification of industry," and "provision of social services from the residents' perspective," with human resource development at its core.