During the unprecedented crisis of the spread of COVID-19, medical risks such as threats from this virus are not the only thing that are exposed. Other risks to people who are vulnerable in society are brought to light as well. One of them is violence against women and children, and Bhutan has been quick to address these concerns.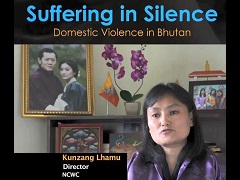 NCWC Director Kunzang Lhamu warns of domestic violence in a televised video
The National Commission for Women and Children (NCWC) of Bhutan and JICA, which has long supported NCWC's efforts toward gender equality in Bhutan, are together launching measures that focus on socially vulnerable groups. For example, they aired a documentary regarding domestic violence on the Bhutan Broadcasting Service to raise awareness about violence prevention.
Discussions on how to deal with risks to women and children as soon as an infected person is identified
"The first case of COVID-19 in Bhutan was confirmed on March 5. The following week, NCWC and JICA staff decided to support women and children who were already socially vulnerable and immediately started discussing courses of action."
That's what OGUMA Chisato, a project formulation advisor in charge of the gender sector at the JICA Bhutan office, said. It has been pointed out that risks of violence against women and children increase in emergency situations. For example, in areas around where the Great East Japan Earthquake struck, domestic and sexual violence against women and children rose due to stress stemming from economic hardships.
During discussions, the idea emerged of broadcasting a documentary video on domestic violence on the national broadcasting service in order to prevent the expected increase in violence that would accompany the COVID-19 crisis. The Chief Program Officer of the Women's Division of NCWC, Ugyen Tshomo, negotiated with the broadcaster and in creating a message to play before the video aired.
"In Bhutan, research found that about half of the women surveyed had long approved of justifications for a husband's physical violence against his wife, and that it is difficult for women who have experienced such violence to raise their voices. I wanted the aired video to provide practical information for women who are suffering from violence, including information on counseling, helplines, and shelter contacts. At the same time, I also wanted to broadly emphasize the fact that such violence is in no way justifiable," said Ugyen Tshomo as she was describing why she promoted the airing of this video.
The video was aired over 10 times on the national broadcaster for five days starting March 20. Since then, the helpline has received more inquiries than usual.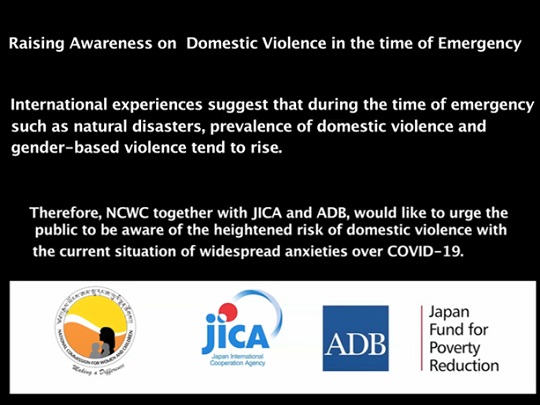 At the outset of the televised video, JICA and NCWC unequivocally stated that domestic violence and sexual violence tended to increase during crises, such as natural disasters and conflicts
Knowledge gained from training in Japan leads to quick action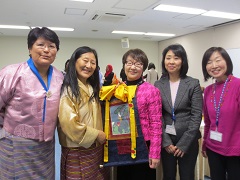 Chief Program Officer Ugyen Tshomo (left) with lecturers at a training course on "Gender Mainstreaming Policies for Government Officers" held in Japan
Behind the video broadcast by Ms. Ugyen Tshomo was her experience of participating in a 2017 JICA training course in Japan aimed at promoting gender mainstreaming (*).

She says that she utilizes in her current work what she learned about in Japan, especially regarding "violence against women." Making as many people as possible aware of the current state of domestic and sexual violence along with the voices of victims is one of the essential efforts toward the realization of gender equality and women's empowerment. This also led to the creation of this video broadcast.
(*) Gender mainstreaming refers to efforts that seek to achieve the development goal of "gender equality and women's empowerment." In addition to implementing initiatives with the main objectives of gender equality and women's empowerment, other issues—urban development, transportation, agriculture and rural development, peacebuilding, health, and education—will be planned, implemented, monitored, and evaluated from a gender point of view.

JICA and NCWC are currently planning to conduct two training sessions in Japan for local government officers who are appointed as Gender and Child Focal Point (GCFP) and other personnel from all 24 local governments in Bhutan to improve their capacity to care for women and children in the country.
Even if GCFPs have knowledge of the care and responses necessary for women and children who have suffered domestic violence and abuse, it is undeniable that they have insufficient experience regarding how to practically interact with actual victims. For this reason, Ms. Ugyen Tshomo expects GCFPs to learn specific and practical techniques for providing care for victims as if they were in the victims' position.
In addition to violence and abuse of women and children within the home, issues such as drug addiction and sexual abuse of minors outside the home, are growing social problems in Bhutan. Therefore, it is essential to improve the counseling capacity of GCFPs who deal directly with victims.
Thinking from the position of those who face graver risks in a crisis
In April, UN Secretary-General António Guterres said, "The effects of the new coronavirus will affect all people in the world, but the effects will vary depending on the prevailing circumstances, which can further worsen inequality." He indicated strong concern that socio-economic stagnation and changes would set back previous efforts aimed at gender equality.
During the COVID-19 crisis, serious social and economic effects are impacting women and girls who are vulnerable due to gender-based discrimination and social norms. Not only do women and girls face amplified risks of infection, they also encounter various difficulties, including setbacks to sexual and reproductive health and rights, reduced services related to maternal and child health, increased violence and abuse, loss of livelihood and employment, and less opportunities for learning and education.
In the face of such risks, JICA will further strengthen its efforts from a gender perspective. We make sure women and girls are not left behind, and provide support so that women and girls can fully utilize the abilities and experiences they have cultivated in their local communities. Such support is essential to overcome this difficult situation and build a stronger and more inclusive society.
YAMAGUCHI Aya, a JICA senior advisor on gender and development, who advises the training sessions for GCFPs, said emphatically, "To create a gender-equal society, it is important to make sure everyone understands problems facing women and girls as problems that affect everyone. I think that being aware of gender issues will also help us focus our attention on difficulties faced by various people who are socially vulnerable in the same way women and girls are. I believe listening to the voices of such people and advancing our efforts for them will lead to a better society in which no one is left behind. We will continue to disseminate information carefully in the future so as to expand the recognition that gender issues affect everyone and must be solved."

During the spread of COVID-19, JICA provided materials such as bedding due to the lack of hygiene equipment at the creches in Bhutan. Staff from the JICA Bhutan Office present during the delivery and members of NCWC (right) and bedding provided (left)