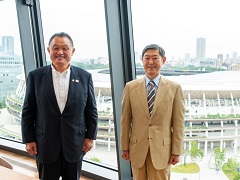 President Yamashita(left) and President Kitaoka in front of the Japan New National Stadium
On July 27, JICA President KITAOKA Shinichi had a meeting in Tokyo with Japanese Olympic Committee (JOC) President YAMASHITA Yasuhiro (winner of the gold medal in the men's judo open weight class at the 1984 Los Angeles Olympics).

At the outset, President Yamashita mentioned his involvement in dispatching athletes to developing countries through the NPO-Solidarity of International JUDO Education since its establishment in 2006, and expressed his strong desire for international cooperation through sports. And then he expressed his willingness that, with the passage of one year since his assumption of office, the JOC, in collaboration with JICA, would expand contributions to the international community through sports. President Yamashita's vision is in accord with the shared philosophy of Baron Coubertin, founder of the modern Olympics, and judo founder KANO Jigoro, the first President of the JOC.

In response, President Kitaoka thanked President Yamashita for his many years of cooperation in JICA activities such as Japan Overseas Cooperation Volunteers. And then he introduced JICA's efforts in the field of "Sports and Development," emphasizing their significance and importance in contributing to protect human rights and to sustain peace.

The two agreed that the egalitarian nature of sports program in the Japanese education system, which enables everyone to experience sports equally regardless of economic status and to learn to respect others, constitutes a great asset that should be shared with the rest of the world.

After the meeting, a signing ceremony was held in which the two leaders concluded an agreement to collaborate on fulfilling JICA's mission of achieving human security and the JOC's role in carrying on the philosophy of Olympism. The signing ceremony affirmed the importance of international cooperation in sharing with the world the benefits and values of sports, including peace, friendship, respect, trust, unity and mutual understanding. It also affirmed comprehensive cooperation in the various efforts of both organizations in bringing hope to people.

In collaborating with the JOC, JICA will advance its mission of realizing human security and achieving the SDGs through cooperation in the interest of "Sports and Development" for developing countries.