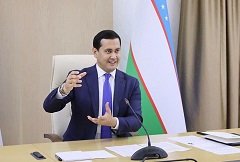 Deputy Prime Minister Umurzakov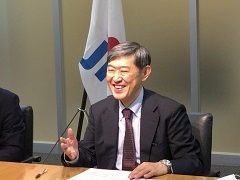 President Kitaoka
July 30, JICA President KITAOKA Shinichi had an online meeting with H.E. Mr. Sardor Umurzakov, Deputy Prime Minister and Minister of Investments and Foreign Trade of the Republic of Uzbekistan.

After touching on the December 2019 meeting between President Kitaoka and H.E. Mr. Shavkat Mirziyoyev, President of the Republic of Uzbekistan, as well as H.E. Umurzakov's April 2020 TV conference with Japanese Deputy Prime Minister ASO Taro, the two confirmed the importance of extending future cooperation between Uzbekistan and Japan based on their relationship of hitherto developed trust. The two leaders also discussed the two countries' current situations regarding the COVID-19 pandemic, and shared opinions concerning the direction of future bilateral cooperation in the post pandemic world.

President Kitaoka expressed his appreciation for the safe return from Uzbekistan to Japan of 174 of its citizens, including JICA personnel, by a special flight of Uzbekistan Airways in April. He also said that trust-based international cooperation was essential for the world to resolve the COVID-19 crisis and expressed his thoughts regarding JICA's continued cooperation in the development of Uzbekistan's health care sector. Furthermore, he stated his wish to contribute to the stability and development of the Central Asia region, putting the relationship between Japan and Uzbekistan at its core.

Deputy Prime Minister Umurzakov expressed his deep appreciation for supply of medical materials by Japan in support of COVID-19 countermeasures, and indicated his readiness to make use of Japan's knowledge in the field of medicine in developing his country. Pointing out the importance of maintaining economic growth in spite of the coronavirus contagion, he spoke of his desire to strengthen Uzbekistan's agricultural and export capacity while building regional employment through the "Horticulture Value Chain Promotion Project" that was agreed upon between the two countries in December 2019. He stressed that, considering the geopolitical situation of Uzbekistan and its neighbors, Japan has great strategic importance as a trustworthy country. Therefore, he expected that Japan would increase its presence in Central Asia, thereby contributing to development not only in Uzbekistan, but throughout the region, including in Afghanistan.

JICA will continue expanding multi-faceted cooperation with Uzbekistan, combining the development of human resources and infrastructure to promote the country's economic growth and social advancement.