Safe water is essential for handwashing with soap, which is one of the effective measures to prevent the spread of COVID-19. JICA is continuing its efforts to provide safe water in developing countries. Access to water is a fundamental human right. A stable supply of safe water leads to the resolving of challenges in various fields, including public health, medical and health care, as well as gender, education, and economic issues.
Many of the world's people still have no access to safe water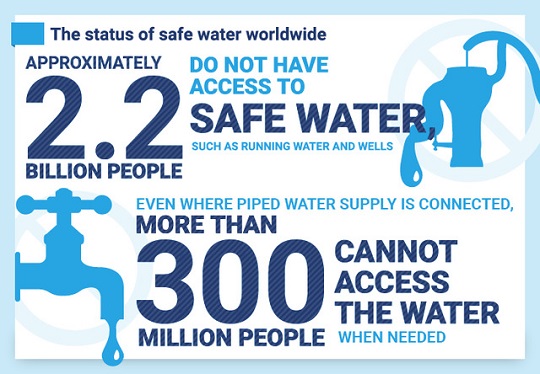 Source: Progress on household drinking water, sanitation and hygiene, 2000-2017 (2019 UNICEF/WHO). Keynote speech by Professor TAKIZAWA Satoshi from the University of Tokyo's Graduate School at the 4th Executive Forum for Enhancing Sustainability of Urban Water Service in Asian Region
"Safely managed drinking water" refers to water suitable for drinking, such as well-maintained water supply, deep well, and protected clean spring water (Note 1). To provide this safe water, it is necessary to establish a system where safe water can be accessed when needed at least 12 hours a day within one's dwelling.
However, even if water systems are in place in urban areas of developing countries, often safe water does not adequately reach people. This could be due to water leaking from aging pipes or illegal taps into the water pipes. Furthermore, in some countries, approximately 60% of water tariff are unable to be collected, and this is a significant issue that hinders the growth of water utility businesses.
Note 1. The definition of "safe water" (safely managed drinking water supply service) in the SDG monitoring conducted by WHO/UNICEF is "Improved drinking water sources (piped household water connections, deep wells, protected shallow wells, spring water, and rainwater) that are available on premises when needed (available for more than 12 hours a day) and that is free of human excreta and high-priority chemical index (arsenic and fluorine)," and consists of three elements: accessibility, availability, and quality.
Promoting cooperation in human resources development and utility management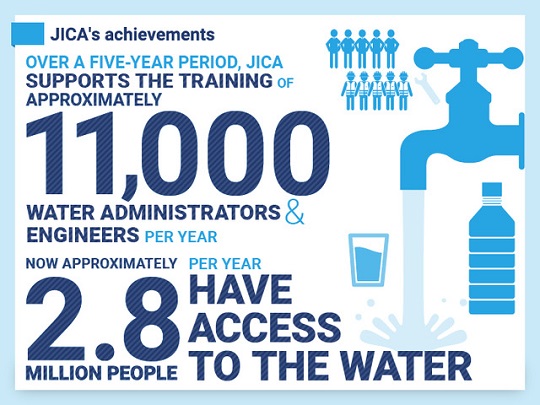 Japan's water supply coverage is approximately 98%, with a non-revenue water ratio (Note 2) of roughly 10%, and its people enjoy 24 hours a day access to water service. JICA utilizes the advanced water supply technologies that Japan has cultivated thus far to develop and expand water facilities in developing countries and to support the business management and financial improvement of water supply entities and their operation and maintenance. With the combination of finance and technical cooperation, JICA supports sustainable development of water supply systems in the world.
Note 2. Non-revenue water ratio: the ratio of water input into the water system but not subject to billing. The major causes include water leakage, illegal connection, and poor water meter readings. Non-revenue water ratio in developing countries is 30-60% (source: UN-Water, GLAAS 2016/2017 Country Survey (2017), Japan Water Research Center's Suido Hot News 2020, issue 697).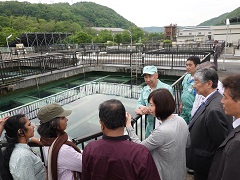 Sri Lankan water officials inspecting a water purification plant in Japan
JICA supports water projects in approximately 40 countries around the world (2019), and through JICA's Partnership Programs in 2014-2018, about 2.8 million people have access to safe water annually. Furthermore, through training in Japan and local water supply projects, approximately 11,000 engineers and administrators are trained each year, and they are active as frontrunners in the water sector in their home and neighboring countries.
Phnom Penh's successful case spreads throughout the world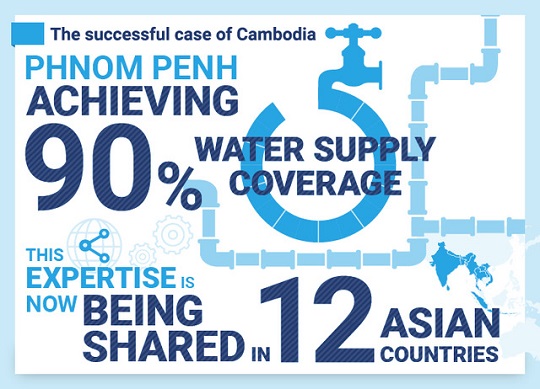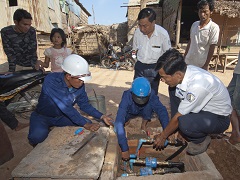 Phnom Penh Water Supply Authority (PPWSA) worker laying water pipes
JICA has been working with Kitakyushu City, Japan to develop water supply system in Phnom Penh, Cambodia, since 1999. In a comparison of 1993 to 2006, Phnom Penh's water coverage increased from 25% to 90%, expanding the hours of water supply from 10 to 24 hours per day. In addition, the non-revenue water ratio improved from 72% to 8%. These achievements were dubbed, the "Miracle of Phnom Penh," and surprised the entire world.
A significant distinction of Japan's international cooperation in water supply projects is the collaboration with water utilities in Japan, such as Water and Sewer Bureau of Kitakyushu City, with advanced technical and management capabilities. The relationship of trust between Phnom Penh and Kitakyushu City, which was built through JICA's water supply projects, has further developed. In recent years, new initiatives have been launched to solve the problems of sewerage systems, which have emerged as a result of population growth and economic development.
The example of Cambodia's success in the water supply sector is being shared with 12 Asian countries through the Executive Forum for Enhancing Sustainability of Urban Water Service in Asian Region. There are also cases in which officials of water utility operators from other countries visit Phnom Penh on their own. Human resources from Phnom Penh Water Supply Authority (PPWSA), which were cultivated through JICA's cooperation, are playing active roles as lecturers, demonstrating the mighty wave of their contribution of expertise to third countries.
Increasing the number of water supply utilities that can grow independently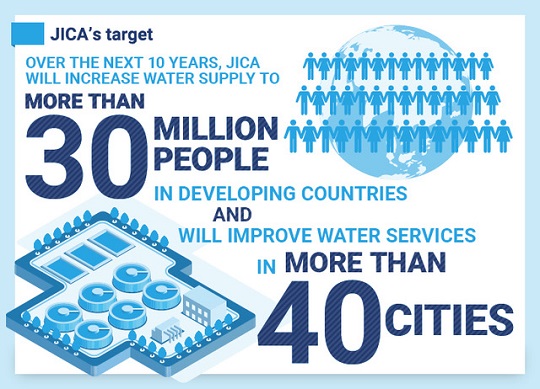 Cooperation in the water supply and water resources sectors must continue over the medium to long term in response to the recipient country's needs. We must take into account population, economy, and natural conditions such as climate and geography, as well as cultural backgrounds including people's consciousness of water.
JICA has amassed the knowledge, experience, and technology of the water supply and water resources sectors that Japan have cultivated over the years, strengthening its cooperation with water utilities, private companies, universities, and research institutes that possess abundant expertise in water supply projects. Going forward, we aim to increase the number of "growing water utilities" across the world that can independently obtain access to finance for the expansion and improvement of water services.