On Aug. 25, 2020, Africa has been declared polio-free (zero cases of the wild poliovirus). Nigeria was the last polio-endemic country in Africa and was officially certified free from polio after marking three consecutive years since the last case of wild polio had been identified.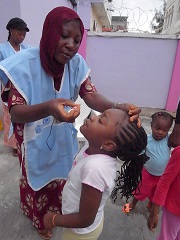 Administering an oral polio vaccine to a child
For many years, JICA has collaborated with international organizations such as UNICEF (United Nations Children's Fund) and the WHO (World Health Organization), as well as various aid agencies including the Bill & Melinda Gates Foundation, to provide support toward the eradication of polio in Nigeria.
A wide range of support from procurement of vaccines to development of human resources
Polio is an infectious disease caused by the poliovirus, which causes paralysis of the arms and legs. While it causes serious residual effects, polio can be prevented by vaccination. However, although polio control measures have been thoroughly implemented in African countries, polio cases have continued to occur mainly in the impoverished northern region in Nigeria. In 2012, the former President Goodluck Jonathan declared "the end of the infection by 2015." As a national priority, the early eradication of polio has been advocated, and measures such as vaccinations have been enhanced.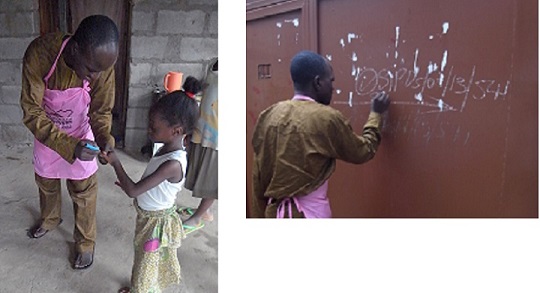 (Left) At a vaccination site, children's fingers are marked with special markers to identify who has been vaccinated
(Right) A staff of vaccination team marking homes after completing a house-to-house vaccination
As a result of these initiatives, following the last confirmed case of the wild poliovirus in August 2016, new outbreaks of polio have been stamped out in Nigeria. In light of this situation, the Government of Nigeria applied to the African Regional Certification Commission for poliomyelitis eradication. The country is now free from polio, which was officially declared this month.
JICA has been working with UNICEF since the 2000s to procure polio vaccines and on cold chains, such as cold boxes and refrigerators for the transportation and storage of polio vaccines in Nigeria. JICA has also provided assistance for improving testing technology at two national polio laboratories and equipment for safe storage of vaccines in the country. In 2014, the international community, including WHO and UNICEF, launched a full-on immunization campaign using vaccines procured through JICA's official development assistance (ODA) loan funds. As a result, no case of a viral infection has been observed within the region.
In this campaign, an innovative approach called the "loan conversion" was adopted in partnership with the Bill & Melinda Gates Foundation, which aims to eradicate polio worldwide. Under this approach, the Bill & Melinda Gates Foundation had agreed to repay JICA on behalf of the Nigerian government, if the government was successful in achieving all of the predetermined polio eradication goals. The Bill & Melinda Gates Foundation has been instrumental in accelerating governmental efforts to eradicate polio, while also reducing the financial burden of the polio control program. Our collaboration has proven to be an innovative example of public-private partnerships to combat infectious diseases.
Upon receiving the declaration of polio-free certification, President Muhammadu Buhari of Nigeria sent a letter of appreciation to JICA President KITAOKA Shinichi for JICA's cooperation to date. ISONO Mitsuo, a JICA senior advisor who has been involved in the fight against infectious diseases in Nigeria for many years, praised the relentless efforts of the local authorities in the eradication of polio, and looks back on that time saying the following:
"Nigeria is a vast country with many hard-to-reach areas and multiple security challenges. I believe that the government's leadership, as well as the efforts of many staff who have been engaged in the most difficult countermeasures against polio on the front lines, contributed to the eradication of polio. With now Nigeria free of polio, Afghanistan and Pakistan remain the only two polio-endemic countries in the world. Although there are differences between the two countries and Nigeria, all have similar social conditions, such as security and poverty. I believe, therefore, the experience of the polio eradication program in Nigeria provides not only many lessons for Afghanistan and Pakistan but can be a great encouragement for polio workers in both countries."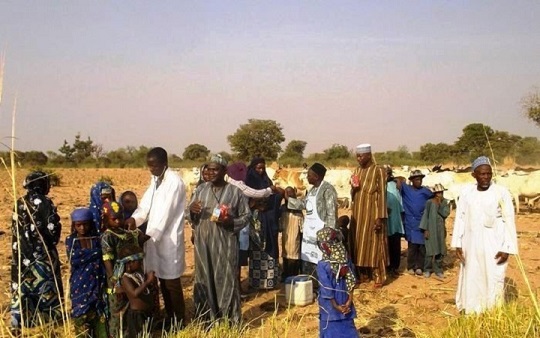 Immunization to nomads in their pathways
Delivering vaccines to all children in the country
"The attainment of a polio-free status is the result of over two decades of hard work, dedication, and perseverance of the Nigeria polio eradication team at all levels of government. This was made possible with the immense logistics, technical and financial support of our partners and donors including JICA," says Executive Director/CEO Dr. Faisal Shuaib of the National Primary Health Care Development Agency (NPHCDA), who has led the efforts against polio in Nigeria.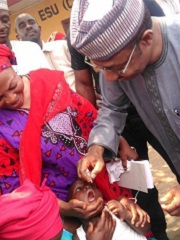 Executive Director/CEO Dr. Faisal Shuaib of the NPHCDA (right)
(Photo courtesy of NPHCDA)

He says vaccination has been promoted throughout the country using innovative strategies, including monitoring the location of vehicles carrying vaccines by adopting a geographic information system, to ensure the vaccine reaches every child in the country.
The Nigerian government's efforts to eradicate polio have been carried out in line with the framework of the "Global Polio Eradication Initiative (GPEI)," which is being undertaken by international cooperation organizations to exterminate polio worldwide.
Dr. Fiona Braka, who leads the Nigerian immunization team at the WHO, the main body of the initiative, recalls that, "In 1996 when Nigeria started its large-scale polio eradication effort, 75,000 children were annually being paralyzed on the African continent with Nigeria contributing a large share of this number.."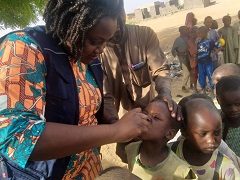 Dr. Fiona Braka (Immunisation Team Lead, WHO Nigeria), administers polio vaccines to children (Photo courtesy of WHO Nigeria)
WHO has continually supported Nigeria to adapt and innovate new ways of vaccinating children in hard-to-reach or conflict-affected areas, including conducting flexible and rapid vaccination campaigns. She says "WHO would like to further support the country during the post-certification period in order to achieve and sustain poliovirus containment as well as promptly detect any poliovirus transmission either among human population or in the environment."
Efforts to combat infectious diseases could be utilized against COVID-19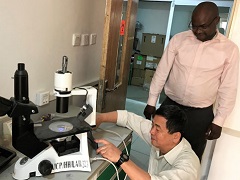 A Japanese expert checks the operation of an inverted microscope with his counterpart at the National Reference Laboratory in Abuja, the capital city of Nigeria
We need to continue to strengthen our response as there exists not just polio but also a wide array of infectious disease threats in Africa. JICA will continue to collaborate with Nigeria and neighboring countries to enhance their capacity in responding to infectious diseases, bolstering their surveillance capabilities, improving their research capacity, and strengthening their ability to build laboratory networks.
In collaboration with the Nigeria Centre for Disease Control (NCDC), which also serves as a hub for measures against infectious diseases in West Africa, the construction of lab facilities to contain Bio Safety Level (note) 3 and the provision of equipment is progressing. With the aim for early detection and prevention of the spread of infectious disease outbreaks in the country, NCDC will also play an essential role as a hub facility in West Africa to respond to COVID-19.
JICA's efforts to eradicate polio in Nigeria and other parts of Africa, as well as to strengthen their capacity to respond to infectious diseases, dates back to the 1990s. Up till the present, they have nurtured a large number of human resources and have provided technical cooperation and equipment. This series of initiatives is expected to lead to countermeasures not only against polio, but also against infectious diseases such as COVID-19, which has been raging around the world.
(Note) Bio Safety Level (BSL): A rating for facilities handling microorganisms, pathogens, etc. There are levels 1 through 4. The greater the number, the more equipped the facility is to handle pathogens that can cause serious symptoms.