The impact of COVID-19 is spreading around the world, having a significant effect not only on human health but also on the economy. Thailand is one of the largest manufacturing hubs in Southeast Asia, where many Japanese companies have established operations. Currently, efforts are underway to review the weaknesses of the global supply chain under the crisis and minimize the risk of business continuity.
Leveraging lessons learned from the 2011 floods in Thailand, JICA has been conducting research through industry, government, and academia collaboration toward "Area-BCM (Area-based Business Continuity Management." The knowledge gained from research on regional disaster preparedness of industrial zones, which cannot be achieved by private companies alone, is now providing hints for a new form of post-COVID-19 supply chain.

Central Bangkok was deserted due to the state of emergency. The BTS Skytrain (elevated railway) Siam station (left) and the Station Square (taken in April)
Thailand's domestic supply chain disrupted by COVID-19
In Thailand, many Japanese companies have entered the market, and the concentration of petrochemical and automobile-related industries have progressed since the 1980s. There, a supply chain has been establishedas one continuous supply system through production, assembly, and sales activities. The development of the industrial park is also progressing as the central hub of the Mekong Economic Corridor.
However, due to COVID-19 countermeasures such as urban lockdowns and stay-at-home orders being expanded in many neighboring countries, companies were forced to reconsider their production and logistics activities. In particular, the suspension of production activities in China in February has had a significant impact on Thailand and other ASEAN countries.
Regarding its impact, OTSUKA Takahiro, a staff member at JICA Thailand Office, commented, "After the state of emergency was issued in Thailand, movement across prefectural borders were restricted and people have been requested to stay home. As a result, the number of visitors to and from Thailand has drastically decreased. In Thailand, where many manufacturing companies, including Japanese companies, are located, factories have been forced to suspend operations, and this has had a major impact."
Utilizing the results of research on business continuity risk in industrial parks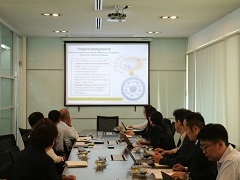 A project meeting on research projects in Thailand to visualize vulnerabilities during natural disasters
In the midst of the current crisis of the spread of the COVID-19 infection, a project started in Thailand to utilize the results of research on business continuity risk in industrial zones in the event of a disaster, which was conducted from 2018.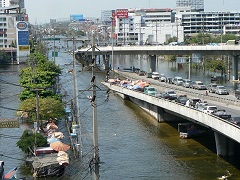 Flooding in Bangkok in 2011 caused a line of vehicles evacuating to the expressway
Based on the lessons learned from the flood damage that occurred in 2011, the risk of calamity to local communities surrounding industrial parks was visualized. Research is conducted to overcome disasters by strengthening the resilience of businesses, local governments, and residents as communities.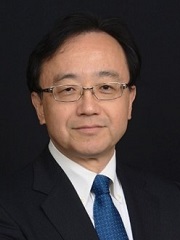 Representative of the Japanese side of the project, Professor WATANABE Kenji of the Graduate School of Social Engineering, Nagoya Institute of Technology
As the representative of the Japanese side of research, Dr. WATANABE Kenji, professor of Graduate School of Social Engineering at Nagoya Institute of Technology, explains the following regarding the utilization of the project results under implementation currently:

"The project design framework aims to provide a platform for local stakeholders such as local governments, residents, companies, and employees, to share disaster-related information, to coordinate decisions, and to harmonize responses to imminent risks. I believe that this framework can also be used in response to the COVID-19 crisis this time."

Sharing knowledge via webinars in preparation for supply chain restructuring
In order to review weaknesses in the global supply chain, at the end of April, JICA Thailand held a webinar (online seminar) entitled "Impacts and Prospects of COVID-19 on Global Manufacturing Supply Chains." With the cooperation of the Japan External Trade Organization (JETRO) Bangkok Office, the Thai government's specific economic support policies in response to COVID-19 were introduced, and Dr. Watanabe gave a lecture on the outlook of future issues.
At the seminar, Dr. Watanabe regarded the disaster as "a case involving a global chain of socioeconomic dysfunction," and showed his perspective that, "The end of coronavirus will be 'coexistence' rather than 'eradication.' Risk management is necessary in anticipation of a drawn-out war." He also emphasized the importance of reinforcing resilience, saying, "We must have a more flexible mindset than ever before not to miss the turning point."
Furthermore, he added, "It is impossible to completely prevent damage from disasters, incidents, and accidents. Rather than hitting directly, it will be absolutely necessary to stand up strongly by adjusting course. Resilience that achieves a change of fortune is having the ability to flexibly respond to regular incidents and to accumulate such experiences on a daily basis. It is having a system that enables decision-making for transformation without hesitation in times of emergencies."
The webinar was attended by 240 people, mainly representatives from Japanese companies in Thailand. Approximately 60% of the participants were from companies to support manufacturing and supply chains.
Mr. Otsuka, staff of the JICA Thailand Office, said in response to the online event, "Since webinars can be held flexibly even under travel restrictions and state of emergency, this event was able to take place within 18 days from the concept planning. While the spread of infection in Thailand is gradually subsided, we were able to hold the event in a timely manner when there was a shortage of information necessary for future prospects and planning."
Based on the relationship of trust built up over many years between Japan and Thailand, a forum contributes to actual problem-solving because highly accurate local information and research knowledge can be shared with a large number of stakeholders. This is where we can see such international cooperation being carried out.