The COVID-19 pandemic has reaffirmed that fighting against infectious diseases across borders is a common challenge for all countries around the world.
The Japan Disaster Relief Team (JDR), which has its secretariat in JICA, established the "Infectious Diseases Response Team" in 2015 to extend international emergency assistance to countries affected by infectious disease outbreaks. Many of the registered members of the JDR Infectious Diseases Response Team are health professionals working at the forefront in the battle against infectious diseases such as COVID-19 and influenza in Japan. Past experience and knowledge from international missions are making a significant contribution to the fight against infectious diseases in Japan.
In the Pacific island nation of Samoa, where a measles outbreak occurred in December last year, the JDR team provided clinical care to patients after the declaration of a national state of emergency. The activities of the JDR Infectious Diseases Response Team in the country are described as below.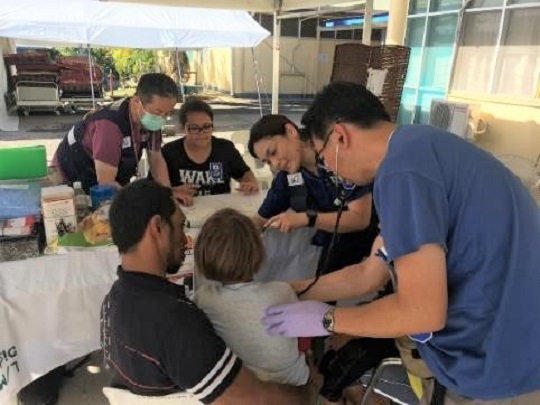 Treatment of measles patients in Samoa by JDR Infectious Diseases Response Team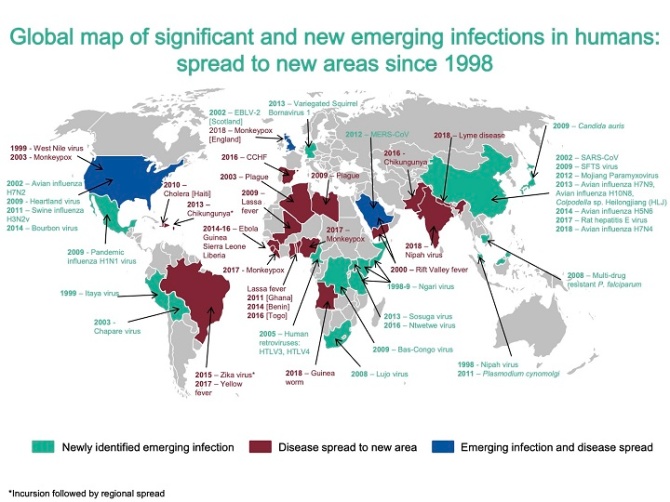 Source: Emerging infections: how and why they arise (GOV.UK)

With the increasing population movement and global environmental changes, infectious diseases continue to spread worldwide. Expectations for the JDR Infectious Diseases Response Team are increasing, and JDR is providing practical training to registered members on a regular basis in preparation for emergency requests from countries in need
The JDR Infectious Disease Response Team provides clinical care
In Samoa, an outbreak of the measles epidemic was confirmed in October 2019, and the Samoan government declared a state of emergency in November. Upon the request from the government, the JDR Infectious Diseases Response Team was dispatched from December 2 to 29. In previous deployments, the team had conducted public health activities, such as setting quarantine stations, laboratory diagnostics, and assistance for vaccine campaigns. For the first time, however, it provided direct medical treatment care for patients in Samoa.
The team assisted the three clinical facilities, namely 1) Tupua Tamasese Meaole Hospital in the capital city of Apia, 2) Leulumoega District Hospital, about 30 kilometers west of the capital, and 3) Faleolo Medical Center in the neighboring area. The team worked for the frontline of medical facilities of the measles epidemic.
Measles can lead to complications such as pneumonia and ear infection, with a high temperature (fever) of 39°C or more and a rash. The case fatality rate is estimated to be one per 1,000 cases in developed countries. In rural areas, medical doctors or nurses examine and prescribe treatment. If symptoms are severe, patients are hospitalized or transferred to a central national hospital.
JDR Infectious Diseases Response Team member YAMAUCHI Yuto, a pharmacist, talks about the activities in Samoa as follows: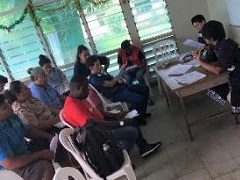 A lecture on managing the temperature of measles vaccines in tropical areas. "Everyone actively listened and asked questions during the lecture. I was really impressed by their attitude," says Dr. Yamauchi
"Vaccination is important to prevent measles epidemics, but increasing the vaccination coverage alone is not effective enough.

Managing the temperature of vaccines on a daily basis is particularly important in countries that are hot and humid throughout the year, such as Samoa.

Since pharmacists do not work full-time in most of the medical facilities in Samoa, nurses usually manage all drugs, including vaccines. We, therefore, held lectures for nurses to deepen their understanding of vaccine management."
Two pharmacists joined this mission. Both pharmacists used to work as Japan Overseas Cooperation Volunteers in Papua New Guinea in the Pacific. They said, "That experience greatly contributed to this JDR mission ."
Working with a Samoan nurse who joined JICA training
The JDR team worked at the Leulumoega District Hospital, which was constructed in 1982 with JICA grant aid and has had a deep relationship with Japan. A nurse, Pishmaka Pishmaka, who had participated in JICA Okinawa's training program, "Strengthening Maternal and Child Health through Public Health Activities," was working at the hospital until early December 2019.
As the head nurse, Mr. Pishmaka was responsible for managing personnel, pharmaceuticals, medical equipment, and devices. He explained the local situation and enthusiastically assisted JDR team members.
TANAKA Takeshi, a medical doctor of JDR, recalling the positive collaboration between the two countries' staff, said, "Although medical resources were limited, Samoan medical staff were sacrificing themselves to provide treatment. Seeing this sacrifice, it reminded me of what is almost always forgotten in Japan's medical field these days, which tends to rely somewhat on laboratory diagnosis. Mr. Pishmaka and other returning trainee staff played the major role of supervising the management of medical care, both day and night, and were an extremely important presence in the collaboration between JICA and the local community."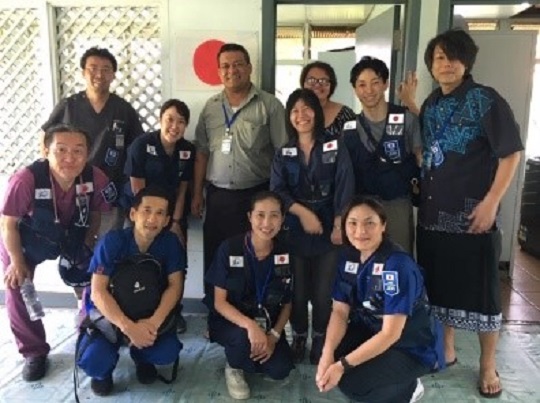 Mr. Pishmaka (center back row) said with gratitude, "The JDR always shared updated information with Samoan medical doctors, nurses, and hospital staff and valued consultations with the local staff. We were very grateful for being able to work with them."
In this way, the JDR Infectious Diseases Response Team has contributed significantly to the fight against measles in Samoa, providing treatment for more than 200 patients over a total of 17 days. With assistance from many countries, including Japan, New Zealand, and Australia, the measles outbreak was quelled. The Government of Samoa declared the end of the state of emergency on December 29, 2019.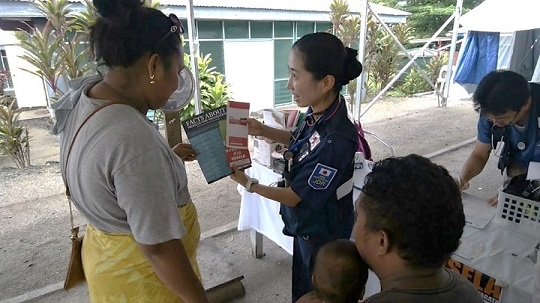 Team members teaching the importance of oral rehydration solutions (ORS) in order to prevent dehydration due to high fever or vomiting
Entering into a partnership agreement with Nagasaki University
Since JDR Infectious Diseases Response Team was established in 2015, Nagasaki University played essential roles. Four medical professionals from Nagasaki University joined the Samoa JDR mission. The Graduate School of the University accepts international students from various countries for their Program for Nurturing Global Leaders in Tropical and Emerging Communicable Diseases.
In December 2019, JICA signed a comprehensive cooperation agreement with Nagasaki University in tropical medicine and global health-related fields with the aim of further strengthening cooperation in these activities.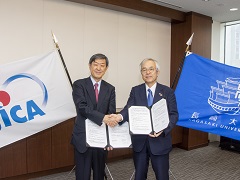 The signing ceremony for the cooperation agreement between JICA President KITAOKA Shinichi (left) and Nagasaki University President KONO Shigeru (December 25, 2019)
Infectious diseases should essentially be detected in their early stages and prevented before outbreaks. Experience of dispatching the JDR Infectious Diseases Response Team to Samoa and the conclusion of a comprehensive cooperation agreement with Nagasaki University are expected to have a variety of positive ripple effects in the fields such as epidemiological research on infectious diseases, development of new drugs and vaccines, and strengthening of various testing methods and quarantine systems. It will also lead to emergency response activities not only overseas but also for measures against infectious diseases in Japan.