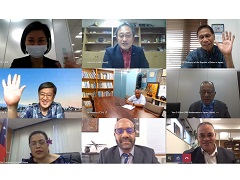 Ambassadors to Japan from the seven Pacific Island countries and President Kitaoka (middle row, left)
On Aug. 31, JICA President KITAOKA Shinichi had an online meeting with the ambassadors to Japan of seven Pacific Island countries. The following ambassadors joined the meeting:
 H.E. Mr. John Fritz, the Federated States of Micronesia,
 H.E. Mr. Isikeli Uluinairai Mataitoga, the Republic of Fiji,
 H.E. Mr. Tom D. Kijiner, the Republic of the Marshall Islands,
 H.E. Mr. Francis Matsutaro, the Republic of Palau,
 H.E. Mrs. Faalavaau Perina Jacqueline Sila-Tualaulelei, the Independent State of Samoa,
 H.E. Dr. T. Suka Mangisi, the Kingdom of Tonga and
 Mr. Samson Yabon, the Independent State of Papua New Guinea.

At the outset of the meeting, Dr. Kitaoka said that preparations were going ahead without delay to accept JICA scholarship program participants from abroad including Pacific Island countries this autumn. Then, there was an exchange of views about the present economic and financial condition of the Pacific Island countries and how they respond to COVID-19. They also shared views about plans to ease boarder control restrictions of the Pacific Island countries, and the possibility and measures to achieve both prevention of infection and resumption of tourism. With the aim of strengthening vulnerable health and medical systems in the region, the ambassadors expressed their hopes for cooperation with JICA in the areas of improving infrastructure and developing human resources for health care activities. The ambassadors of each country and Dr. Kitaoka confirmed the need to work together on economic measures and infectious disease control policies in the age of COVID-19.

JICA will continue extending cooperation in the Pacific Island countries, which have been affected by the COVID-19 crisis, and work for those countries to overcome the vulnerabilities including the medical and health fields.