Due to COVID-19, Japanese experts cannot visit sites in developing countries to work on JICA's technical cooperation projects. Amid these circumstances, some of them, who are working on education projects and have temporarily returned to Japan, have devised various methods to collaborate remotely. In this report, we look at their efforts to continue their projects in Myanmar, Laos, and Egypt.
Myanmar: Developing teaching materials on schedule through regular online meetings
In Myanmar, JICA is implementing a project to support the development of textbooks and teacher's guides for all grades of primary school (first to fifth grades), the training of current teachers, and the development and training of a new curriculum for Education Colleges (EC). The curriculum shifted from a two-year to a four-year system in December 2019 with the aim of empowering children to experience, think, and acquire the skills to live in the future.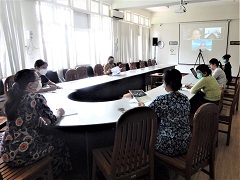 Myanmar staff meeting online with Japanese experts
Due to the spread of the COVID-19 infection, Japanese experts had to postpone their travel to Myanmar, while officials from the Ministry of Education of Myanmar worked from home from April to May. During this time, Japanese experts have developed a system to confirm progress regularly with all relevant parties, including data sharing and the establishment of online meetings.
As a result, they have been carrying out the development of textbooks and teacher's guides in 10 subjects for new fifth graders and the production of teaching materials for the EC curriculum. In addition, responding to a request from the Ministry of Education for support for education during the COVID-19 crisis, the project is coordinating curricula and formulating guidelines with regard to a reduction in the number of classes and infection prevention measures. A public relations video was also produced to inform teachers and guardians in an easy-to-understand manner about how to achieve learning while implementing infection control measures. The Japanese and local staff are working together on a daily basis to provide learning opportunities for children.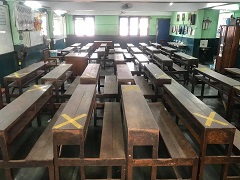 A Myanmar primary school making preparations to resume classes
In Myanmar, the new school year normally begins on June 1 after the New Year and the summer holidays between March to May, but schools have been closed since March this year.It was once announced that schools that meet the COVID-19 prevention requirements may be opened over two months of monitoring starting from high schools. However, the schools that opened in late July according to the plan were closed again after a few weeks due to the increasing cases of COVID-19 infection, and currently the school opening schedule is pending with no dates indicated.
While the restrictions on going out have been lifted gradually, strict measures such as the compulsory wearing of facemasks have continued. The Ministry of Education and school personnel are preparing infection prevention measures with an air of tension in order to open schools, for instance setting school attendance schedules according to the number of children.
Laos: Remote guidance on the writing of new textbooks
Since 2016, the Government of Laos and JICA have been working on the development of textbooks and teacher's guides, the revision of curriculum for Teacher Training Colleges, the development of teaching materials, and the improvement of the quality of math education at primary schools through training for teachers. In Laos, schools resumed in May after an approximately two-month school closure to prevent the spread of the COVID-19. However, Japanese experts are still unable to travel to the country, so guidance and training in preparing projects are being provided remotely.
In June, September, and December of each year, officials from the Lao Ministry of Education and Sports were usually invited to Japan for a week for training in writing new textbooks. However, due to the impact of COVID-19, in June this year, JICA headquarters (Tokyo) and the JICA Laos Office connected seven times to conduct workshops remotely.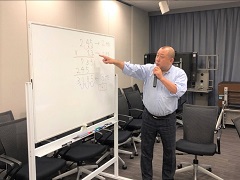 A Japanese expert at JICA headquarters explains using a white board in the same manner as the regular trainings
A Japanese expert first explained the contents of each unit to cover, the areas to be especially carefully considered, and where precautions should be taken. After that, writing began for each unit by the Laos Research Institute of Educational Sciences (RIES) math technical staff in charge of the project. If there were any questions or considerations as the writing process progressed, they asked questions and held detailed discussions with Japanese experts toward finalization. This was the first remote trial and took twice as long as normal, but the textbooks were successfully completed.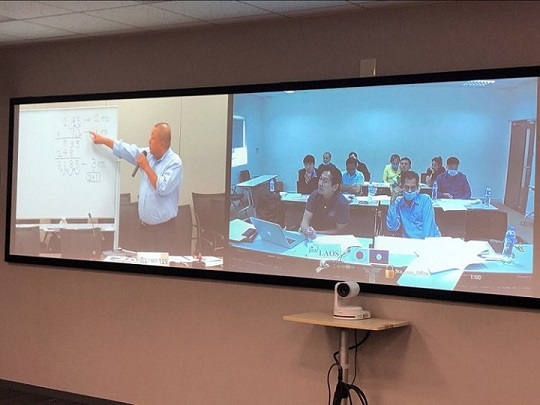 An online conference. On the right is the staff of the Lao Ministry of Education and Sports receiving training at the Laos office
NISHIHARA Rio, an expert from Padeco, a consulting firm for education and development that provided remote instruction, said, "During this workshop, we prepared a separate workroom from the TV conference room at the JICA Laos Office and worked to create an environment similar to that of training in Japan. The participants in the training said that by leaving their office they were glad to be able to concentrate on their work without being interrupted by other tasks."
We will continue to consider methods of remote instruction for other activities so that we can provide the same support as pre-COVID-19, even when Japanese experts cannot be there in person.
Egypt: Maintaining motivation for education in online workshops
In Egypt, a project is underway to introduce Japanese-style technical education that emphasizes practical training, safety management, organization, tidiness, cleaning and so on, for the purpose of improving technical education (equivalent to vocational courses at Japanese high schools). At four pilot schools and one new model school, JICA is focusing on "repeated instruction," which is a characteristic of Japanese-style practical lessons, so that students can acquire the skills required by industries.
In the project, the status of improvement at each school is checked every six months, and workshops are being held to create improvement plans together with the school. However, in Egypt, schools were temporarily suspended from March 15, and Japanese experts were forced to return to Japan for the time being. In the face of difficulties in holding workshops, Japanese experts made plans to conduct workshops online to maintain teachers' motivation. In order to increase the degree of satisfaction among the participating teachers, the method of progress and the development of a technical support system, mainly related to the communication environment, were carefully prepared.
To date, the online workshops have been held at four schools. The teachers who participated in the workshop presented the results of their efforts and at the same time provided explanations using data for solving problems. Each school will consider an improvement plan in preparation for the resumption of classes scheduled for October, and Japanese experts will continue to provide remote support. Taking this crisis as an opportunity, we also plan to hold online seminars in the future.