In July 2020, energy efficiency standards for air conditioners were revised in Brazil. This was the result of a taskforce collaboration between JICA, Energy Conservation Center in Japan, and Daikin Industries, a Japanese air conditioner manufacturer. Under "JICA's SDGs Business Supporting Surveys," the team collaborated with local universities and other organizations to propose to the Brazilian government revisions to the regulatory system that wasn't responding to the times. The Brazilian air conditioning market is expected to contribute to energy conservation challenges as energy efficient air conditioners increase in popularity.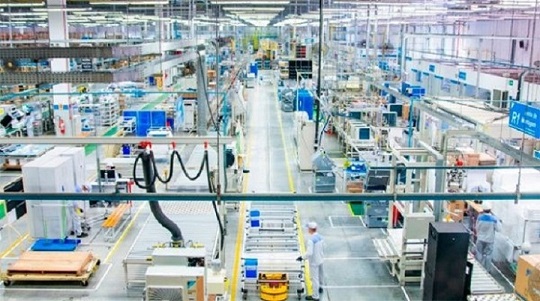 The Daikin Industries' plant in Brazil. JICA and Daikin Industries supported the revision of Brazilian air conditioner energy efficiency standards
Standards for evaluating the performance of air conditioners were revised
Since 2018, Daikin Industries has been implementing the JICA Public-private Partnership Program for "Collaboration Program with the Private Sector for Disseminating Japanese Technologies for Environment-friendly Energy Efficient Air Conditioner" in Brazil. Looking back at the period this project kicked off, Ms. SEKI Tomoko, a staff member of the JICA Private Sector Partnership Division, who was in charge at that time, recalls, "Although Daikin Industries had already entered the Brazilian market operating a local subsidiary and plant, the standards for assessing the performance of air conditioners in Brazil were not in-line with the times. Therefore, no matter how advanced the performance was, Daikin Industries' air conditioners were not highly evaluated in the Brazilian market. However, there were limits to what a private company can do to revise national evaluation systems and standards. The JICA Public-Private Partnership Program by Daikin Industries was launched as a project to contribute to both addressing Brazil's energy issues and utilizing the technologies of a Japanese company."
Mr. MIKI Tomoji, president of Daikin Brazil, says, "The Brazilian government also had a sense of crisis about how to deal with energy issues. At that time, by collaborating with JICA, we were able to demonstrate our stance of 'acting as the country of Japan,' which was a major force."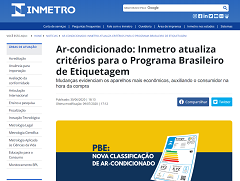 The website of the National Institute of Metrology, Standardization and Industrial Quality (INMETRO) of Brazil announcing the commencement of the new system
In this revision, ISO 16358, a widely used international standard, was applied to the performance evaluation of air conditioners. After the promulgation of the revised standards in July 2020, it will become mandatory in 2023 and 2026 in a phased-in manner to meet the needs of the times.
Brazil's energy labeling system was behind the times
The energy labeling system in Brazil that displays the energy efficiency performance of air conditioners was also improved so that the performance of the equipment is accurately reflected. This energy labeling system was not properly evaluating inverter equipment which is the global standard with excellent energy conservation performance, and was riddled with numerous issues.
Until now, the standards were applied to non-inverter air conditioners, and the energy efficiency standards had not been revised for almost 10 years. As a result, inverter air conditioners were classified into the same category despite being up to 60 percent lower in power consumption than non-inverters. The energy labeling was, therefore, not practical for displaying effective energy efficiency qualities.
"Many of the air conditioners sold in Brazil are outdated products that are inferior in energy efficiency performance and are no longer popular in other countries. However, under the conventional labeling system, more than 90% of these products distributed to the market were classified as A-rank products of the highest grade, making it extremely difficult for users to understand the system," says Mr. Miki, recalling the situation in Brazil.

Inverter air conditioners were not properly evaluated under the old system, and the delay in their market penetration was a major challenge for energy and environmental issues in Brazil. Thus, Daikin Industries and JICA implemented a number of measures to resolve these problems.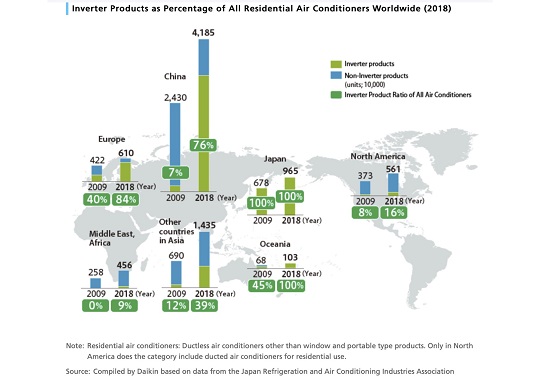 "The penetration of inverter air conditioners in Latin America is lagging behind that of other regions"
Working with industry, government, and academia to set new standards
In Brazil, where consumer awareness of energy efficiency had not been firmly ingrained, and national energy efficiency policies were still anemic, it was not easy to urge the government to revise standards and systems. With the support of JICA, Daikin Industries cooperated with local universities, NGOs, and international organizations to hold repeated workshops on issues and countermeasures, including the implementation of joint demonstration tests.
JICA invited Brazilian government officials to Japan, Daikin Industries utilized vice-ministerial-level meetings between Japanese and Brazilian governments as well as conducting a stakeholders conference. In addition, they had a series of on-site visits to facilities such as Daikin Industries' factories and web conferences. There Daikin provided accurate and correct information to deepen understanding, as well as making a series of hard-earned efforts to prepare the amendments. Through all these activities, they had contributed the revisions progressed.

Brazilian government officials' visit to Japan (2019). A tour of the Daikin Industries Shiga Plant (left) and a tour of an air conditioner floor of a major electric appliance store (right)
"Everyone at Daikin Industries was very enthusiastic about the initiative, and I feel that this was communicated to the Brazilian officials," says Mr. YAMAGUCHI Daniel Ryo, a staff member in charge of JICA Private Sector Partnership Division. "I also believe that many factors led to the achievement of this project, including Daikin Industries' high level of technological expertise, trust, team management involving personnel from multiple specialized fields, and the creation of opportunities for dialogue through public-private partnerships."

Mr. KOYAMA Kazuma, manager of the Daikin CSR and Global Environment Center, said, "When the Brazilian officials came to Japan, we could feel their enthusiasm that this might be an opportunity to acquire a solution to resolve their current issues. I believe that what is necessary to change system and regulations is the enthusiasm of both public and private sectors to achieve the common goals."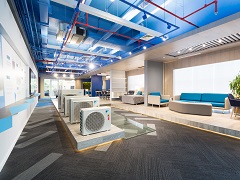 Currently, inverter equipment is the global standard. This is a photo of inverter air conditioners on display in the Daikin Showroom in Brazil
Daikin Industries plans to develop low environmental impact products in Africa and the Middle East going forward. Leveraging its long-established relationships of trust with developing countries and its extensive network, JICA will utilize new technologies and know-how of Japanese private companies and research institutes to resolve issues in emerging nations.