JICA has been promoting initiatives to make life in developing countries more convenient throughthe use of satellite technology.

Automated driving of drones, tractors, and other vehicles, which we hear so much about in the news these days, is made possible by receiving signals from satellites on the ground to obtain location information, such as the United States's Global Positioning System (GPS) or Japan's Quasi-Zenith Satellite System, also known as "Michibiki." To get precise positional information from satellite signals, it is essential to install an observation device on the ground called "Continuously Operating Reference Stations (CORS)."

The use of high-precision location information and digital topographic maps will enable quicker and more efficient infrastructure development, such as roads and water supply and sewerage systems.

With the aim to enrich people's lives and endorse efficient urban development, JICA is working to develop and promote the use of CORS in countries such as Myanmar and Thailand.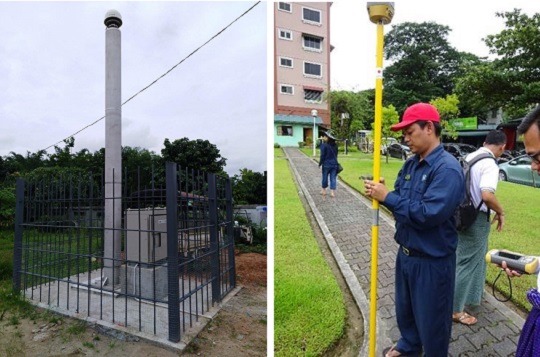 (Left) A CORS installed in Yangon
(Right) Surveying practice using satellite data (Myanmar)

Myanmar: Support for CORS, from installation to operation, maintenance, and management
In Yangon, Myanmar's largest city, JICA has been implementing the "Yangon Mapping Project" since 2017, which aims to develop a digital topographic map and CORS. As this is the first time for Myanmar to have CORS, five of them were installed in Yangon and the surrounding area to start with.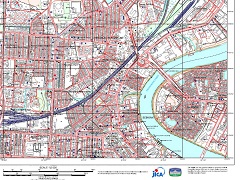 A digital topographic map of Yangon, the largest city in Myanmar
The high-precision positioning data and digital topographic map obtained from these CORS will allow for the rapid and more efficient construction of infrastructure, such as roads and water supply and sewage systems, planned for the Yangon in the future.

Furthermore, digital topographic maps and land use/statistical data can be utilized to visualize the current use of buildings on topographic maps for consideration of future land use planning. They are also expected to be used to appropriately plan the location of social infrastructures such as schools and hospitals. A wide variety of information can be visualized on the map, and policy decisions can be made more quickly.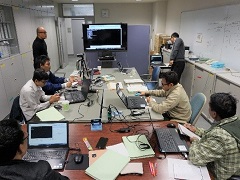 Myanmar government officials undergoing training at the Geospatial Information Authority of Japan
In order to utilize the advantages of CORS, it is also important to properly operate, maintain, and promote their use after they are installed. JICA is inviting Myanmar government officials to the Geospatial Information Authority of Japan to provide training on stable operation and maintenance management methods, as well as how to deal with unexpected problems.
When using the high-precision positional information obtained from a CORS, it is important to correct the position coordinates. The main reason for this correction is crustal movement. Although the continents move a few centimeters per year, positional coordinates on a map remain unchanged from the points established in the past. As the years go by, the gap between the present correct position and the past topographic position becomes larger, so the coordinates must be continuously corrected and updated.

Participants of the training were heard saying, "We were able to gain first-hand experience in learning analysis methods for maintaining and managing CORS. We look forward to making use of this training in our future work."

Thailand: Proceeding with demonstration tests of autonomous operation technology for tractors and construction equipment
Last year, JICA held a demonstration of the autonomous operation of tractors and construction equipment in Thailand in cooperation with Japanese companies, Thai government agencies, and local companies.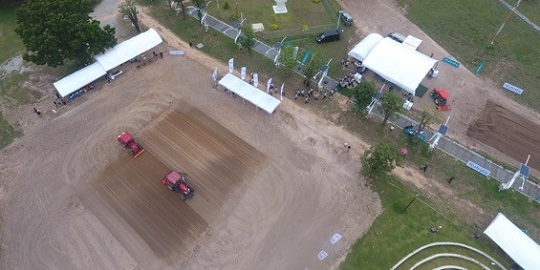 A demonstration of autonomous tractor operation in Thailand
This is a demonstration experiment in which the tractor travel path can be set with centimeter-level accuracy by operating special software on a tablet or other device and using CORS and satellite technology. Typically, satellite-only positional information is estimated to have an error of a few meters, but through the use of CORS, the error can be improved to centimeter-level accuracy.

(Left) An unmanned tractor (Kubota Corporation)
(Right) At the demonstration, an explanation was given on autonomous operation (Yanmar Agribusiness Co., Ltd)
Furthermore, from September this year, JICA has started to promote the utilization of high-precision positioning data obtained from CORS, such as by enhancing the operation and maintenance management capabilities of a national data center to be newly established by the Thai government. The objective is to contribute to the growth of the digital economy and the development of new business innovations. In cooperation with several private companies, JICA will continue to work to achieve social implementation of satellites and CORS in Thailand in various fields.
CORS Utilization with JICA's cooperation is a hot topic in the private sector
The use of CORS promoted by JICA in developing countries is also attracting considerable interest from the private sector. A representative from Mitsui & Co., Ltd., a general trading company that is expanding its business using CORS, explains JICA's efforts as follows:

"We are focusing on how the use of CORS opens up a range of business opportunities in developing countries. JICA's efforts to build infrastructure using spatial information from CORS are extremely significant in terms of promoting the creation of industries. In Japan and other developed countries, businesses using CORS are expanding in a variety of fields, including mining and transportation in addition to agriculture and construction. By promoting the use of CORS in developing countries, it is hoped that the knowledge of Japanese private companies will contribute more to the advancement as well as business furtherance of emerging nations.