In July this year, a course was held to train railway drivers for the urban railway system scheduled to commence operations in Ho Chi Minh City, Vietnam's largest city, at the end of 2021. With support from JICA, construction work on the Ho Chi Minh Urban Railway Project started in 2012, which is designed to ease traffic congestion in the megalopolis.

In addition to railway construction, a project to strengthen management capacity of operation and maintenance for the opening of Urban Railway Line 1 in Ho Chi Minh City is being implemented. It includes recruiting drivers and developing human resources for the safety management department, fostering organizational management, and formulating business regulations. JICA is assisting in both tangible and intangible aspects of the project.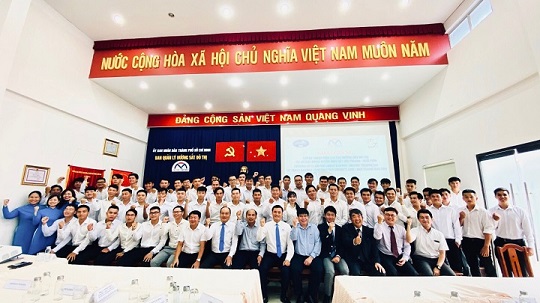 The opening ceremony of the railway driver training course. Fifty-nine railway driver candidates and representatives of related organizations attended the ceremony
Commencement of the first railway driver training course in Ho Chi Minh city
"We are proud to contribute to the continuing growth of urban development and safe transportation for passengers."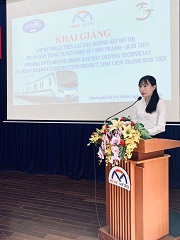 Ms. Pham Thi Tsu Thao giving a speech at the opening ceremony of the railway driver training course
Ms. Pham Thi Tsu Thao, the only female railway driver candidate on this occasion, gave a speech at the opening ceremony of the railway driver training course. In addition to educational background and physical health, the recruitment conditions included the level of moral and social norms awareness, sense of responsibility, and level of independence. The 59 candidates who were selected satisfied all these conditions. They will study at a railway school for approximately one year, followed by practical training and a national examination before starting their jobs as railway drivers.

Development of an urban transportation system that resolves many issues facing Ho Chi Minh City
In Vietnam's largest city where approximately 9 million people live (as of April 2019), the population increased by 1.8 million in the 10 years since 2009. The road systems and public bus services are stretched to the limit, and currently, many residents travel around the city on motorbikes and scooters. Going forward, an increase in the use of automobiles is expected with the growth of the economy. There are high expectations that development of the first metro will resolve many issues that the megalopolis Ho Chi Minh City is facing, such as mitigating chronic traffic congestion, reducing air pollution, and promoting regional economic development.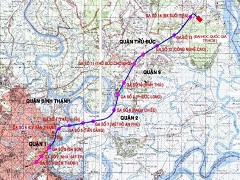 Railway Map of Line 1. An urban railway linking the center of Ho Chi Minh City with the suburbs
Currently, a total of eight railway lines are planned, and with cooperation from JICA, progress is being made with the construction of Urban Railway Line 1, a 19.7-km line linking Ben Thanh and Suoi Tien. It will be Vietnam's first subway line, running underground for 2.5 km through the largest business and shopping district in the center of Ho Chi Minh, and 17.2 km as an elevated structure in the suburbs. Its maximum speed will be over 100 kph.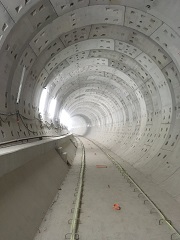 Section of a shield tunnel between stations under construction. The 2.5-km section in the center of the city will be Vietnam's first underground railway
Line 1 is regarded as the priority section of the Ho Chi Minh Urban Construction Project and construction is under way aiming at commencement of operations in December 2021. In addition to construction work leading up to the start of operations, the railway O&M company will have to resolve many issues such as the training of railway staff and the acquisition of safety certification. JICA is proceeding with the strengthening of operation and maintenance management capacity for the Ho Chi Minh Urban Railway company.

TANISAKA Takahiro of Tokyo Metro, who is involved in the above-mentioned project, said regarding the value of Line 1, "It links District 1 in the city center with Districts 2 and 9, which are undergoing remarkable development. Once successfully completed, it will appeal to the citizens as a sophisticated means of urban transportation. It will also provide an opportunity for the expansion of urban railways including other lines that will be developed in the future."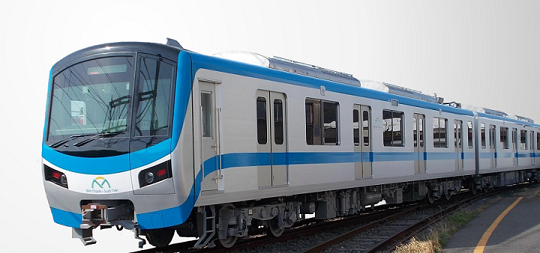 The first Line 1 train arriving at the depot in October 2020
Tangible and intangible support combined for construction, operation, and maintenance
Attention is being focused on this project because it involves aspects outside of the railway business, such as mobility management activities to promote railway use and the installation of a variety of facilities and services in stations, based mainly on cooperation by Tokyo Metro.

Mobility management is an initiative to encourage a change in styles of traveling from an excessive dependence on automobiles to the "wise" use of public transport, bicycles, and so on, considering traffic congestion, environment, and personal health. Its targets are ordinary people, and diverse organizations and regions. Activities like mobility management are very unusual in connection with urban transportation development in developing countries, and cooperation combining this kind of activity with urban railway construction is deemed to be a uniquely Japanese approach.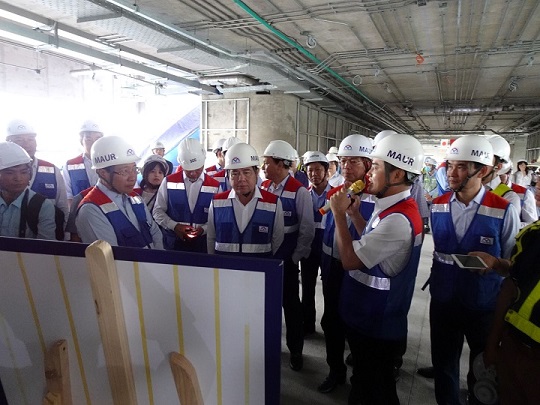 Pham Binh Minh, the deputy prime minister of Vietnam (second from left in the front row), attending an inspection at the urban railway construction site
Also, concerning the installation of various facilities and services in stations, Japan has made unique progress by providing not only commercial facilities such as convenience stores, but also public services for the local community such as government agencies and nursery schools. Having this know-how, a station becomes not merely a transportation facility but a place connected to people's daily lives.

With the technology and knowledge provided by Japan and Tokyo Metro in particular and through cooperation with a blend of tangible construction and intangible support, it is expected that Japanese-style urban railway operations will achieve great results in Vietnam.

Concerning the urban railway project in which preparations are being made for the start of operations, KAKIMOTO Yasushi of the JICA Infrastructure Management Department, said, "For the safe and secure operation of urban railways, in addition to strictly observing prescribed rules, regular training is important to be able to take immediate action and make appropriate judgements in unexpected situations to ensure safety. Going forward, together with human resource development in operating companies, we shall cooperate for the acquisition of safety certification which is an important process for the commencement of operation of Line 1."