Overview
Event Name: Mobilisation of Development Finance for Sustainable Sport
Date: November 11, 2020 16:00-16:45 (JST: 24:00-24:45)
Organizer: French Development Agency (AFD)
Location: Paris, France
Major Speakers and Video Speakers
Rémy Rioux, Chief Executive Officer, French Development Agency (AFD)
Thomas Bach, President, International Olympic Committee (IOC)
Andrew Parsons, President, International Paralympic Committee (IPC)
Tony Estanguet, President, Paris 2024 Olympic-Paralympic Games Organising Committee (Paris 2024)
KITAOKA Shinichi, President, Japan International Cooperation Agency (JICA)
OTA Yuki, President, Japan Fencing Federation
Other speakers from organizations including: United Nations Educational, Scientific and Cultural Organization (UNESCO), German Federal Enterprise for International Cooperation (GIZ), West African Development Bank (BOAD), the US National Basketball Association's Basketball African League (BAL), and Youth Olympic Games Dakar Organising Committee
Details
Sports are a key to achieving the Sustainable Development Goals (SDGs). On November 11, at the Finance in Common Summit (FiCS)[1] held in Paris from November 9-12, the AFD hosted an event on sports and development.

In the event, video messages were sent in by major players including AFD CEO Rémy Rioux, Paris 2024 President Tony Estanguet, and IOC President Thomas Bach. Officials from the IOC, IPC, GIZ, BOAD, and BAL also spoke on the importance of sports and development from their respective positions.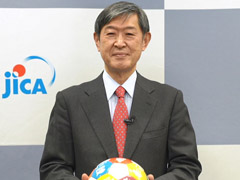 JICA President KITAOKA Shinichi also sent in a video message. He mentioned how sports help us better understand each other and promote peace, and how in Japanese schools, physical education has brought all students together, regardless of their socio-economic status. He then highlighted JICA's work in the sports sphere, including its support for national athletic events in Timor Leste and South Sudan and the work of Japan Overseas Cooperation Volunteers dispatched in the field of physical education and sports. President KITAOKA also touched on France's notion that everyone has the right to enjoy sports and spoke of the important role sports can play in achieving JICA's mission of achieving human security[2].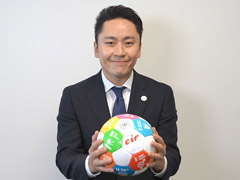 Also sharing a video message was OTA Yuki, Vice President of the International Fencing Federation, President of the Japan Fencing Federation, and a Silver Medalist at the 2008 Beijing Olympic Games. OTA's message was made possible through a partnership agreement signed by JICA and Japanese Olympic Committee (JOC) in July of this year. In his video, OTA opened with how sports help us to interact with each other beyond our various differences, such as language and culture, and that sports have the power to unite people and societies. He then spoke of creating new models of sustainable sport events using Japanese technology for people around the world to enjoy together, closing with hopes that next year's Tokyo Games can integrate our minds as one legacy, to be handed over firstly to the Paris 2024 Olympic-Paralympic Games and then the Dakar 2026 Youth Olympic Games.

With an eye forward to the 2024 Olympic-Paralympic Games to be held in Paris and the 2026 Youth Olympic Games to be held in Dakar, Senegal, the end of the event saw the announcement of the official launches of two new networking platforms. The first of these platforms was the Sport for Development Coalition, built as a networking platform for public development banks and other parties to further advance sports and development initiatives. The second was as Sport en Commun, a web-based networking platform targeting people and organizations aspiring to solve problems in Africa through sports.
[1] FiCS assembled public development banks, which provide financing and expert advice to developing countries, to discuss their role in light of the Covid-19 pandemic and resulting social and economic crises.
[2] Human Security is a concept that aims to build a world where everyone can live in dignity, free from fear and want, through the protection and empowerment of all individuals. UNDP first introduced this concept in its 1994 Human Development Report, and later, the United Nations adopted General Assembly Resolutions on Human Security in 2005 and 2012. In parallel with these, the Government of Japan adopted Human Security as one of its basic policies under its Overseas Development Assistance (ODA) Charter to prioritize this vision in 2003. Since then, Japan has continued to embrace this concept and has chosen to include it in its most-recent Development Cooperation Charter (2015).