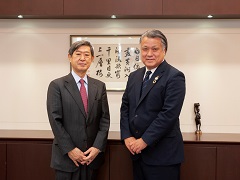 President Tashima (right) and President Kitaoka
On Nov. 11, JICA President KITAOKA Shinichi had a meeting with the Japan Football Association (JFA) President TASHIMA Kohzo at JICA headquarters.

At the beginning of the meeting, President Kitaoka expressed his gratitude for the progress of the cooperation based on the partnership agreement (3J Partnership Agreement (*)) between the JFA, the Japan Professional Football League (J-League), and JICA.

In response to this, President Tashima also expressed his gratitude to JICA for the promotion of collaborative activities, noting that the positive reputation of Japan in the world of football has increased as a result of JICA's overseas cooperation. He also introduced examples of Japan Overseas Cooperation Volunteers working for the promotion of Japanese football after returning to Japan. The two shared the recognition, while introducing various examples, that sports can promote peace as well as the active participation of women and people with disabilities, and confirmed to renew the 3J Partnership Agreement in January 2021.

JICA will work towards realizing human security through cooperation on "sport and development" initiative in developing countries, including collaborative projects with the JFA and J-League.


(*) The 3J Partnership Agreement: A partnership agreement concluded in September 2015 between the JFA, J-League, and JICA. The plan involves the dispatch of instructors, the sending of equipment, educational events in Japan and abroad, and the acceptance of training participants from developing countries.