JICA accepts JICA Scholars from developing countries to foster leaders who will take responsibility for the future and prosperity of those countries. These JICA Scholars are studying at graduate schools in a variety of fields, including health, education, engineering, agriculture, and public policy. A three-day joint online program was held at the end of August 2020 for JICA Scholars in Japan for the 2019 academic year with the aim to deepen their understanding of Japan and to build a network among them. JICA President KITAOKA Shinichi gave a warm welcome to the roughly 200 participants in the program.

JICA Scholarship Program Participants: Representatives Ms. Simpson Shirley Victoria (Ghana) (left) and Mr. Sophorn Sopheak (Cambodia) (right) made presentations at a joint session

JICA President, Dr. Kitaoka, (left) exchanged views with JICA Scholarship Program Participants. JICA Vice-President, Dr. Kayashima, (right) was the facilitator of the joint session
Dr. Kitaoka's message: "Change the COVID-19 crisis to an opportunity"
"I welcome all of you, JICA Scholarship Participants, as members of the JICA family," he said in his opening remarks to the participants. "Studying abroad, particularly in a different culture, is important for your career and for the development of your country. Young people such as TSUDA Umeko and KANEKO Kentaro, who accompanied the Iwakura Mission said that their experiences in the United States contributed greatly to the modernization of Japan and the development of its diplomacy," he said, stressing the importance and encouraging participants to study abroad, especially in different cultures.
"If you have any concerns about the ongoing impact of COVID-19, please contact JICA staff, including myself, at any time," he said, showing his appreciation for JICA Scholarship Program Participants, and added, "JICA is taking a number of bold initiatives to turn the corona crisis into an opportunity. Among them, the key initiative is to establish resilient health systems in developing countries. Functional hospitals should be at the core of such system," and expressed his renewed determination.
JICA Scholars talk about the impact of coronavirus in their home countries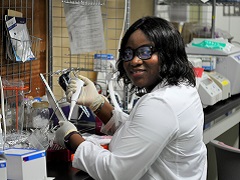 Ms. Simpson Shirley Victoria, in training at a lab at Nagasaki University
Next, two JICA Scholars gave presentations on behalf of the participants in the session entitled "Post-COVID-19 challenges in developing countries and cooperation with JICA from the perspective of JICA Scholars." The first speaker was Ms. Simpson Shirley Victoria from Ghana, who is currently participating in a program to become a global leader in the fight against infectious diseases while studying at Nagasaki University Graduate School of Biomedical Sciences.
Ms. Simpson is a staff member of the Noguchi Memorial Institute for Medical Research in Ghana, which was established with the cooperation of JICA. In 2019, Advanced Research Laboratory for Infectious Diseases was built, and it is now at the forefront of Ghana's efforts to combat COVID-19. With regard to the response to COVID-19 in her home country, she expressed her desire to further collaborate with many Japanese experts to come up with strategies for combating infectious diseases in the future, amidst challenges such as the lack of testing equipment and human resources.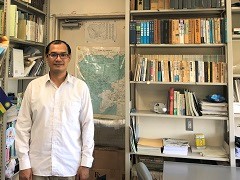 Mr. Sohorn Sopheak, a student at Hiroshima University
Mr. Sohorn Sopheak, a Cambodian participant at Hiroshima University's Graduate School for International Development and Cooperation, spoke about the impact of COVID-19 on education in his country. Similar to the situation in other countries, Cambodia is offering online classes, but participants are not sufficiently learning due to their internet environment, and instructors are still lacking the know-how to teach remotely.
To address this situation, he said, measures are needed to improve the digital education environment for more effective learning, and concluded his speech by saying that he is looking forward to JICA's cooperation in capacity building for teachers and support for digital education.

At the end of the session, Dr. Kitaoka closed by saying to JICA Scholars, "We are planning to establish a 'JICA Chair' for Japanese studies at top universities in developing countries. By dispatching lecturers and providing English books about Japan, I hope that participants will learn from the history of Japan's modernization and the experience of trial and error."

Advice from senior participants
Following the presentations, a clinical psychologist gave a lecture on cross-cultural understanding to help JICA Scholars study in Japan, and discussed various types of harassment, in addition to role-playing and advice on how to build relationships with academic advisors. Three senior participants (ABE Initiative, Global Public Leadership Program, and P-LEADS) advised the participants not to hesitate to consult with their instructors and other people around them if they have questions, and to be proactive in enjoying Japanese society and culture and learning Japanese language while working hard on their studies.
Learning about innovation and leadership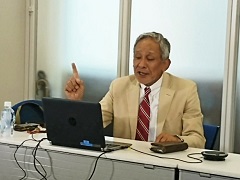 Professor YONEKURA Seiichiro of Hosei University
In the second day's session, Professor YONEKURA Seiichiro of Hosei University gave a lecture on the theme of "innovation" and the possibilities of innovation to eliminate various disparities. Through group work, the participants engaged in heated discussions on (1) what services, technologies, and mindsets of Japan they would like to bring back to their home countries, (2) what Japan should learn from the home countries of JICA Scholars, and (3) what kind of global collaboration might be needed based on (1) and (2) above.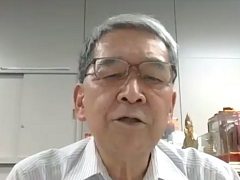 HORIE Masahiro, professor emeritus of National Graduate Institute for Policy Studies
HORIE Masahiro, professor emeritus of National Graduate Institute for Policy Studies (GRIPS) and director of the Executive Development Center for Global Leadership, gave a lecture on "leadership." In the lecture, he spoke about various styles of leadership, especially about the qualities and abilities required of advanced leaders, and about the role of leaders in emergency situations such as the spread of COVID-19 and disasters. He received many questions from JICA Scholars based on their own work in their home countries.
On the final day, the three-day session was concluded with an introduction of JICA's cooperation projects and the implementation of a program to build networks with JICA's staff in each country for the participants from Africa, Middle East, and South Asia.

JICA will continue to organize joint programs like this one in the future to establish a network with JICA Scholars, promote their understanding of Japan, and help them to enjoy a fruitful experience as an international student.