New initiatives have been launched utilizing the "monozukuri" (manufacturing) capabilities of KOSEN (Japanese colleges of technology) students not only to resolve issues in developing countries but also to promote rural revitalization in Japan.

In July this year, JICA and the National Institute of Technology, Nagaoka College (NITNC) signed a memorandum of understanding on "Solving problems in Africa and local areas in Japan through reverse innovation linking the Nagaoka monozukuri ecosystem and Africa." This "reverse innovation" refers to the establishment of development bases in emerging and developing countries by businesses from advanced countries. It then introduces the products created, based on the needs of developing countries, to markets in the advanced countries. This is characterized by the reversal of the conventional trend of globalization, in which products developed in advanced countries are distributed in developing country markets.
An ambitious new attempt to resolve the issues of Africa through Nagaoka's manufacturing and reverse innovation has begun to take off. Here, products are developed, based on African needs, and are brought to advanced markets, with the aim of creating local communities and tackling social issues in Japan.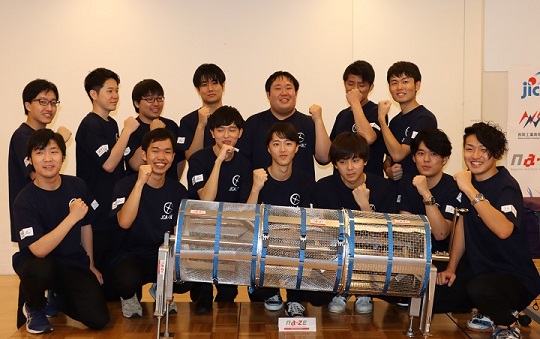 NITNC students participating in the signing ceremony held in Nagaoka City in July 2020
Utilizing Nagaoka's technological capabilities to solve problems in Africa
"The participating students read literature to learn about the efforts in countries related to the project and the social background of Africa. While working together across majors, they created prototypes that were more advanced than we had imagined," says Professor MURAKAMI Yuki of NITNC.

The NITNC students worked as a team to explore solutions to the issues entrusted to them in this project, such as "ideas for a sustainable food production and supply system for the realization of a recycling-oriented society" and "ideas for preventing the spread of COVID-19 through the power of manufacturing." Nagaoka University of Technology will provide support for the production of prototypes, and Nagaoka Activation Zone of Energy (NAZE) will also collaborate with the team for commercialization of their ideas.
JICA expects the number of schools participating in this initiative to increase next year. In three years, JICA looks forward to the program be expanded to all colleges of technology in Japan.

(Right) At the press conference announcing the project, Nagaoka Mayor ISODA Tatsunobu (far right) expressed his expectation for Nagaoka's monozukuri technology to be adopted worldwide
(Left) In addition to collaborating with Nagaoka City, JICA is also working with Jomo Kenyatta University of Agriculture and Technology and local companies in Kenya
It all began with KOSEN Open Innovation Challenge
The impetus for this project was the "KOSEN Open Innovation Challenge," a pioneering initiative by JICA for technical college students. This contest aims to use the technologies and ideas of students at Japanese colleges of technology to solve social issues in developing countries and utilize the field of international cooperation as a place of education. Six technical colleges from Nagaoka, Kitakyushu, Sasebo, Ube, Miyakonojo, and Ariake participated in the first session (held in April 2019).

From among the colleges, NITNC collaborated with a Kenyan start-up company, Ecodudu, to create a prototype of a device that efficiently sorts livestock feed, and the students at the college conducted a demonstration experiment in Kenya. The prototype was highly praised locally and was covered by many media when it was presented at the Seventh Tokyo International Conference on African Development (TICAD7) held in Yokohama in August last year.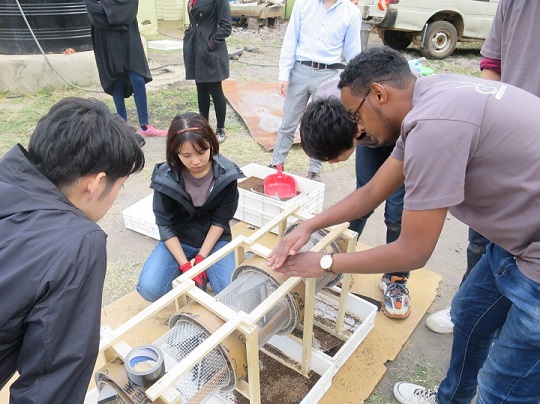 Students from NITNC and Kenyan university conduct a demonstration experiment of the livestock feed sorting equipment as a team (in Kenya, 2019)
In August and September this year, the second contest was held online. A total of 101 students from four colleges of technology, Nagaoka, Kitakyushu, Sasebo and Tokuyama, participated in the contest, representing 20 teams, which was up from the first edition.

"The students' interest and enthusiasm for participation were high, and they created prototypes that far exceeded the teachers' expectations. If the number of participating colleges of technology increases across the country, this may become a major event on the scale of the 'KOSEN ROBOCON, Japanese colleges of technology robot contest'," says Mr. Murakami about the potential of this contest.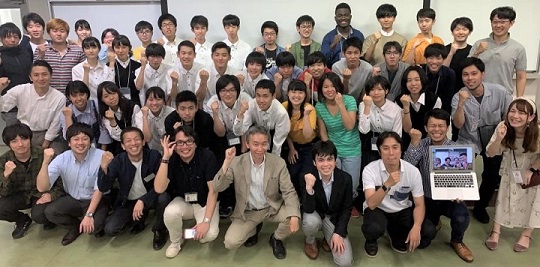 Participants and judges of the first edition of the "KOSEN Open Innovation Challenge"
Expectations for Japan's rural development through young power
Currently, JICA and NITNC are promoting "Solving problems in Africa and rural areas through reverse innovation linking the Nagaoka monozukuri ecosystem and Africa," and the participation of technical college and university students from Africa is planned. Students from Japan and Africa will use their creative ideas to revitalize Japan's rural areas and resolve issues.

"The reverse innovation project is also making progress in applying the Kenyan technology selected for the first KOSEN Open Innovation Challenge to Nagaoka's industrial waste business. The students are motivated to revitalize the local Nagaoka area, taking into account the cultural differences between Africa and Japan," says Mr. Murakami, expressing his future ambitions.
This initiative, in which students from Japan and Africa think about Japan's rural revitalization issues and search for solutions within the framework of international cooperation, is expected to be a valuable experience that will also broaden the knowledge of students at Japanese colleges of technology.