JICA President KITAOKA Shinichi visited the Socialist Republic of Vietnam from Dec. 9 to 11, his first trip abroad since the outbreak of COVID-19. He met with Prime Minister Nguyễn Xuân Phúc, and provided words of encouragement to the Japan Overseas Cooperation Volunteers (JOCV) who had been re-assigned to Vietnam.
1. Meeting with Prime Minister Phúc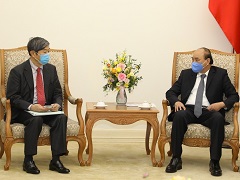 Meeting with Prime Minister Phúc
At the beginning of the meeting, Prime Minister Phúc expressed his gratitude for JICA's cooperation towards Vietnam. President Kitaoka conveyed his sympathy for the damage caused by the series of typhoons and torrential rains in the central region of Vietnam, and paid tribute to Vietnam's efforts to prevent the spread of COVID-19. President Kitaoka then spoke of his wish to further deepen the comprehensive cooperation in the fields of health and medical care, which prioritize "prevention, precaution, and treatment." In Vietnam, JICA has extended such cooperation since 1966, when it began its cooperation with Chợ Rẫy Hospital in Ho Chi Minh city to strengthen the health and medical care system in the region.

President Kitaoka pointed out that the current situation, in which the restructuring of the supply chain is required in the wake of the COVID-19 pandemic, is a good opportunity for further development of Vietnam. He also conveyed JICA's intention to promote cooperation in maritime security for the freedom of navigation and in human resource development, which would be the basis for strengthening the cooperation among ASEAN countries and Japan. In addition, he proposed a framework for high-level dialogue between intellectuals from Vietnam and Japan to further deepen the relationship between the two countries.

In response, Prime Minister Phúc expressed his gratitude for Japan's long-standing support for the many infrastructure projects and prompt emergency support for the damage caused by the recent typhoons. He also agreed with President Kitaoka's words and welcomed Japan's policy of a "Free and Open Indo-Pacific (FOIP)." He stated that he wishes to continue to strengthen cooperation in the fields of economy, trade, investment, and tourism, as well as medical care and maritime security, based on the special trust of the extensive strategic partnership between Vietnam and Japan.
2. Handing over of JICA President Award and the list of medical cooperation items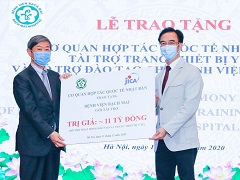 Handing over of the list of cooperation items to Bach Mai Hospital
President KITAOKA presented the JICA President Award to the National Institute of Hygiene and Epidemiology for its contribution to the prevention of the spread of COVID-19 by rapidly establishing inspection system in Vietnam.
On the same day, a ceremony was also held to hand over the list of cooperation items including medical supplies for infectious control of the COVID-19 to Bach Mai Hospital in the northern region of Vietnam, which JICA has been cooperating with for many years.
3. Encouragement for the Japan Overseas Cooperation Volunteers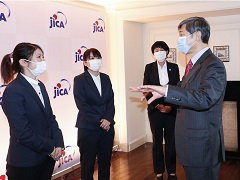 President Kitaoka (right) encouraging JOCV
Four JOCV members, who had temporarily come back to Japan due to the outbreak of the COVID-19 infection, returned to Vietnam on Nov. 25 and resumed their activities after a 14-day quarantine period. President Kitaoka offered words of encouragement for the four members, saying that their activities are highly regarded since they contribute to the betterment of developing countries by deepening mutual understanding while living and working together with the local people. He stated that he was proud that the four members were reassigned as the first group among all JOCV members who had applied to contribute to the world. At the same time, he advised them to take appropriate infection prevention measures and to consult with JICA staff anytime if they have any concerns. He also told them that JICA would try its best to take care of the issues each member faces, valuing the voices of each member of the JICA family.

The four members are the following:
- NISHIYAMA Noriko, who works as an occupational therapist at the Central Geriatric Hospital in Hanoi,
- SHIMIZU Sayuri, who supports children and people with disabilities at the Fund of Genetic Counseling & Disabled Children in Thua Thien Hue Province,
- OMORI Miwa, who works as a nurse at the Long An General Hospital located west of Ho Chi Minh City, and
- TANEICHI Kaori, who works with tourism at the Peoples Committee of Châu Đốc City in the Mekong Delta's An Giang Province.
Each member exuberantly introduced themselves, describing how they were filled with joy and enthusiasm for resuming their activities, after their temporary return to Japan in March and spending eight months on standby. They also asserted that, "As the first group to be redeployed, we would like to continue the path of international cooperation, while taking care of our safety and health."


JICA will continue to pursue its cooperation with Vietnam through a combination of high-quality infrastructure development and human resources development, which will contribute to the growth and stability of Vietnam and ASEAN as a whole.