On Dec. 1, JICA President KITAOKA Shinichi visited Maebashi City and Kanra Town in Gunma Prefecture. He encouraged the South Sudanese track and field team members, who have been training in Maebashi City for the Tokyo Olympics and Paralympics, and exchanged views with JICA partners in Gunma Prefecture.
1. Maebashi City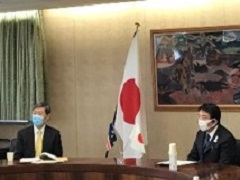 Mayor Yamamoto (Right) and President Kitaoka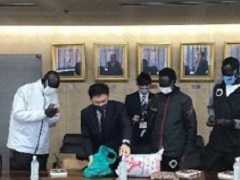 Delivering Sudanese local foodstuffs to the athletes
President Kitaoka visited Maebashi City, paid a courtesy call on Mayor YAMAMOTO Ryu, and encouraged the South Sudanese track and field team. Maebashi City is the host town for the South Sudan team for the Tokyo Olympic and Paralympic Games. Since November 2019, the city has been hosting a delegation of five South Sudanese track and field athletes (one coach and four athletes), who are scheduled to participate in the Olympic and Paralympic Games.

Mayor Yamamoto mentioned that while the athletes were training hard, they had started attending Japanese language and computer classes. They have also visited elementary and junior high schools to deepen exchanges with local residents. The sight of the athletes practicing gives the citizens of Maebashi a sense of vitality and encourages them to think about peace. Mayor Yamamoto expressed his gratitude to JICA for its role in bringing Maebashi City and South Sudan together. In response to this, President Kitaoka thanked Mayor Yamamoto for his initiative and the support of Maebashi's people for hosting the team. President Kitaoka also explained that he, himself, had visited South Sudan to participate in the National Unity Day, a sports initiative to overcome longstanding conflicts to achieve national reconciliation and integration. President Kitaoka introduced South Sudan as one of the most memorable countries he had visited.

In addition, as an expression of encouragement to the South Sudanese team, President Kitaoka handed each of them with a copy of his book titled "Self-Respect and Independence of Mind - the Challenge of FUKUZAWA Yukichi." He also gave a brief speech on the essence of Japan's modernization started by the Meiji Revolution and the role played by Fukuzawa in its process, which the athletes listened to with great interest.
2. Kanra Town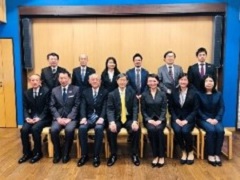 Group photo taken in Kanra Town
President Kitaoka visited Kanra Town and met with Mayor MOBARA Soichi and a number of partners of JICA's activities in the town. Kanra Town has been hosting JICA training participants and pre-departure programs for the Japan Overseas Cooperation Volunteers (JOCV).
Mayor Mobara introduced that the linkage between Kanra Town and JICA started in 2001, when NGO Global Agriculture Crossroad TERRAKOYA (*) established a base in the same place. Now, TERRAKOYA is a source of pride for Kanra Town.
President Kitaoka expressed his gratitude for the cooperation of Kanra Town and TERRAKOYA for JICA's activities. He also mentioned that it could benefit Japan if JOCVs would share what they learned during their time in developing countries after their return to Japan. He also paid tribute to the progressive efforts of Kanra Town and TERRAKOYA in their support in acceptance of Vietnamese technical intern trainees, adding that the program has been a good reference for JICA's work in accepting foreign skilled workers.

(*) Overview of the NGO Global Agriculture Crossroad TERRAKOYA and its partnership with JICA
In 2001, TERRAKOYA was established in Kanra Town, Gunma Prefecture, and began accepting JICA training participants in 2002, and JOCV pre-departure programs in 2003. So far, about 450 JICA participants and 750 JOCV cadets have been accepted.