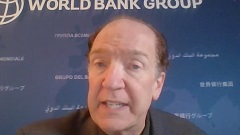 President Malpass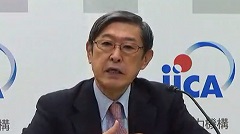 President Kitaoka
On Dec. 4, JICA President KITAOKA Shinichi had an online meeting with the World Bank Group President David Malpass.

At the beginning of the meeting, President Kitaoka congratulated that the World Bank Group and JICA have successfully implemented a series of high-level dialogue this year. The high-level dialogue started in 2014, and this year marked the 7th annual meeting. President Kitaoka highlighted the close-knit cooperation developed between the two organizations through the continued dialogues, and aspired to strengthen the partnership between the two organizations in close collaboration with President Malpass.
The two presidents then moved on to exchanging views on the importance of international cooperation particularly under the current COVID-19 crisis. COVID-19 has had a negative impact over the global economy, leading to debt issues in developing countries. They also shared their views for the future collaborations in vital areas, including strengthened initiatives in health and medical sector in response to the COVID-19 pandemic and quality infrastructure investment.

JICA will continue to contribute to the advancement of developing countries in partnership with the World Bank Group.