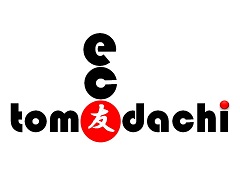 Logo of the Bolivian ex-participant group ECO TOMODACHI
Sustainable tourism development is underway at the Salar de Uyuni, one of Bolivia's leading tourist destinations, utilizing Japan's waste management expertise. This project is being carried out mainly by ex-participants who have taken part in the JICA Knowledge Co-Creation Program in Japan on composting and waste management and returned to the country. They are located throughout Bolivia and have formed a group called ECO TOMODACHI, which works with local government agencies, private companies, and non-profit organizations to reduce waste and improve sanitation.
Salar de Uyuni, a tourist attraction in Bolivia where the sky and salt lake merge
Aiming to reduce plastic bottle waste with local tourism operators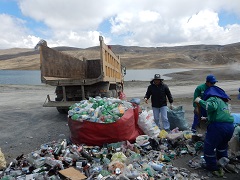 ECO TOMODACHI members collecting trash at a tourist site in La Paz
The area around the Salar de Uyuni, one of Bolivia's most famous tourist destinations, is located at an altitude of over 3,000 meters above sea level and faces a major challenge in terms of waste management capacity. Most of the waste is dumped at collection sites without being sorted or heat-treated, causing a foul odor and soil contamination, not to mention the scattering of plastic bags, plastic bottles, and other plastic waste that cannot be decomposed in the soil.
To help improve the environment around the Salar de Uyuni, ECO TOMODACHI teamed up with Quimbaya Latin Bolivia, an international tourism company, and began distributing tumblers to tourists to reduce plastic bottle waste.

Due to the high altitude of Salar de Uyuni and its strong UV rays, the tourists were provided with bottled water. By distributing tumblers free of charge and providing drinking water on tour buses, it is no longer necessary to bring plastic bottles to the tour areas, thus reducing the amount of plastic bottle waste.
Wendy Romay, headmistress of Quimbaya Bolivia, received "The 3R's for Responsible Tourism" training from ECO TOMODACHI members in 2019. ''When we were looking for ways to improve the environment around the Salar de Uyuni, we approached ECO TOMODACHI for advice. After a series of meetings with the Tourist Guide Association of La Paz and JICA, we established a goal of reducing the amount of plastic bottle waste brought in by tourists by 2019, and we started the tumbler project," she says.

Through monitoring tourist response and usage of the tumblers after they were distributed, they made improvements and were able to reduce plastic bottle waste equivalent to 1,080 bottles during the five-month pilot period.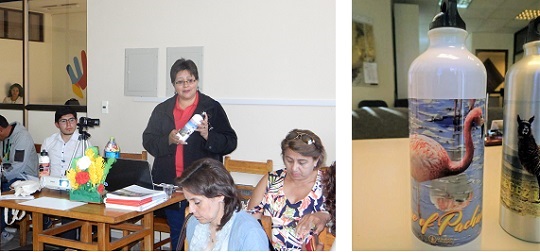 Ms. Wendy Romay introduces the 3Rs of Quimbaya Latin America at a seminar, holding a tumbler that was handed out (left photo). A tumbler distributed to tourists in Uyuni (right photo)
Quimbaya Latin America plans to build on the success of Salar de Uyuni by introducing tumbler distribution not only to Bolivia, but also to its tours from Mexico to Chile. Once the COVID-19 subsides and tourism resumes, the goal is to reduce plastic bottle waste by the equivalent of 12,000 bottles per year.
Improving the sanitary conditions in the Salar de Uyuni
The economy surrounding the Salar de Uyuni is built around the tourism industry. However, due to inadequate sewage treatment facilities, there exists a chronic shortage of toilets despite the fact that it is a tourist destination. If this situation continues, an increase in tourism could lead to a deterioration of the local living environment. Thus, the improvement of toilet facilities is an urgent issue for the sustainable development of tourism.

"Normally, we would have installed portable toilets and regularly transported the tanks to the final disposal site for treatment, but this is difficult to implement in this region. Therefore, we have to figure out how to perform the final disposal of waste at the locations where the toilets are installed," says ECO TOMODACHI's Jorge Via, a JICA ex-participant who returned to Bolivia in 2010.
"After reading an article on the Internet about a Japanese company's efforts to solve the toilet problem on Mount Fuji, I thought about composting using portable toilet technology that can solidify waste without odor. In Uyuni, quinoa production is the second most important economic activity after tourism. If we can solve the toilet problem and improve the technology of quinoa production at the same time, we can establish an extremely efficient cycle."

That is why they turned their attention to a treatment tablet developed by Excelsior, a Japanese company that develops and sells portable toilets for disasters and nursing care. The treatment tablet has an anti-odorizing effect and is efficacious in solidifying waste, which provides a sense of security when using the toilet and enables safe removal of waste. "I want to apply this technology to the future of Uyuni," says Mr. Via.
After learning about the conditions in Bolivia through a seminar on Latin America organized by JICA, Excelsior felt there was tremendous potential for this initiative. ADACHI Kanichi, president of Excelsior, says with ambition, "Improving toilet conditions is directly related to improving the safety and quality of life. We believe that our technology can contribute to the sustainable development of global tourism destinations and we want to make this a pioneering, eco-friendly business." With a view to developing this as a JICA project, the collaboration between ECO TOMODACHI and Excelsior has been initiated.

Ms. Sanjinés, a female climber, is given a portable toilet and asked to cooperate in its test use (left photo). Excelsior President Adachi introduces the method of using the portable toilet at a seminar of ECO TOMODACHI (right photo)
Results of diverse ECO TOMODACHI projects
ECO TOMODACHI is utilizing the Japanese composting technology learned at JICA beyond its use in Uyuni tourism region. They are producing Takakura Composting Method compost in the cities of Sacaba (Cochabamba province), Samaipata (Santa Cruz province), and La Paz (La Paz province). In 2019, together with JICA and the Japanese company ER/Ikigai, ECO TOMODACHI developed an app called "COMPOCCHI" that allows users to learn about the Takakura Composting Method, and has been developing new technologies for waste management in Bolivia.

WATANABE Mariko, a JICA Bolivia Office staff member, said, "The ex-participants who work as members of ECO TOMODACHI are scattered all throughout Bolivia, but they exchange information on a daily basis through social networking services. They bring back the knowledge they have acquired in Japan and expand their networks in their respective locations. We hope that the private sector and the government will also be involved in this voluntary network," looking forward to the future activities of the project.

About once a year, ECOTOMO members from around the world gather to share composting techniques and exchange ideas