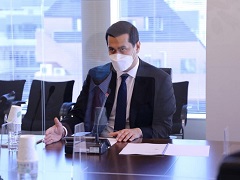 Deputy Prime Minister and Minister of Investments and Foreign Trade H.E. Mr. Sardor Umurzakov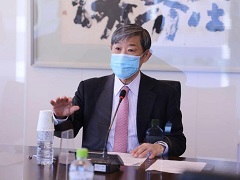 President Kitaoka
On Dec. 15, JICA President KITAOKA Shinichi held talks with H.E. Mr. Sardor Umurzakov, Deputy Prime Minister and Minister of Investments and Foreign Trade of the Republic of Uzbekistan, at JICA headquarters.

This was the second meeting between them this year, following an online meeting in July 2020. The two leaders exchanged views on the past achievements and future prospects of cooperation between Japan and Uzbekistan, touching on their talks in July and the meeting in December 2019 between President Kitaoka and H.E. Mr. Shavkat Mirziyoyev, President of the Republic of Uzbekistan.

Referring to the relationship of trust that has been built with Uzbekistan, President Kitaoka said that Uzbekistan is an important partner for Japan. In response to the spread of the COVID-19 pandemic, he expressed JICA's intention for continued cooperation in the areas of job creation, healthcare, and education. He also stated his wish to contribute to the stability and development of Uzbekistan by strengthening the relationship between the two countries through active people-to-people exchanges.

Deputy Prime Minister Umurzakov pointed out the importance of maintaining economic growth under the COVID-19 pandemic. He spoke of his desire to strengthen Uzbekistan's agricultural and export capacity while creating employment opportunities in regional labor markets through the "Horticulture Value Chain Promotion Project" that was agreed upon between the two countries in December 2019. He also indicated his intention to improve the business environment and promote Japanese-style business management through the "Investment Promotion Advisor," an expert scheduled to be dispatched by JICA in January 2021. He also commented on Japan's reputation as a trustworthy country, and expressed his hope for the further development of Uzbekistan through sharing Japan's knowledge and expertise in the fields of healthcare and education.

JICA will continue expanding multi-faceted cooperation with Uzbekistan, combining the development of human resources and infrastructure to promote the country's economic growth and social advancement.