After working in various countries for two years, representatives of Japan Overseas Cooperation Volunteers (JOCV) returned to Japan and were granted an audience by Their Imperial Highnesses Crown Prince and Crown Princess Akishino on Aug. 25. This time the interview took place with JICA headquarters and JICA Kansai Center joined on the internet as a protective measure against COVID-19. Four representatives, one each from the areas of Africa, Asia, and Central and South America, reported on activities in their assigned areas to Their Imperial Highnesses, with SUZUKI Noriko, JICA senior vice-president, and KOBAYASHI Hiroyuki, director general of JOCV, in attendance.
Enlightening on nutrition and joining in activities in an orphanage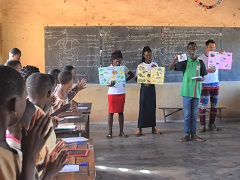 Activity teaching improved nutrition to primary school upper grade classes with local NGO group members. Mr. Kobayashi is at the right
KOBAYASHI Yusuke (category: Community Development, age 35, from Tokyo) was attached to a welfare center (equivalent to the welfare section of a Japan city government) in Parakou City, about 7 hours by car from Cotonou, Benin's largest city. He made efforts to help socially disadvantaged people by working to inform the community about improving nutrition and carrying out activities in an orphanage. In an initiative to improve nutrition, he developed contacts with local NGOs and performed educational activities in six primary school upper grade classes and prepared an activity report. He shared this report with the NGO members, the welfare center at his workplace, and the welfare authorities of the Borgou Department that supervises Parakou City.
Zero garbage activity carried out with an environmental NGO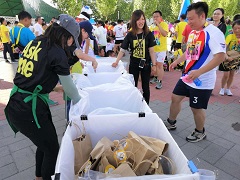 Ms. Akiyoshi is on the right at a marathon rally in Beijing in temperatures of over 40 degrees, challenging in zero garbage activities
AKIYOSHI Kaede (category: Environmental Education, age 28, from Fukuoka Prefecture) was assigned to an environmental NGO that had been active for a long time in Beijing, the capital of China. She was engaged in musical events in the country working with Japanese and Chinese NGOs, with young people from both countries carrying out zero garbage activities. She used her knowhow and initiated zero garbage activities at various large-scale events, and planned ecotours to inspect Japan's environmental efforts. In this way, she used her own ideas and bridge-building to bring practical endeavors to her placement.
Providing music education for teachers and children
Mr. Tamura (middle), in the third-year class at the Laborie Primary School, guiding the children who are taking up the recorder for the first time
TAMURA Naoya (category: Music, age 31, from Hyogo Prefecture) was attached to Education District Seven of Choiseul in south Saint Lucia. He worked at training teachers and children in music development, travelling round the schools in the area. He raised the children's skills in expression and their level of interest in music by giving musical direction in eurythmics, which involves singing together with bodily movement, recorder, and keyboard harmonica. In addition, he was engaged in activities such as producing musical teaching books using local systems. He also used a Grassroots Human Security Grant Aid of the Japanese embassy to improve the students' hygiene at neighboring primary schools through assistance in building toilet facilities and lunch rooms. He made a great contribution locally beyond music education.
Contributing to the community through developing cosmetics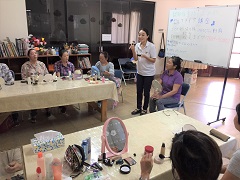 Ms. Matsuo (center) holding self-makeup classes to help counter dementia in aged people in the San Juan Japanese immigrant communities
MATSUO Madoka (category: Beautician, age 38, from Osaka Prefecture) was attached to the beautician department of the vocational training school in Santa Cruz City, the second city of Bolivia. She followed on from her predecessor's activity by upgrading textbooks and guidebooks and improved the quality of guidance in the five essentials, known as the 5S in Japanese, referring to Sort, Set, Shine, Standardize, and Sustain. Besides her assigned areas, Ms. Matsuo worked at enhancing students' extracurricular programs such as at treatment centers for cancer patients. Through cosmetician activities she made a contribution to local society.
During this audience, each person was granted an opportunity to report to Their Imperial Highnesses about the issues, the way that they worked in cooperation with local people, and achievements in their assigned positions. Also, the discussion broadened to include their work or further study since returning and they told about how their two years activity as JOCV tied in with the present. Their Imperial Highnesses listened carefully and warmly, and although the audience was held online due to COVID-19, those who attended were able to complete their reports from beginning to end in a relaxed atmosphere.