Kyrgyzstan, located in Central Asia, is one of the countries that gained independence after the collapse of the Soviet Union. Since its independence, Kyrgyzstan has undergone a series of political upheavals and has been economically stagnant due to its lack of energy resources and insufficient industries to drive economic growth. JICA has been promoting projects in Kyrgyzstan to revitalize the economy with local specialties, adopting Japan's "One Village One Product" (OVOP) movement. Last year marked the 10th anniversary of these initiatives in cooperation with MUJI, which have led to the self-reliance of the women who run the organizations that produce local specialties. MUJI is a Japanese brand of daily necessities that operates globally.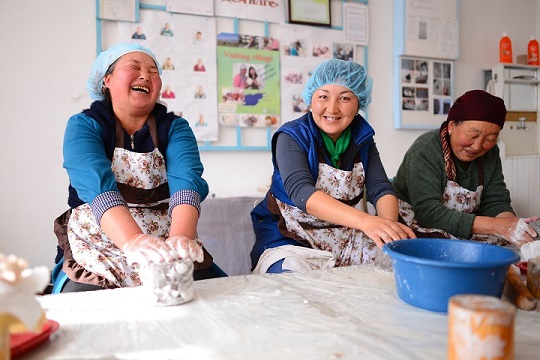 The One Village One Product project in Kyrgyzstan has revitalized the local economy and helped women become self-reliant
Gaining confidence through local specialty production
"In rural Kyrgyzstan, women generally have a low status in the household. For instance, it is not easy for them to freely travel outside their villages because of their housework obligations. However, through these projects, they have been able to make local products, earn an income, and support their families, which has raised their status in the household and led to their independence and increased self-confidence."

JICA Expert HARAGUCHI Akihisa, who has been in charge of the OVOP project in Issyk-Kul District, Kyrgyzstan since 2009, looks back over the past decade. OVOP is an initiative for regional revitalization that started in Oita Prefecture in Japan. As the name suggests, the concept is for "each village to create national and world-class quality specialty goods." The province of Issyk-Kul District is located along the Silk Road which connects Japan and the Middle East, and has traditionally been a center of wool production and a treasure trove of fruits and berries. In this project, local specialties such as felt crafts and jams are being made into high-quality, high-value-added products.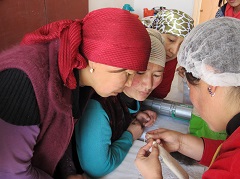 Women learning felt crafting
In each village, a "community workshop" is set up in abandoned school buildings or town hall buildings. Any woman can participate, learn the crafting techniques, and assume responsibility for their production. The profits from the goods produced at the workshop are returned to the producers, and the women of the village can earn money on their own.
Creating a system that can generate ongoing earnings
The most important aspect of the OVOP project is that everyone can participate in the project and that it can generate reliable revenue on an ongoing basis. To achieve this, the project supports the launch of OVOP+1, which is responsible for logistical functions such as product development, raw material procurement, sales, and export. The project aims to further strengthen the capacity of OVOP+1 to connect producers and markets.

About 2,700 producers have registered with OVOP+1 in Issyk-Kul District, with approximately 90% of them being local women. The activities of OVOP+1 are now spreading throughout Kyrgyzstan, and by establishing a "system to live and earn in the village," we hope to improve the status of women in Kyrgyzstan as a whole and stop the exodus of young people seeking work.

OVOP+1 is in charge of everything from the procurement of raw materials (left), product quality management (center), design and planning (right), to business matching
Mr. Haraguchi speaks about the future of OVOP+1 in Kyrgyzstan as follows.

"The OVOP+1 staff work together with producers to meet the demand for high-quality products from customers. Through repeated successful experiences as they overcome the pressure of delivering products, they gradually develop a business mindset. This cycle should enable the system to continue even after the JICA project is completed."
Increased orders for MUJI products support villages impoverished by COVID-19
The goods produced through this project can also be purchased in Japan through Ryohin Keikaku Co. Ltd., which runs MUJI. The "MUJI x JICA Project" started in 2010 in collaboration with JICA to develop products in emerging countries.

Every year, 10 to 20 kinds of Kyrgyz felt goods, with quality and design on par to other products, are sold in MUJI stores. With the growing interest in ethical consumption, in which people buy products with consideration toward how they are produced and how the benefits are returned to the local community, the orders received from MUJI over the past decade is equivalent to about 40% of OVOP+1's total sales.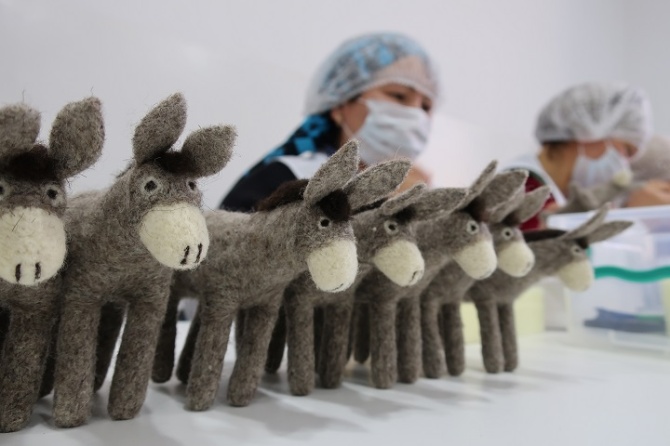 A doll made of felt, a specialty of the Issyk-Kul District, which has become a hit product sold by MUJI. There are many variations and they attract loyal fans
Due to the COVID-19 pandemic, the rural areas have been unable to ship livestock and agricultural products to neighboring countries. Family members who have migrated for work have lost their jobs and their remittances have also been drastically reduced. While village residents are suffering from economic deprivation owing to the loss of cash income, the increasing number of orders from MUJI and the continuation of production activities are supporting the livelihood of these villages.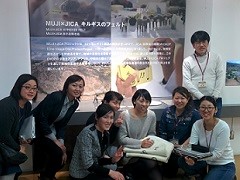 Staff from Kyrgyzstan visiting MUJI headquarters
With expectations for the future, Mr. Haraguchi says, "Up until now, the products have been sold only in some stores for Christmas. We are now discussing developing regular MUJI store products with Ryohin Keikaku. We believe that only products of genuine high quality can build a sustainable relationship between producers and consumers. We also hope that this collaborative project will be a reference for other businesses to participate in production activities in developing countries."
In commemoration of the 10th anniversary of the start of the project with JICA, the special exhibition "Found MUJI Kyrgyz" is currently being held at 17 MUJI stores nationwide and at online stores (scheduled to run until Feb. 11, 2021).