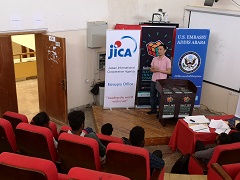 Mr. Fuwa gives a training session on entrepreneurship at Mekelle University in a regional city in northern Ethiopia
"Anyone can become an entrepreneur anywhere in the world, as long as they have a passion for what they want to do and the ability to see it through."

That is what JICA Expert FUWA Naonobu, who is engaged in supporting entrepreneurs, strongly asserts.

Last year, JICA launched "Project NINJA (NINJA: Next Innovation with Japan)," a platform for entrepreneurship support, with the aim of fostering entrepreneurs who can solve social issues as businesses and create high-quality jobs to assist nation-building in developing countries. As part of the project, a business plan competition for businesses emerging during the COVID-19 outbreak was launched for 19 African countries. On Feb. 26 this year, 10 companies that passed the rigorous screening will make their presentations online*.
Mr. Fuwa explained the significance of JICA's efforts to support entrepreneurs as a means to solve the problems of developing countries.
Numerous applications show strong entrepreneurship interest in Africa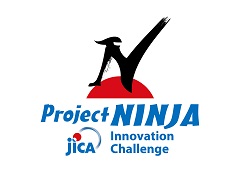 Project NINJA's logo. "The name 'NINJA' also expresses our desire to support entrepreneurs with a sense of urgency"
A total of 2,713 companies applied for the NINJA Business Plan Competition. "In fact, we tried to keep the number of applications down by implementing stricter requirements, but the enthusiasm of the applicants was overwhelming. It exceeded our expectations." The 10 businesses that were selected through the screening process are directly related to social issues in Africa, such as logistics and healthcare. "We selected companies that have only just started up and that we feel have great potential. We hope to match them with Japanese companies in the future."

The NINJA Project is JICA's first attempt to provide comprehensive and tailored support to entrepreneurs at every stage of their business development. Support is provided from the initial stages of starting a business, such as developing an entrepreneur's inspiration or idea into a prototype; to registering companies; to promoting the growth of the business model through contests such as this one; and even matching the company with overseas businesses.
Adopting entrepreneurs' perspective and learning from each other
To date, while fostering local entrepreneurs, Mr. Fuwa has been providing management guidance to small and medium-sized enterprises in Ethiopia. A total of some 2,000 people participated in a startup idea contest in 15 Ethiopian cities, with the theme of solving social challenges as a business. For entrepreneurs who have just started, he provided not only one-on-one business consultations but also phrenic support.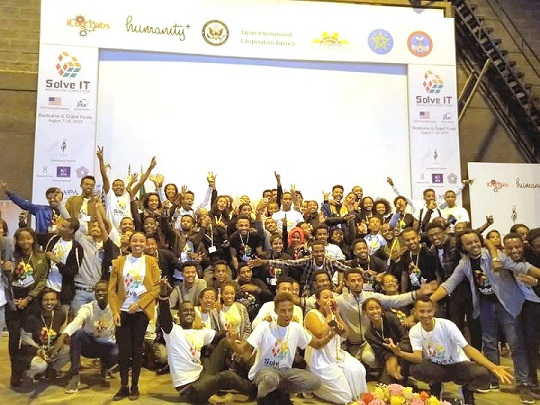 At an event for a startup idea contest in Ethiopia. The competition is open to young people between the ages of 18 and 28
"Although my job is to assist entrepreneurs, I actually learn a lot from them and it gives me the opportunity to develop as an individual." Because the issues are painfully critical to the entrepreneurs themselves, they know them better than anyone else and have a strong desire to do something about them. "Entrepreneurs have many ideas that I have never thought of, and they think differently from place to place. I provide them with a framework for support, and share practical tips such as how to make presentations, but I don't teach them one way. Rather, we learn from each other's perspective."

Sometimes I invite entrepreneurs to my home to serve them Japanese food, and other times I am invited to visit their families. Openly sharing your thoughts with each other is a great way to build trust. The most important thing is to be "on the same page."

We support entrepreneurs who learn and work hard locally
One of the entrepreneurs we are supporting is a group of female medical students who are developing a device to measure uterine contractions in pregnant women. "In rural areas of Ethiopia, pregnant women and babies are dying because they lack the necessary testing equipment. The medical students say that the device they have developed can be supplied at less than a quarter of the price of imported products and can be used in rural clinics. We intend to continue to bolster the efforts of such passionate entrepreneurs."

Although there are entrepreneurs in Ethiopia who have studied abroad and have partnered with major foreign venture capital firms, JICA works mainly with entrepreneurs who have studied locally and are trying to solve local challenges.

In order to promote entrepreneurship, it is essential to boost the level of existing industries. While tackling both management guidance for small and medium-sized enterprises and fostering entrepreneurs, he says, "We hope we can build a win-win relationship where new ideas create competition and synergy between existing industries and entrepreneurs. To achieve this, it is vital to grasp what is needed now and what should be done to achieve it. We are learning from the field."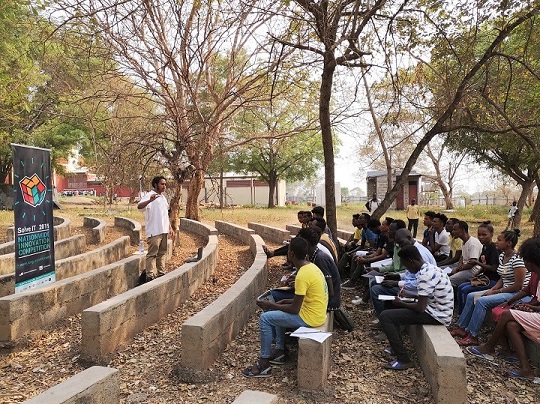 The startup contest orientation was held on the university campus in Gambela, a regional city in western Ethiopia. Students enthusiastically took notes
Linking JICA's technical cooperation projects with entrepreneurial assistance
After graduating from university, Mr. Fuwa worked for a financial institution in Japan, where he was in charge of raising funds for companies. In his private life, however, he was involved in starting his own business by developing apps. When his wife was transferred to Uganda, he accompanied her as a stay-at-home husband. After helping to coordinate the operations of a vocational training school at JICA Uganda Office through a local soccer friend, he later worked on economic development for JICA's private sector in Japan and moved to Ethiopia in 2018.

"Africa's glittering side, symbolized by the leaf-frog phenomenon, is now drawing attention for its revolutionary progress in IT and other new technologies. On the other hand, when we look at rural areas, we still see the reality of the flood of refugees, unimproved public safety, economic stagnation, and worsening unemployment rates. As the population is projected to continue to grow, job creation is the most significant key to raising the country's level. In addition to cooperation in the fields of education and health, we believe that supporting entrepreneurship is one way of solving the problems of developing countries to create high-quality employment instead of low-wage menial jobs."

While in the midst of planning a new startup idea contest in collaboration with members of Japan Overseas Cooperation Volunteers (JOCV) who were dispatched to support small and medium enterprises, he was forced to return to Japan due to the COVID-19 pandemic.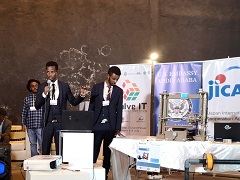 Participants make a presentation at the startup business contest in Ethiopia. They are passionately sharing their thoughts on business ideas
"Some entrepreneurs are working on business models that use AI to diagnose diseases in crops. If they collaborate with JICA's agricultural technical cooperation projects in Ethiopia for instance, new business models may be created. Since there are entrepreneurs in every field, we hope to explore collaboration with various JICA sectors."

Expectations for entrepreneurs in Africa and other developing countries are on the rise. "The excitement that comes from connecting people with people is the driving force behind our work." We continue to stand by the passion of entrepreneurs who want to make an impact.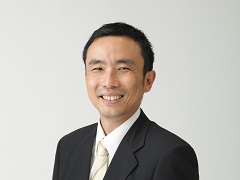 FUWA Naonobu
After graduating from university, he worked at a financial institution, where he was in charge of raising funds for companies. He also started his own business with a friend developing apps. "Both of these experiences have been useful in my current work supporting entrepreneurs," he says. Since 2018, he has been working as a JICA Expert in Ethiopia, providing management guidance to small and medium-sized enterprises and capacity building for government agency staff, while at the same time supporting entrepreneurs. He was born in Mie Prefecture.