In Egypt, Japan's expertise in a practical education system is being applied to develop human resources in the field of engineering education to support the advancement of the Middle East and Africa.

JICA has been cooperating in establishing the Egypt-Japan University of Science and Technology (E-JUST) since 2008, and a new campus commenced last fall to mark the 10th anniversary of its opening in 2010. E-JUST aims to become one of the top universities in the field of science and technology by introducing Japanese-style engineering education. With its small class sizes, graduate/research oriented, practical, and international standard of education, E-JUST continues to grow as a hub university for science and technology not only in Egypt but also in the Middle East and Africa region. Under the "Egypt Japan Education Partnership Initiative," including the cooperation with E-JUST, JICA is emphatically working on "Nation Building Through Human Resource Development" in Egypt.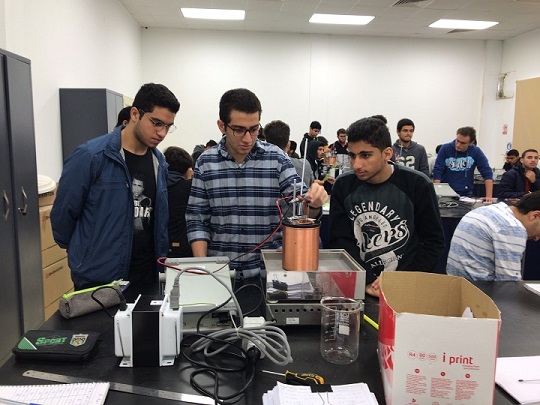 Students experimenting at E-JUST
President El-Sisi participates in the new campus inauguration ceremony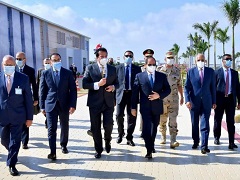 President El-Sisi (front row, fourth from left) and others tour the new campus
The inauguration ceremony of the new campus in September 2020 was attended by Egyptian President Abdel Fattah el-Sisi and 14 ministers. In his speech at the ceremony, which was televised throughout the country, he highlighted the cooperation of Japanese experts and universities with E-JUST, describing it as "a model of collaboration between Japan and Egypt based on cooperation and mutual understanding."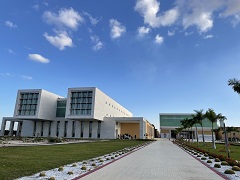 E-JUST's new campus in Alexandria Governorate, northern Egypt
This vast new campus, funded by the Egyptian government, includes classroom and laboratory buildings, four large lecture halls, a library, and student service facilities. Designed by Japan's Arata Isozaki & Associates, the campus has an environmentally sustainable design and is equipped with solar panels thanks to JICA's grant aid. It is rated the best among Egyptian universities in terms of climate change measures.
Support from Japanese universities and state-of-the-art equipment for research and education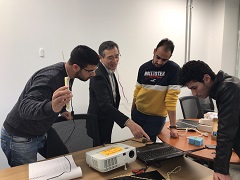 Professor ASANO Tanemasa of Kyushu University (second from left) giving guidance at E-JUST
E-JUST started in 2010 with only a graduate school, and opened an undergraduate program in 2017. JICA has been providing assistance to E-JUST since 2008, from the establishment of the graduate school to the development of its foundation as a university, with the cooperation of Japanese universities including Kyushu University, Kyoto University, Tokyo Institute of Technology, Waseda University, Tsukuba University, Ritsumeikan University, and Ritsumeikan Asia Pacific University (See Note below for the 13 universities currently cooperating), as well as Japanese companies.
Since its establishment in 2010, the university has produced approximately 300 master's and doctoral degree recipients (including 21 international students from six African countries; 17 master's and 4 doctoral). Today, approximately 230 graduate students and 670 undergraduate students are enrolled.

(Note: Waseda University, Tokyo Institute of Technology, Kyoto University, Kyushu University, Tsukuba University, Ritsumeikan University, Ritsumeikan Asia Pacific University, Hiroshima University, Hokkaido University, Tohoku University, Keio University, Nagoya University, Osaka University)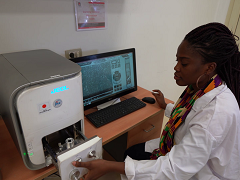 A female student from Ghana enthusiastically engaged in her research work
JICA has provided state-of-the-art equipment for research and education in order to realize laboratory-based education. This is a crucial element in high-quality practical education that emphasizes experiments and practice work. E-JUST is uniquely equipped with large electron microscopes and machine tools for precision processing, both of which are unparalleled in the Middle East and Africa.
In addition, E-JUST began accepting 150 international students from Africa starting from fall 2020 over a three-year period as part of the "Yokohama Plan of Action 2019" and "Japan's initiatives at TICAD7" announced by the Japanese government at TICAD7 (the Seventh Tokyo International Conference on African Development) in August 2019. The significance of the university as a hub for science and technology in Africa and the Middle East is increasing.

To highlight the success story of E-JUST, OOKAWARA Shinichi, professor at the Department of Chemical Science and Engineering, Tokyo Institute of Technology, has been involved with E-JUST for more than 10 years since 2009, when the school was still in its infancy with no buildings and almost no faculty. He looks back on the experience as follows.

"In an environment where research funds were not always abundant, the creativity and ingenuity of the students were like something out of a bygone era in Japan. Most of the faculty and students resided in on-campus dormitories, and discussions for research sometimes started late at night. The faculty's passion and students' motivation bore fruit, and the number of papers published in internationally acclaimed journals as well as the citations for each paper exceeded our initial expectations."

Internship at Japanese companies in Egypt
Liberal Arts education is designed to provide students with a wide range of knowledge and thinking skills outside the specialized fields to form a well-rounded personality. This is another feature of E-JUST that is not found in any other national university in Egypt. Through peace studies, Japanese language, and Japanese culture, the program aims to nurture individuals who are international and interdisciplinary, as well as cooperative and socially minded.

In addition, to date, a cumulative total of approximately 200 doctoral students from E-JUST have studied at Japanese universities. With summer programs at Japanese universities and internship offers from Japanese companies operating in Egypt, the opportunities for human exchange are gradually expanding. The first undergraduate students are graduating in 2021, and they are expected to play an active role in society in the future.

Mr. Abanoub Wassef, a student in the Faculty of International Business and Humanities, who participated in a two-month summer internship at Toyota Tsusho Corporation Cairo Liaison Office in 2019, said, "It gave me an opportunity to think about how I can actually apply what I learned in college to help industry."

Research on COVID-19 is underway
Professor El-Gohary, president of E-JUST and a doctor himself, formerly received training in blood-borne infectious diseases at the Kumamoto Medical Center with the cooperation of JICA. After returning to his home country, he served as vice dean at Suez Canal University and president of Fayoum University. He has contributed to the improvement of health care in Africa by establishing training courses on infectious diseases and hospital management at both universities.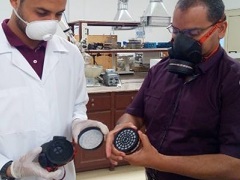 Anti-COVID-19 prototype biofilters
Under the leadership of Professor El-Gohary, E-JUST is also taking on the challenge of research to combat COVID-19. With JICA's collaboration, it is actively promoting the production of protective gear using 3D printers, the establishment of a PCR test lab, and the development of software to reduce the risk of infection.
Due to the spread of COVID-19, faculty members of the cooperating universities in Japan are currently unable to travel to Egypt. However, they have continued to collaborate with the Egyptian counterparts by keeping in close contact with them through online conferences and seminars, giving advice on research and course management, and participating in remote classes. JICA will continue to support E-JUST with the aim to establish it as a science and technology hub in the Middle East and Africa through further alliance with Japanese universities and private companies.