Pitches by 10 startups selected from 2713 applicants
Africa is facing many social issues such as high unemployment rates and inadequate public infrastructure. On the other hand, many entrepreneurs are emerging to solve social issues through the latest technology, involving a population market of 1.3 billion. The global outbreak of Covid-19 has also brought about major changes in the social structure and the concept of distance in the world, including Africa.

In this context, JICA conducted "NINJA Business Plan Competition in response to COVID 19" in 19 countries in the African region to support start-ups that will create innovative business models and technologies in the post-Corona era. 10 start-ups were selected from 2,713 applicants, and the "Startups in AFRICA - the grand final of the NINJA business plan competition" was held on February 26, 2021, co-hosted by Nikkei Inc. On the day of the event, 10 startups from Africa presented their innovative business plans that address social issues facing Africa.

The top 3 excellent start-ups were selected by audience polling, and special prizes were offered by 8 Japanese companies. In addition, more than 2,000 audiences, including corporate executives and investors from Japan and Africa, attended the seminar, which indicated the high level of interest in African startups.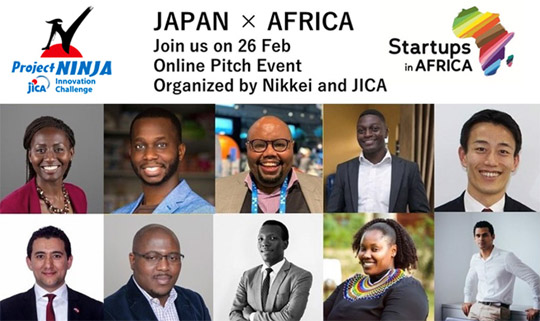 OVERVIEW
Date and Time: Feb. 26, 2021 (Fri.) 19:00-21:30 (JST)
Organizer: JICA, Nikkei
Supported by: DOYUKAI [Japan Association of Corporate Executives]
Operational cooperation: Double Feather Partners
Number of participants: 2000 (Registrants)
Event style: ONLINE, Simultaneous interpretation between Japanese, English and French

PROGRAM (JST):
19:00 - Opening Remarks
19:15 - Panel Discussion "Partnership between Japan and Africa"
19:25 - Pitch Presentation by 10 African Entrepreneurs
21:20 - Grand Prize Polling by Web Audiences, Special awards provided by Japanese companies
21:25 - Summary
Main Speakers
Commentators

Mr. Mutsuo Iwai
Chairman of the Project Team for African Development, Keizai Doyukai (Japan Association of Corporate Executives)/Deputy Chairman of the Board, Japan Tobacco Inc.

Mr. Ken Shibusawa
Chairman of Commons Asset Management, Inc./The leader of the Nikkei`s African Business Delegation in 2019

Mr. Keiji Katai
Senior Director, Economic Development Department, JICA

Modetator

Satoshi Shimoda
Senior Producer, Nikkei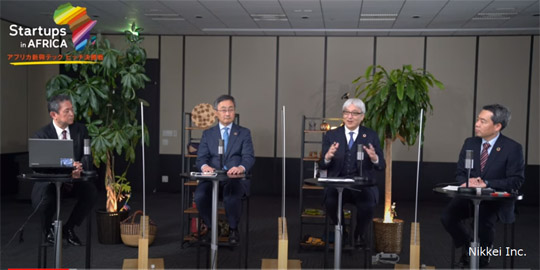 Panel Discussion "Partnership between Japan and Africa"
Presenter
1. Mr. Menyo Innocent, CEO & Co-Founder, Mobile Scan Solutions, Uganda

M-SCAN (Mobile Scan Solutions) is the leading developer of portable ultrasound devices in East Africa for use especially on pregnant women to detect risk factors of maternal mortality. Their model is through sale of the portable ultrasound devices developed or extending our much-needed ultrasound services to pregnant women in the comfort of their homes through teleradiology. The target customers include private clinics and hospitals, and pregnant women. M-SCAN projects a serviceable obtainable market of 180 health facilities only in Uganda and project to scan at least 2,400 per year on the home-based ultrasound model (teleradiology).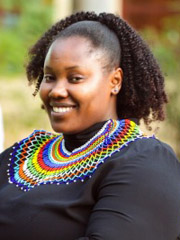 2. Ms. Rose Peter Funja, Managing Director, Agrinfo,Tanzania

Agrinfo addresses the lack of affordable formal credit services for Small holder farmers (SHFs). Their solution, a digital platform "JembeKilimo", connects underserved SHFs to the necessary elements that improve their productivity, such as smart-farming information (hereafter, GAP information), credit services to help them obtain high-quality inputs, while helping financial institutions to increase their agricultural portfolios. Using mobile phone technology, reliable data collected from drone and satellite imagery, and sophisticated analytics, JembeKilimo will bridge the gap keeping SHFs from credit, thus allowing them to grow their businesses.
3. Mr. Jean Claude Gouesse, CEO, Moja Ride, Cote d`lvoire

Moja Ride is Mobility and payment platform which helps consumers find, book and pay for all modes of transportation from a single mobile App and contactless Visa enabled fare card. The service provides an integrated solution bundle of payment and mobility service; hence, the payment solution enhances the mobility service while the mobility service distributes the payment solution. This has the unique advantage of controlling the customer experience, end to end. Moja Ride provides consumers with a Mobile App and a physical Visa Fare card which they can use to make contactless payment daily. The company targets student and the working class. This group, aged 14 to 50, is adopting digital payment, online shopping and traveling. As the urban population grows so will the need for mobility and digital payments. Moja Ride tracks numbers fare payment card reload as measure of adoption and usage of the Moja Ride digital fare payment system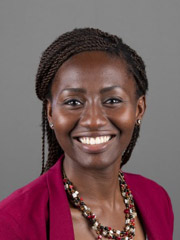 4. Ms. Folake Owodunni, CEO & Co-Founder, Emergency Response Africa, Nigeria

Emergency Response Africa (ERA) is a healthcare technology company that is providing fast, safe, and affordable emergency medical care across Africa, beginning in Nigeria. Its intelligent emergency response management platform, ResQ, helps to address emergencies in a few minutes by rapidly coordinating lifesaving resources. It efficiently dispatches trained first responders, equipment, and vehicles, while facilitating communication between emergency victims, first responders, and hospitals. ERA is filling a big gap in healthcare systems across Africa by creating a sustainable and scalable emergency medical services system.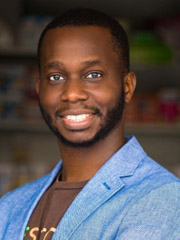 5. Mr. Bryan Mezue, CEO, Lifestores Healthcare, Nigeria

Lifestores is on a mission to build a world with equal access to primary healthcare regardless of who you are, what you earn or where you live. Pharmacies are frequently the first port of call into healthcare for patients in poorer communities, but they face myriad challenges (e.g. fake medicines, fragmented supply chains, poor data records). Starting in Nigeria, Lifestores is scaling a digital pharma marketplace to create "pharmacies of the future".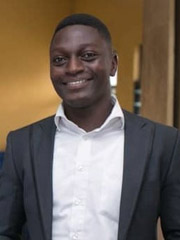 6. Mr. Daniel Elliot Kwantwi, CEO, TranSoniCa, Ghana

TranSoniCa is an electronic contactless card to be used to make transactions in Ghana. The TranSoniCa RFID IC card is completely passive, which is activated and powered by an external reader. Its intrinsic multipurpose nature makes it the best deal for transportation, shopping, and eating. It eliminates long queues, reduces the need to carry coin changes, and prevent theft attacks. It also brings to the table accuracy, accountability and efficiency for our vendors. Emergence of COVID-19 has created a global financial and health crisis. It is now more apparent than ever that that societies go cashless and harness that good power that comes with it. TranSoniCa will significantly reduce the spread of Corona Virus and any other virus that may emerge in the future since it will significantly reduce human interaction with fiat cash.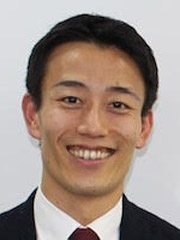 7. Mr. Yo Murofushi, CEO & Founder, And Africa, South Africa

And Africa LLC provides Last-Mile Delivery with IoT Lockers in South Africa, called ECD (Easy Collect & Drop).
And Africa is tackling issues of consumers such as "expensive shipping cost", "necessity to wait at home for parcels", "Covid-19 infection risk due to parcel carriers", and "high re-delivery costs" for e-retailers. Our solution is to provide the last-mile delivery with IoT Lockers by making the most of Asia Hardware technology. ECD users can receive, send, and store packages 24 hours/7 days with the lowest price (25ZAR-) because of the most efficient delivery arrangement and No-Commissions required for ordinary PUDO services.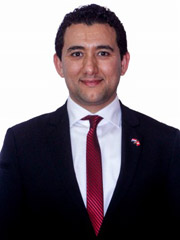 8. Mr. Jihed Hannachi, Co-Founder, MajestEye, Tunisia

MajestEYE has introduced DrugEYE™, a data driven solution to allow Health authorities to (1) quickly understand and assess the dangers of the (local strains of the) organism, (2) base pandemic policy decisions on the generated description of the organism's genes behaviour/function, (3) have an objective basis to explain and coordinate policy pandemic decisions (including treatment protocols) with other countries in the region. DrugEYE™ is easily deployable as a service with flexible subscription schemes.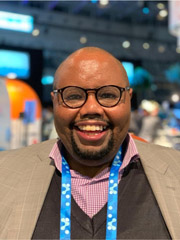 9. Mr. Kevin Kihara, Managing Director, Upepo Technology, Kenya

Upepo Technology Company Limited (Upepo) is a technology company providing managed services for Industrial Internet of Things (IIoT) network software and IoT devices serving Kenya's water sector. In the difficult circumstances of Kenya's water supply, Upepo's IoT solutions are intended to help the country's water utilities improve water resource management, reduce infrastructure breakdowns, enhance revenue and encourage conservation of water. Partnering with Safaricom PLC and leveraging on its low-power and wide area telecommunications network under the GSMA's 3GPP Narrow Band IoT (NB-IoT) standard, Upepo seeks to provide IIoT solutions to the 103 water service providers (WSPs) regulated under the Water Act 2016 and the estimated 5,200 community water projects and irrigation projects across Kenya that serve an estimated 12.3 million households.
Upepo's customers are (B2B) business.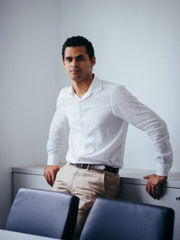 10. Mr. Pedro Beirão, CEO & Co-Founder, Appy People, Angola

Appy Saúde (Our App) allows thousands of users to find medication at the closest pharmacies, check and compare prices. In a market where medication prices can vary up to 100% from pharmacy to pharmacy, being able to compare the prices not only allows the user to use his resources wisely, but also adjusts the market by providing information that wasn't available before. Appy Saúde also allows to book appointments and disrupts the way users interact with health establishments, and vice-versa, as users can review all health establishments in their profiles. This creates a bigger focus on the customer experience, which will definitely lead to better and more complete service from health establishments. Appy Saúde charges a fee for every successful transaction made with Pharmacies and Clinics on the platform.
Special award by Japanese company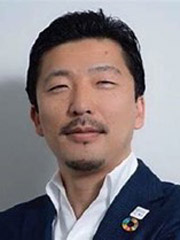 Toyota Tsusho Inc.
Toyota Tsusho Corporation and its group company CFAO SAS decided to invest in Moja Ride, through Mobility 54 Investment, a corporate venture capital subsidiary of Toyota Tsusho group.

Message from Takeshi Watanabe, Mobility 54 Investment SAS, CEO,
All 10 companies have one thing in common: they are developing their businesses with a strong commitment to solving issues through new technologies and business models. We, Japanese companies, would like to work together with these passionate entrepreneurs in the spirit of "With Japan". We chose Moja Ride because of the affinity between the various systems and services for the transportation sector that are currently being implemented in Cote d'Ivoire and the automobile business that we are running in the country. We look forward to working with Moja Ride to accelerate the digitalization of the African transportation sector.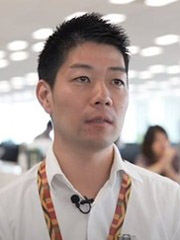 Rakuten Inc.
Rakuten Inc. offer mentoring opportunities to TranSoniCa

Message from Mr. Shotaro Yamanaka, Rakuten Europe
We are an IT company with the mission of "Empowering the world through innovation". For this special award, we would like to support further acceleration of the business by providing mentoring opportunities by professionals, including executive officers, using actual Rakuten business experience. We chose TranSoniCa in Ghana because we believe that the company's ability to provide a safe and secure means of payment through cashless cards is of great social value. As Rakuten is also operating cashless businesses in Japan and overseas, we would like to use our experience to contribute to TranSoniCa and, ultimately, to Ghanaian society. In addition, we intend to contribute to the people of the world by making use of our other initiatives, such as start-up support in Africa and the comprehensive cooperation agreement with JICA to achieve the SDGs.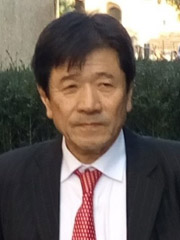 Stirling Engine Japan Inc.
Stirling Engine Japan Inc. provide ultra-cold logi box that can also carry Covid-19 vaccine to And Africa.

Message from Mr. Koji Yamada, CEO and President
A company that develops and manufactures cooling devices that use Stirling engines. This ultra-cold log box has the double function of +30 degrees above, minus 86 degrees below, and moving + storage stationary type, and can be used for a wide range of purposes from living body, Covid-19 vaccines frozen transportation to food distribution. In addition, it operates on household power supply and car cigar socket power supply, has a spare battery loaded, and the engine runs without using oil, so the engine does not stop even if it is rotated 360 degrees, and it can be used in cold chains in Africa. The reason for awarding And Africa a special award is that we want to support their last mile business and contribute to Africa through frozen logistics.
Double Feather Partners
Double Feather Partners provide a cash investment worth 1.5 million yen and consulting services worth 3.5 million yen, for a total investment worth 5 million yen to Upepo Technology

Africa Capital Partners LLC
Africa Capital Partners LLC plans to sign an MOU with a view to investing in And Africa

ACCESS Inc.
Accces plans to sign an MOU with a view to business collaboration with And Africa

Accelerator Inc.
Accelerator will provide PR support and special interviews using the management matching app COLABO to Appy people and And Africa

Asia Africa Investment & Consulting (AAIC)
Asia Africa Investment & Consulting will offer mentoring opportunities to Lifestores Healthcare
Results of Audience Poll
1st prize in the audience poll: Mobile Scan Solutions form Uganda

2nd prize in the audience poll:TranSoniCa from Ghana

3rd prize in the audience poll: Agrinfo from Tanzania

The following additional prizes were offered to the top three companies.
JICA will provide the opportunity to invite representatives to Japan and match them with Japanese companies. Nikkei will offer five free annual subscriptions to the English digital media, Nikkei Asia.


Representative speech by M-SCAN, which won the first prize in the audience poll.