In Africa, "Digital Transformation (DX)" is rapidly evolving to transform businesses with digital technology. Startup companies that promote such DX are also expected to be key players in solving the challenges of Africa.

Starting from 2020, JICA has conducted "Project NINJA (Next Innovation with Japan)," a platform for entrepreneurship support to solve social issues as business and trigger the creation of high-quality jobs to assist nation-building in developing countries. As part of the project, "Startups in AFRICA - the grand final of the NINJA business plan competition (co-organized by JICA and Nikkei Inc.)" was held in February.

At this event, which aims to match Japanese companies with African startups, ideas were proposed such as a cashless payment service inspired by a Japanese transportation IC card, a system for managing pharmaceutical inventory using an app, and an agricultural support service using drones. Future collaboration with Japanese companies is also expected.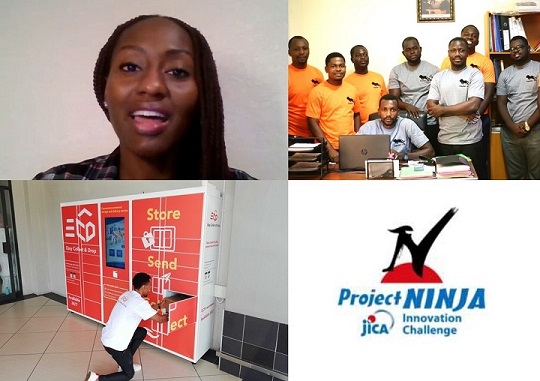 Startup entrepreneurs presenting their businesses at the "Startups in AFRICA - the grand final of the NINJA business plan competition" (top right, top left, courtesy of Nikkei Inc.). An IoT locker project by And Africa from South Africa, which advanced to the finals (bottom left). The logo of "Project NINJA," which supports young entrepreneurs in developing countries (bottom right)
Contactless IC cards will solve a variety of issues
One of the most notable projects proposed at the event was a cashless payment service using contactless IC cards by TranSoniCa in Ghana.
Daniel Elliot Kwantwi, founder and CEO of TranSoniCa, studied at the University of Tokyo under JICA's ABE Initiative (African Business Education Initiative for Youth), an industrial human resource development program that provides African youth with postgraduate education in Japan and an internship at a Japanese company at the same time. This spring, he completed his master's degree. When Mr. Kwantwi first came to Japan and used the Suica transportation card, he thought, "I want to take this back to Africa!" This marked the beginning of this project.

Daniel Elliot Kwantwi, CEO of TranSoniCa (left), and the TranSoniCa card (right)
"In Africa, cash payments for transportation and shopping often take a long time, resulting in long waits and queues. In recent years, there has been a growing need for contactless payment services to prevent the spread of COVID-19. Stores are also facing issues with cash, such as theft and complicated sales management. TranSoniCa's service solves all of these concerns," says Mr. Kwantwi. "We would like to introduce the service in Ghana first, and then expand it to other African countries," he said, describing his plans for long-term growth and his dreams.
Japanese companies are eyeing business opportunities in Africa
This business contest, which brought together African startups and Japanese companies, was the final competition in which the 10 startups selected as finalists from 2713 applications across 19 African countries competed by giving presentations on their respective businesses plans. Japanese companies that participated in the judging also offered "special awards" for specific cooperation, such as investment, business partnerships, and the provision of mentoring services.
YAMANAKA Shotaro, senior manager of Rakuten Europe S.a.r.l., Africa division, who decided on the cooperation with TranSoniCa, said on the reason for selection, "We believe that providing a safe and secure means of payment through cashless cards is of great social value in Africa. As Rakuten Group is operating various fintech services, we would like to use our experience to support TranSoniCa."

Other special awards went to And Africa, which provides IoT locker-based delivery services in South Africa, and Kenya's Upepo Technology, which uses smart water meters to manage water resource.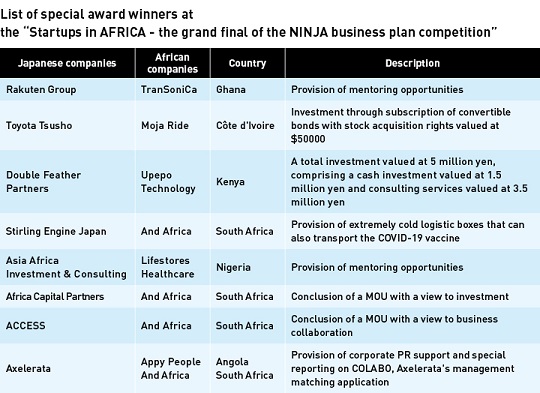 The Grand Prize, which was determined through audience polling, went to M-SCAN (Mobile Scan Solutions) of Uganda, which developed the "portable ultrasound device" and a business model that enables pregnant women to be examined in villages without medical facilities.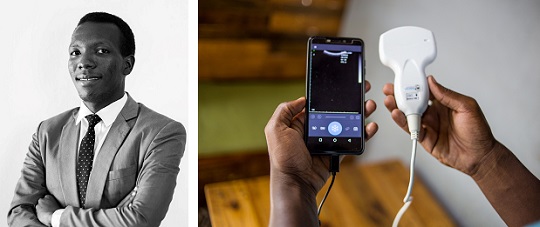 The Grand Prize recipient Menyo Innocent, CEO of M-SCAN (left), and the portable ultrasound system developed by the company (right)
Mutually beneficial collaborations between Japanese companies and African entrepreneurs
At this event, in addition to business presentations, a panel discussion of experts was conducted to encourage entrepreneurs. JICA Expert FUWA Naonobu is engaged in building the startup ecosystem and the driving force behind Project NINJA. Describing his vision of the future of startup program, he says, "Our aim is to create a growth model where we train 10000 people to be entrepreneurs, and one percent of them, 100 people, start their own businesses, and each business creates five jobs. The steady creation of jobs will lead to self-sustaining development in Africa, such as infrastructure development and solving social issues."

KATAI Keiji, senior director of the Private Sector Development Group, JICA, expressed his expectations for young entrepreneurs in developing countries, saying, "Each company is full of talent and I was filled with excitement. We hope that by creating connections between Japanese companies and startups in developing countries, JICA can help build win-win relationships."