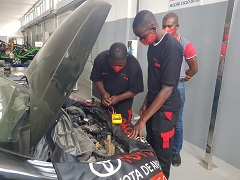 Trainees receive technical guidance on automobile maintenance at the Toyota Angola Academy
In Angola, located in southern Africa, the training of auto mechanics has started with the aim of achieving a safe automotive society. Toyota Angola Academy, which provides training for automobile maintenance instructors, opened last October. The trainees are working hard every day to master their skills, combining online training due to the pandemic of COVID-19. JICA has been providing cooperation in the field of human resource development in Angola for many years. It is now supporting Angola's efforts to raise the level of automobile maintenance technology by dispatching experts and creating curriculums in cooperation with Toyota de Angola, Toyota Tsusho Corporation's group company.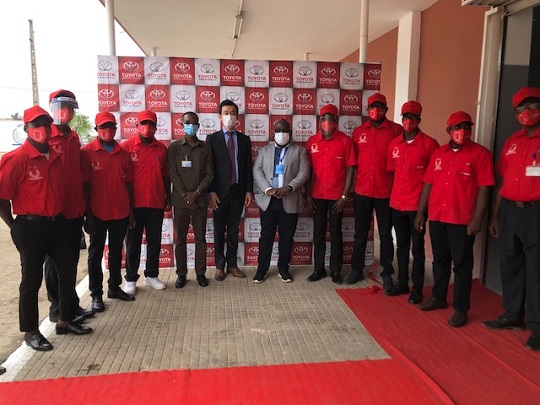 President of the Angolan National Institute for Employment and Vocational Training (fifth from the left), MIYAMOTO Yoshihiro, Chief Representative of JICA Angola Office, (sixth from the left), and advisor to the Minister of Public Administration, Labour and Social Security of Angola (seventh from the left), with the first class of the Academy trainees
A lack of mechanics is the cause of frequent traffic accidents
In Angola, a country with a large land area and limited public transit system, there is a great need for cars as a means of transportation. Yet, because of the lack of awareness of regular inspections and maintenance, people often continue to drive their cars without repairing them until they become undrivable. In addition, as a result of the shortage of auto mechanics with the proper repair skills and knowledge, breakdowns and traffic accidents are a common occurrence.
Toyota de Angola (TDA) is engaged in establishing automobile maintenance techniques and in the training of its technicians in order to achieve a safe and secure automobile society in Angola. This time, Toyota Tsusho, the parent company of TDA, approached JICA for cooperation, as they had been collaborating on health projects in Angola. This led to the opening of the "Toyota Angola Academy."

"To become an auto mechanic, you need a lot of specialized knowledge and skills. Many people in Angola drive Toyota cars. We hope to acquire practical and high-quality maintenance skills at the Toyota Angola Academy by obtaining knowledge on the level of maintenance skills specified by TDA," said Ernesto Sebastiao, one of the trainees at the Toyota Angola Academy.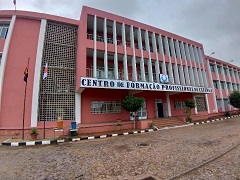 The Cazenga Training Center, where the Toyota Angola Academy was established
The trainees of the Toyota Angola Academy, including Mr. Sebastiao, are active instructors involved in the training of auto mechanics at the Cazenga Training Center. The Center is an affiliate body of the Angolan National Institute for Employment and Vocational Training. After improving their skills as instructors through this training, the trainees will pass on their technical know-how to future auto mechanics.
Online training by Brazilian expert
During the roughly one-and-a-half year training period, the trainees at the Toyota Angola Academy will acquire skills at the intermediate level or higher as defined by TDA (such as brake and clutch inspection skills), with the aim of improving their capacity as auto mechanic instructors.

For the opening of the Toyota Angola Academy, JICA dispatched a Brazilian expert from the Brazil's National Service for Industrial Training (SENAI), where JICA has been providing technical training for more than half a century. Brazil is a Portuguese-speaking country, just like Angola, and has the great advantage of being able to provide direct instruction in a common language.

"I am honored to learn from a SENAI expert, which is a large and historic vocational training school. So far, I have been able to deepen my knowledge and understanding in the classes. I have also learned many things about how to convey the knowledge and skills I have acquired to others in the future," said Mr. Sebastiao.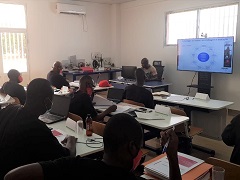 During the first six months of the 18-month training program, trainees will learn the basics in online classes
Currently, due to COVID-19, it is difficult for the expert from Brazil to enter Angola, so the training is conducted online, mainly through classroom lectures. In the future, there are plans for the trainees to travel to Brazil for inspection and practical training, if the situation allows.
Steve da Silva, a SENAI expert, says the following about the online lectures.

"I am glad that, in spite of COVID-19, we have been able to start online classes. Since each trainee has a different level of understanding, it would be more effective if they had one computer each, but we are improving our teaching methods under current limited environment while encouraging trainees to learn from each other. Compared to when the school first opened, the knowledge of the trainees has improved and they are able to understand more advanced topics. Going forward, it will be important to create a suitable learning environment to ensure the success of the training."

Private sector companies also develop their own curriculum and equipment
At the Toyota Angola Academy, in addition to TDA's skilled instructors supporting the classes, they also collaborate with SENAI to maintain the teaching equipment and tools. This is a new style of collaborative effort, and the first case of its kind in Africa, in which JICA works together with private sector companies for human resources development while receiving funds, human resources, and equipment from them. This form of alliance allows for international cooperation to be conducted without seeking financial support from counterpart government agencies nor placing personnel burdens on them.
"Toyota cars are known for their high-performance, high-quality and have a strong brand presence in Angola. In this context, TDA's opening of the auto mechanic training academy is attracting a lot of attention. The Academy not only simply teaches skills, but it also incorporates philosophical aspects, such as the Toyota way of thinking and the importance of setup and organization. Because of this, I feel that the trainees have started to think and act on their own when faced with problems," says HANZAWA Sakiko, project formulation advisor in charge of this project at JICA Angola Office.
JICA will continue to support people living in developing countries in order to make their lives more comfortable and safer. In cooperation with Japanese private sector companies, JICA will utilize the relationships of trust cultivated over the years with each country in new challenges.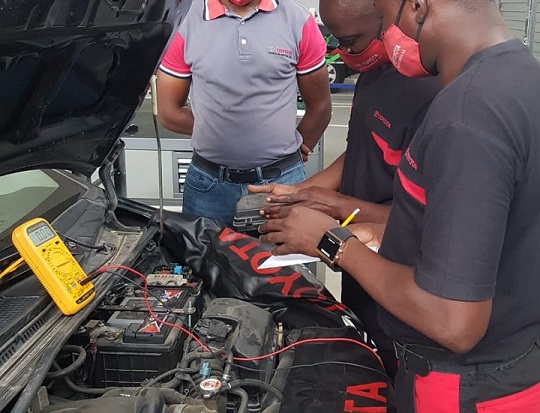 An electrical circuit practical training session using equipment provided by TDA