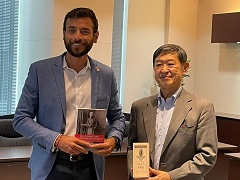 Minister Palacios (left) and President Kitaoka
On August 3, JICA President KITAOKA Shinichi held talks with Minister Sebastian Palacios of the Ministry of Sports from the Republic of Ecuador at JICA headquarters.

At the outset of the talks, President Kitaoka extended his congratulations on the inauguration of the new administration of President Guillermo Lasso (in May of this year) and the appointment of Mr. Palacios as the new minister, and welcomed him as the first minister of the new administration to Japan. He also congratulated the delegation of athletes from Ecuador on their success in the Tokyo 2020 Olympic Games (Note 1).

In response, Mr. Palacios expressed his appreciation for the tremendous support provided by Japan and JICA over the years in areas such as disaster prevention and the environment. In particular, he affirmed his hopes for further expansion of cooperation in the area of sports through Japan Overseas Cooperation Volunteers (JOCV) (Note 2).

President Kitaoka stressed the importance of "sports and development" to contribute to the advancement of countries and peace, saying that all people, regardless of socio-economic backgrounds, have the right to enjoy sports, and that through sports, people learn discipline and respect for others.

In addition, Mr. Palacios spoke about the first seminar of "JICA Chair (JICA Program for Japanese Studies)" in Ecuador (Note 3). President Kitaoka conveyed his appreciation to Ecuadorian Ambassador to Japan Mr. Jaime Barberis for his efforts in organizing the event. President Kitaoka also outlined the future development of the JICA Chair, leveraging the experience accumulated through Japan's modernization and overseas development cooperation. He expressed his hope that the JICA Chair will help students in Ecuador deepen their understanding of Japan and attract even more students to study in Japan.

JICA will continue its efforts to contribute to the sustainable development of Ecuador through infrastructure improvement, human resource development, and technical cooperation in areas such as disaster prevention and the environment.

(Note 1) At this year' s Tokyo Olympic Games, Mr. Richard Carapaz (cycling, road race) won Ecuador's second-ever gold medal, followed by Ms. Neisi Dajomes (76kg) winning a gold medal, and Ms. Tamara Salazar (87kg), winning a silver medal in women's weightlifting. Ms. Dajomes is Ecuador's first-ever female athlete to win a medal.

(Note 2) The total number of JOCV dispatched to Ecuador is 722 (as of the end of FY2020). Among them, 132 or about 18% of the total are volunteers in physical education/sports fields. JICA has dispatched 54,428 JOCV (as of the end of FY2020) globally, of which 4,649 are in physical education/sports fields, or about 9% of the total.

(Note 3) The event was held in collaboration with Ecuador's Espiritu Santo University on August 4, 2021.