The Tokyo 2020 Olympic and Paralympic Games have come to a close. JICA Volunteers, who were coaching the athletes in developing countries, passionately watched over their competitions throughout the event. Drawing on the experience in Tokyo, the athletes who participated in the games have already begun to progress toward further growth. The JICA Volunteers who guided them look back on the initiatives as not only worthwhile but also a learning opportunity for themselves. JICA continues to provide support through the "power of sports," which promotes its popularity and connects people and regions with various backgrounds such as gender, culture, and religion.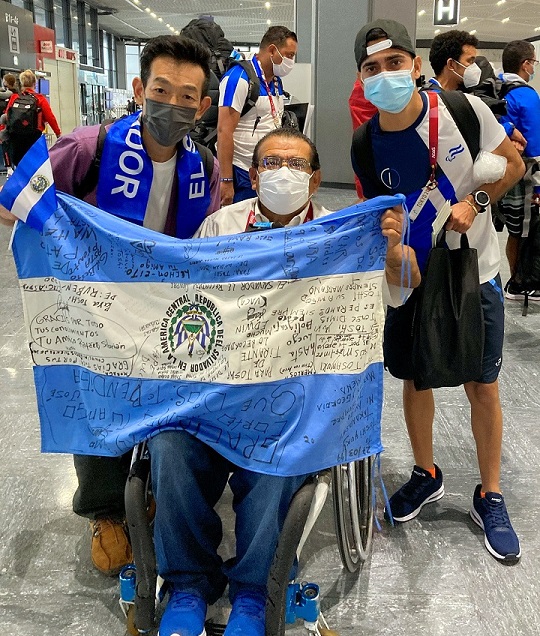 Former JICA Volunteer TAKANASHI Toshiyuki (left) seeing off Jorge Alberto Ochoa (center), president of the El Salvador Paralympic Committee, and athlete David Pleitez (right), who are heading home after the Paralympics
JICA Volunteers accompany athletes during the Olympics
KUDO Ryoma was based in Malawi for two years from 2018 as a JICA Volunteer and acted as a coach for the judo team there. After returning to Japan, he continued to coach the team remotely for a year and a half. This time he accompanied the athletes who traveled to Japan, and supported them during the run-up to the Olympic Games.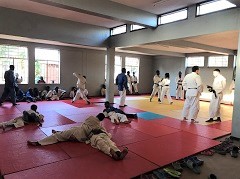 "The judo dojo in Malawi is not very big. We would divide the practice space into two groups, one for children and the other for athletes with a certain level of skill," recalled Mr. Kudo
"Back then, I was coaching judo to local people at the judo hall of the Judo Association of Malawi. Then, one day, Harriet Bonface walked in. She came to ask me to coach her for the Olympics. In the beginning, I had to start from teaching her how to use her voice when making an attack, but a year later, at the 2019 World Judo Championships, she showed remarkable progress and took me by surprise.
At the Tokyo Olympics, she, unfortunately, lost to a Brazilian athlete by Ippon-seoi-nage (one-armed shoulder throw). After the match, I again told her how difficult and wonderful it was for her to continue her training during the COVID-19 crises and stand on the world stage. One of the biggest wishes I have for the people of Malawi is for them to love judo, not only for competitive reasons but also for the many lessons and joys it brings. For this reason, I would like to continue to support them in the future."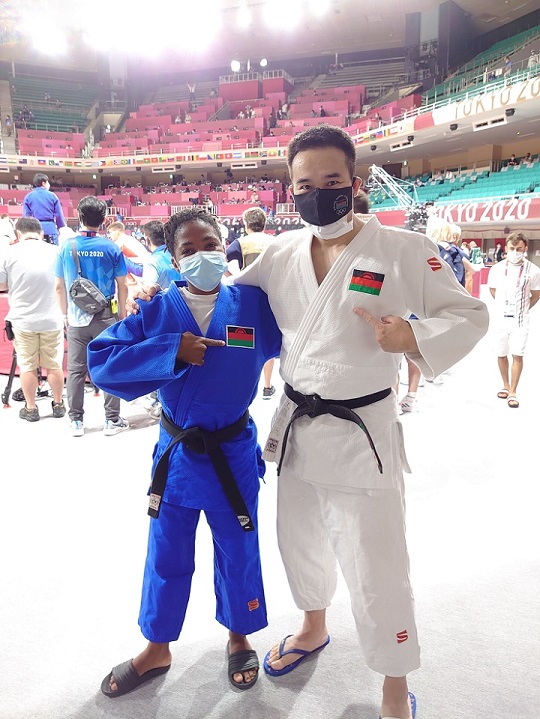 Judo Women's 48kg class athlete Harriet Bonface (left) and Mr. Kudo (right) at the Tokyo Olympic judo venue
There were JICA Volunteers who watched the Olympic Games in their dispatched countries. NAKATANI Eri traveled to Laos in December 2019 to coach and develop swimmers for the national swimming team.

"I have been coaching Siri Arun Budcharern for the Women's 50m Freestyle swimming competition and she showed tremendous improvement over the past two years, shaving more than two seconds off her time. Leading up to the Olympics, we started by teaching her how to approach her training, and then we worked together to find a training method that best suited her. During the six months when I returned to Japan due to the spread of COVID-19, I experienced the difficulty of communication while coaching remotely.

However, at the Olympic Games, she successfully set a new personal best. Immediately after the competition, we shared our jubilation on the phone, and that was the moment when I realized that everything I had done up to that point had been right. The fact that Ms. Siri Arun set a personal best on the world stage motivated the other athletes to work even harder, and that experience spawned a new desire to send as many athletes as possible to overseas competitions."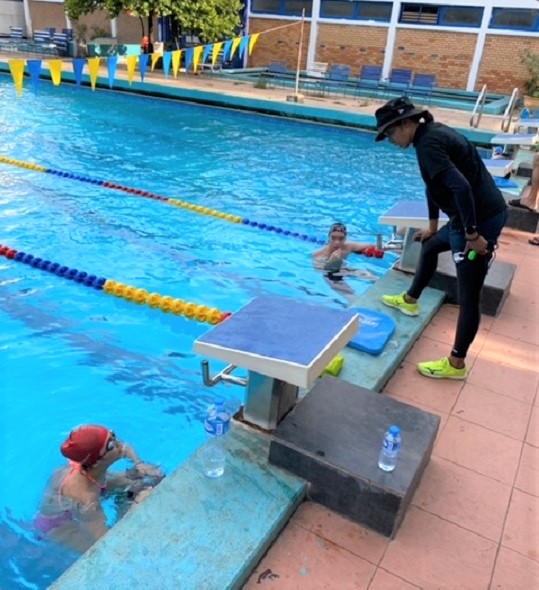 Ms. Nakatani (right) coaching in Laos, says, "We will continue to strengthen the athletes focusing on the FINA World Championships to be held in Japan in 2022"
Communicating the lessons I learned from the Paralympic athletes to Japan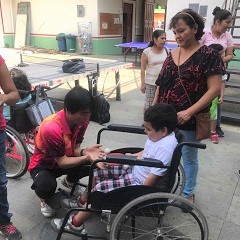 Mr. Ito (left) coaches a child in a wheelchair on how to use a racket
JICA Volunteers likewise supported the activities of the Paralympic athletes. ITO Yushin traveled to Mexico in 2017 and spent two and a half years teaching table tennis to students and athletes with disabilities.

"I have a Japanese table tennis friend who had an accident and lives with disabilities. Wanting to play with him again, I became interested in teaching table tennis to people with disabilities. When I heard that there was a training facility in Mexico for table tennis players aiming for the Paralympics, I visited the facility and offered my support for their training. Their goal was to succeed on the world's biggest stage. I saw them struggling with the lack of positive results from their practice, but they never gave up. They had the strength of determination to thoroughly think, devise, and implement their ideas.

During the Paralympic Games, Mexican table tennis player Claudia Perez Villalba, who lost 0-3 against a Dutch player in the first round, sent me a timid email. I continued to encourage her not to lose focus of her strengths and to visualize winning. Today, as I give talks about my experiences in Mexico at junior and senior high schools in my hometown of Aomori prefecture, I always tell the students that they should not blame others but take on challenges and never give up. I want to continue to pass on such lessons to the children of Japan."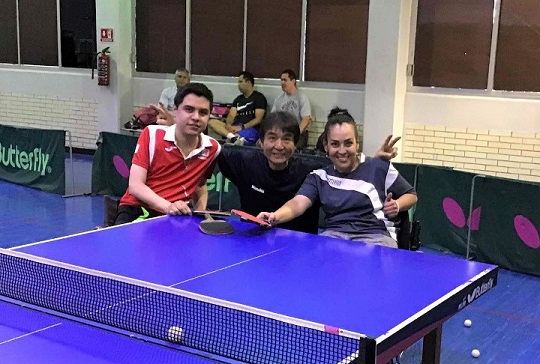 Training in Mexico. Since he was unable to meet the athletes at the Paralympic Games, Mr. Ito (center) says, "It is my dream to see them again in Mexico someday"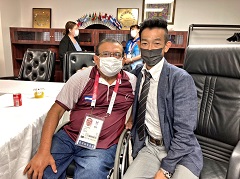 El Salvador Paralympic Committee President Jorge Alberto Ochoa (left) and Mr. Takanashi (right) met again for the first time in 30 years in Japan
At the Paralympics, Mr. Takanashi, who was dispatched as the first group of JICA Volunteers to the Association of Wheelchair Sports in El Salvador in 1996, was reunited with Jorge Alberto Ochoa after 30 years. Mr. Ochoa was the president of the Association back then and came to Japan this time as the president of the El Salvador Paralympic Committee.
"We have been promoting para-sports in El Salvador by raising funds through crowdfunding with the help of former JICA Volunteers who were dispatched to the country. A training camp was held in Japan in 2019 for strengthening track and field athletes in preparation for the Paralympics, and I was delighted that David Pleitez, who joined in the camp, demonstrated his strength by setting new season bests in the 100m and 200m," said Mr. Takanashi.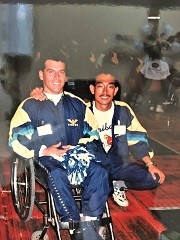 Mr. Takanashi (right) during his time coaching wheelchair sports in El Salvador
"Without a doubt, JICA Volunteers have made a great contribution to the development of sports for people with disabilities in El Salvador," says Mr. Ochoa. Currently, many young athletes in El Salvador are training hard for the Junior Latin American Paralympics to be held in Chile in 2022, and he looks forward to continued support from Japan.
The future form of "Sports x Development"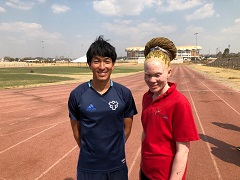 JOCV member JICA Volunteer Mr. Nozaki (left) with Ms. Munga at the time of his dispatch
Monica Munga, the flag bearer for Zambia at the Paralympics closing ceremony, has albinism (leucoderma) and low vision. In Africa, people believe that albinos bring bad luck, and she has experienced prejudice in many ways. However, after her encounter with athletics and her participation in the Paralympics, she now wishes to encourage people with disabilities and albinos in Zambia. NOZAKI Masataka, a JICA Volunteer, was the one who coached Ms. Munga in Zambia.
In the "Host Town" project, which aimed to promote exchanges between the Olympic and Paralympic athletes and local governments, JICA provided various forms of assistance, such as holding pre-Olympic training camps and offering online support, under the restrictions imposed by COVID-19.

Through the power of sports that connect people and regions with different backgrounds, such as language, culture, social and economic status, and disabilities, JICA aims not only to popularize sports but also to foster mutual respect and realize a peaceful society with diversity. JICA will continue to promote cooperation through sports together with related organizations and people in Japan and abroad.