In 1872, Japan's first railway opened between Shimbashi in Tokyo and Yokohama. To commemorate its birth and development, Oct. 14 was designated as "Railway Day" in Japan. The Japanese railway system, which will celebrate its 150th anniversary next year, is one of the best railway systems worldwide in terms of its state-of-the-art technologies, safety, punctuality of operation, and its excellent customer service.

There are many requests from developing countries for support in using Japan's cutting-edge railway technologies. Over the past years, JICA has regularly cooperated in projects relating to railways in more than 40 countries around the world, from Indonesia and the Philippines in Asia, to South America and Africa.

JICA supports construction of railways, and also conducts traffic survey and transport planning related to establishing railways. These include designing urban transportation master plans, supporting the construction of railways including railway stations, training drivers and conductors, and setting up railway companies. In this article, JICA's work for safe railway operation in India and Bangladesh is introduced.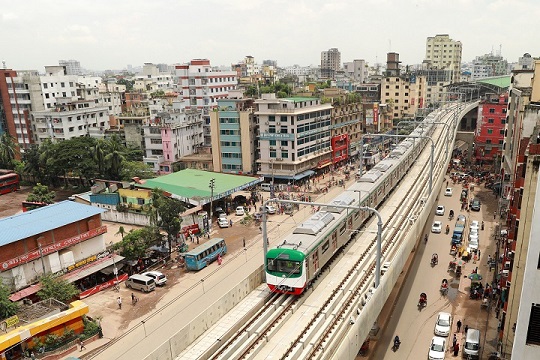 MRT (Mass Rapid Transit) Line 6 in Dhaka
India: Utilizing the knowledge and experience of the Japan Transport Safety Board for preventing railway accidents
India's railway has the longest history among Asian countries and one of the largest railway networks of about 68,000km. The number of staff is about 1.3 million. Though the latest railway technologies and operation systems are being introduced, aging railway facilities and insufficient maintenance are still an issue. In recent years, the precious lives of many passengers have been lost in serious accidents.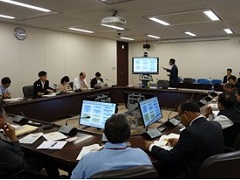 The executive officers of the Ministry of Railways from India joining in railway accident investigation training in Japan. The lecturer is OKUMURA Fuminao, a board member of JTSB
Accordingly, JICA started a technical assistance project specializing in improvement of railway safety from 2018. The Japan Transport Safety Board (JTSB), experts in railway accident investigation, cooperates in this project. JTSB shares their methods and skills in survey and analysis of railway accidents, and also how to prevent accidents based on their analysis. They continue to cooperate to reduce accidents and achieve safer, more secure railways in India.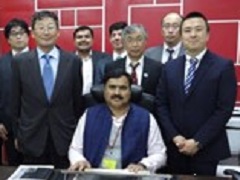 Dr. OKUMURA Fuminao, a board member of JTSB(second from the left)
"JTSB actively cooperated from the beginning of the project by visiting India to share the Japanese accident investigation method. In 2019, a 10-day training program was held in Japan and 10 Indian visitors including executive officers of the Ministry of Railway and the Commission of Railway Safety participated. JTSB shared with the participants the importance of the principle that Japanese accident investigation must stop the reoccurrence of accidents and promote the mitigation of the accident damage by finding the cause of accidents. They do not seek to allocate blame by finding who caused the accident. JTSB will continue to cooperate in improving the safety of the railways in India through this project."
Dr. Okumura, a board member of JTSB, speaks with enthusiasm for the improvement of safety.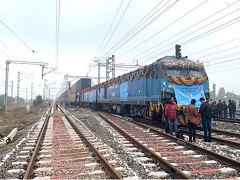 The Dedicated Freight Corridor in India partially inaugurated in January 2020
JICA has about 40 years of history cooperating with the railways of India and the ongoing railway safety project also covers the Dedicated Freight Corridor (DFC) Project where construction is rapidly progressing.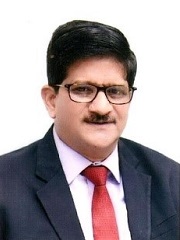 Mr. Ravindra Kumar Jain, managing director of DFCCIL
The staffs of the Dedicated Freight Corridor Corporation of India Limited (DFCCIL), which operates the DFC, has also learned skills, methods and the mindset of safety through participating in training in Japan and the web-seminar for safety management. Mr. Ravidra Kumar Jain, Managing Director of DFCCIL, says, "DFCCIL has always accorded highest priority to the safety at works site. Safety consciousness has to be an integral part of the work culture and must hinge upon "Never give safety a day off"." This expresses his will to establish an organization with the mindset of safety first.
Bangladesh: Achieving the country's first high-speed urban railway with Japanese-style safety management
Bangladesh is known for a larger population and a higher population density than Japan. It has continued a steady economic growth at an average annual rate of 6% since 2011. Its railway has a long history since the colonial era under the British Empire, similar to India, that plays an important role in the people's daily life.

Dhaka, the capital and one of the biggest megacities in the world, has been troubled with traffic congestion and air pollution. It is getting worse day by day.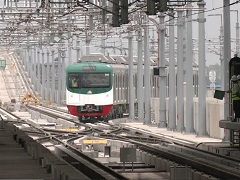 MRT Line 6 doing a test run
JICA started its full-scale cooperation with the railway sector in Bangladesh from the 2000s. Recently, JICA has been implementing loan aid assistance for the development of 3 MRT lines in Dhaka to contribute to establishing an urban public transport network. Furthermore, as supplemental technical cooperation with the Dhaka Mass Transit Company Ltd. (DMTCL) that will be in charge of operation and maintenance of the MRT, JICA commenced assistance for the establishment of a safety management system for DMTCL with cooperation from the Osaka Metro Group and Nippon Koei Co., Ltd in January 2021. The technical cooperation project primarily focuses on MRT Line 6 that plans to start operation in the end of 2022.
NAKAI Nobuo, director of the construction department of the Osaka Metro Servicecommented, "We sometimes see scenes with many passengers riding on the roof of trains in South Asia. In the beginning, I was worried that there might be a huge cultural gap making it difficult to support the DMTCL based on the Japanese transport safety management system. However, in interviews with Dhaka citizens, we found they had higher hopes for safe operation of the MRT than expected. DMTCL staff participate in our training programs with high motivation as well."
Bangladesh aims for compact urban development in its economic growth. It is attempting to transform the current and growing car-oriented society into the Transit Oriented Development that consolidates city functions around modal hubs such as stations. The MRT Line 6, the first MRT in the country, plays an important role in this. Considering both constructing infrastructure and establishing organization and training staff from scratch, getting the staff up to speed on safety is the most significant point.
Mr. Nakai emphasized, "A railway operator should promote the importance of a safety mindset broadly to passengers and citizens." He continued, "Safety related activities in Japanese railways are sophisticated and matured based on valuable feedback from past accidents. We always keep in mind enhancing a safety mindset and deepening the insight of DMTCL staff by not teaching them only superficial safety management systems but teachingthe substantial aspects. Although our main target is one Dhaka MRT line, we do hope that the enhanced safety mindset will permeate the whole DMTCL, the whole railway sector, the whole transport sector, and finally all other sectors."
Looking ahead to post-corona, updating to a safer and more secure railway
Due to the spread of COVID-19, the restrictions on people's daily life such as the lockdown of cities and remote working have resulted in a significant decrease in the number of public transportation passengers around the world. But public transportation plays an important role as a means of transportation for essential workers. It is expected that it will continue to play a major role as a basis for citizens to commute to work and school. In post-COVID-19, safer railway operations will be needed, including infection control measures worldwide.

TANAKA Keisuke, Team 3, Transportation Group, Infrastructure Management Department, JICA, talks as follows about JICA's future cooperation in the railway field.

In addition to mitigating traffic congestion and air pollution, which are becoming more serious due to population growth and urbanization, we must consider infectious disease control during COVID-19 and in post-COVID-19 society. Until now, in railways, we have emphasized the viewpoint of "safety" in the sense that accidents do not occur, but in the future, we need to take proper measures against infectious diseases, including from the viewpoint of hygiene safety. As a basis for commuting to work and school, I think it will be important to aim for a safe and reliable urban railway system.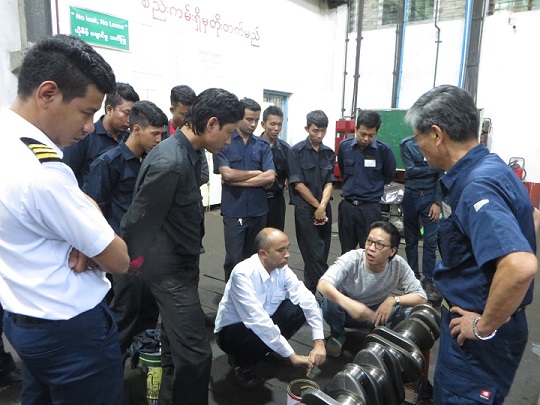 Training on the Project on Improvement of Railway Service and Rolling Stock Maintenance in Myanmar
Source : Japan International Consultants for Transportation Co., Ltd. (JIC)