The Government of the Islamic Republic of Pakistan is promoting the spread of Energy Standards & Labeling (ES & L) by the National Energy Efficiency and Conservation Agency (NEECA) in order to enforce the Energy Conservation Law enacted in 2016. JICA is technically cooperating in the establishment of ES & L for air conditioners and refrigerators in Pakistan.

This technical cooperation aims to reduce the energy consumption of the target appliances, room air conditioners and household refrigerators, by introducing ES & L through the proper implementation of the labeling system, inefficient products are eliminated effectively and step by step and it is aimed to improve energy efficiency on the demand side and promote energy conservation.
In ES & L it is important that the correct information is displayed on the label. For this reason, NEECA has decided to conduct purchase tests on household refrigerators sold on the market to regularly check their performance. In order to strengthen the test capacity, the online training was conducted on the energy consumption test method (IEC62552-3) for household refrigerators in collaboration with the Japan Quality Assurance Organization (JQA).

Attendants of the Seminar commented that it was very useful to accelerate to promote of energy conservation for the electric appliances not only room air conditioners and household refrigerators but also other electric appliances.

Implementation date
October 7th ,14th and 15th , 2021, 2 hours each (3 days)
Lecturer
JQA, Mr. Kazuki Tsuchiya
Attendees (about 50 people)
- Pakistan Council of Science & Industrial Research (PCSIR) (Pakistan National Certification Testing Institute)
- Engineers of household refrigerator manufacturing and importing companies such as member companies of Pakistan Electronics Manufacturers Association (PEMA)
- NEECA
- Pakistan Standards & Quality Control Authority (PSQCA) staff etc.
Lecture content
Online lecture status by JQA instructor and interpreter:
Lecturer: JQA, Mr. Kazuki Tsuchiya,
Interpreter: Ms. Ako Miyazaki
Following energy consumption test method for household refrigerators based on IEC62552-3 adopted by both Japanese and Pakistan standards, specific test methods such as how to set the refrigerator, energy consumption calculation formulas such as introducing calculation examples using Excel are conducted as the practical training.

The training was attended by testers from major household refrigerator manufacturers and importers including PCSIR, a certified testing institute in Pakistan on how to set test equipment for testing and how to evaluate test results and question and answer session was held with practical content.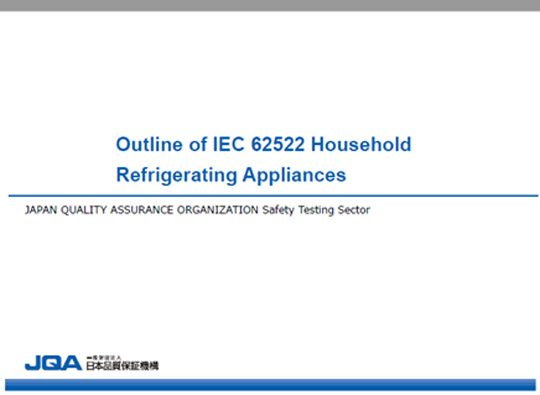 Cover of lecture materials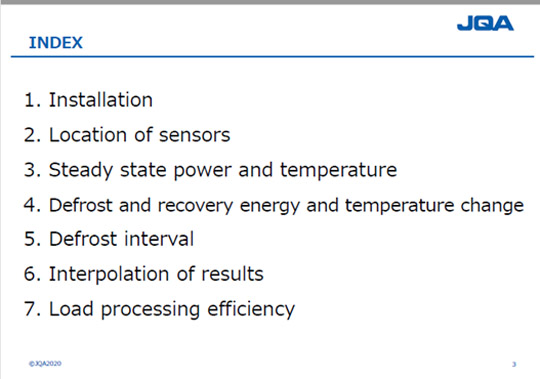 Lecture material table of contents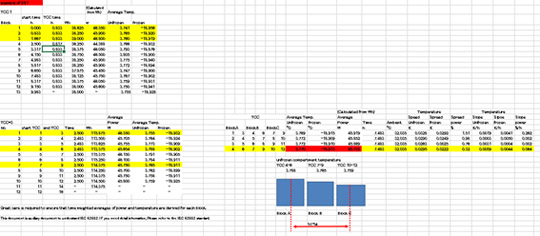 Example of energy saving performance calculation sheet