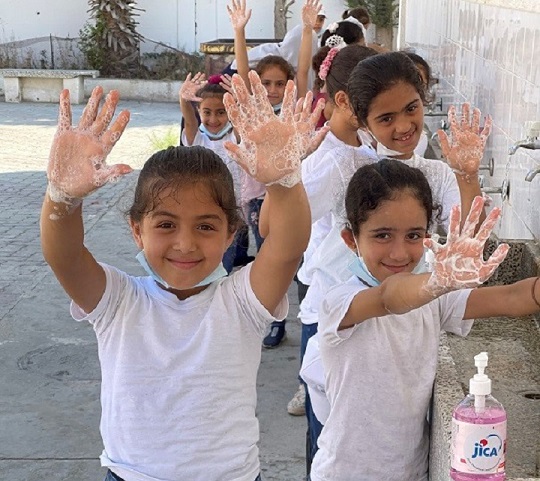 Children washing their hands together at a school in Palestine
Oct. 15 is Global Handwashing Day. It was established in the International Year of Sanitation in 2008, and its purpose is to promote proper handwashing, using soap, throughout the world. On a global scale, around 800 million children have no water supply facility and thus no habit of handwashing, resulting in lives lost to diarrhea and infectious diseases.
As COVID-19 spread throughout the world, JICA launched its "Handwashing for Health and Life campaign" to stress the importance of vigorous handwashing. To reach as many people as possible, last year JICA produced a "manga" to illustrate proper handwashing. It has been translated into 34 languages to date, and is widely used in schools and healthcare facilities. It has also been used in joint campaigns with business to reach out to civic and community groups, and in transportation projects to encourage handwashing. As a result, the importance of handwashing has been conveyed to around 300 million people within this past year.

What matters is the next step. To make handwashing a habit of daily life, we are thinking up new ideas to spread the message about the significance of handwashing throughout the world.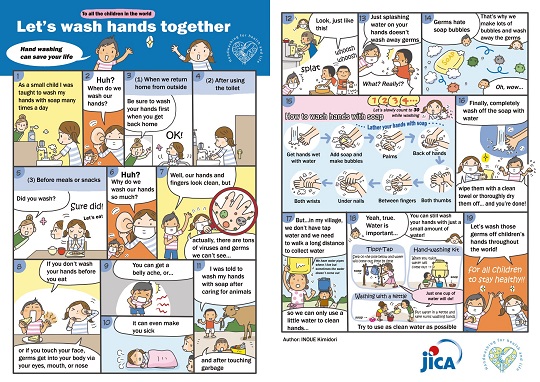 Manga illustrating proper handwashing (artist: INOUE Kimidori)
Manga translated into 34 languages, animation created !
This manga illustration (created by INOUE Kimidori) showing how to wash one's hands properly, was introduced on JICA's website in October last year. Shortly after that, the manga was translated into the local languages at the initiative of JICA's in-country offices. To date, 34 language versions have been produced.

The manga has also spun off an animation, which a major TV company in Bolivia broadcasts on its main news program every day. It seems to have become very popular due to the perceived resemblance of Bolivians and Japanese. The significance of handwashing steadily spread far and wide. In Mongolia, a voice-over has been added and customized to make it understandable to children with visual disabilities. A sign-language translation of the animation has also been created and is shown on the Mongolian education ministry's home page. In a wide range of countries, the animation has become an important tool in teaching proper handwashing.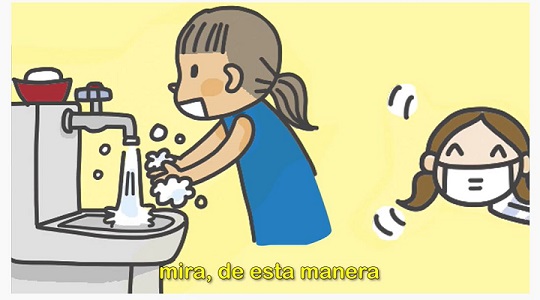 Each country has its own style of conveying the importance of handwashing
Handwashing is taken for granted in Japan, but attitudes to hygiene differ in emerging countries, making it far from an established habit. Against this backdrop, JICA has rolled out many projects to address local challenges on the ground, and to explain the importance of handwashing.

To promote COVID-19 prevention in India, a hygiene campaign called "Achhi Aadat" (a Hindu expression meaning "Good Habit") is under way. This campaign is a collaboration between 13 partner companies and Japanese local governments, etc. It distributes hygiene products and provides guidance on hygiene habits such as proper handwashing, mask wearing, and nail clipping, using a wide variety of tools to deliver its message throughout the whole of India. Yakult ladies in India, when selling Yakult products, distribute handwashing manga to the consumers.


(Left) LIXIL's "SATO Tap" makes it possible even for children in their houses that have no running water to handwash effectively to prevent infection
(Right) Yakult ladies distributing the handwashing manga with their product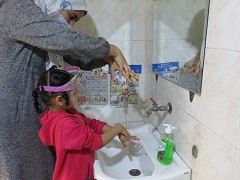 A pre-school teacher in Egypt showing proper handwashing
In Egypt, teaching proper handwashing to pre-school children is making progress. The children are taught how to wash their hands properly valuing the daily activities of "learning through play." The teachers try to promote the handwashing habit in each household as well.


Also, in Kenya, JICA has linked up with Japan Habitat Association to supply toilet and handwashing facilities to homes. The Tippy Tap device makes immediate handwashing possible for everyone. Showing how to install and use Tippy Tap steadily raises the community's awareness of handwashing.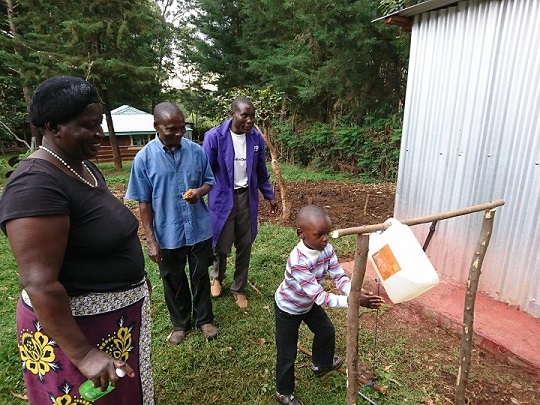 Tippy Tap is a device that uses water collection containers or pet bottles to make handwashing simple
JICA Handwashing for Health and Life campaign secretariat had this to say about the Handwashing for Health and Life campaign going forward:

"Handwashing initiatives have been rolled out on many fronts in the year since we started the campaign. The challenge from now is how to make it a common habit. Continuous reinforcement from a very young age is effective, so we need to educate mothers in maternity and post-natal education to instill the handwashing habit in their children. It is also important to incorporate handwashing into the primary education curriculum. JICA will continue to work with various organizations to promote handwashing, and will introduce good practices to other countries, so that we can make a strong contribution to building an infection-resistant society.