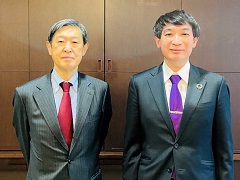 President Kitaoka (left) and Mr. Metoki
On November 11, JICA President KITAOKA Shinichi met with METOKI Masahiko, the incoming director general of the Universal Postal Union (UPU), at JICA headquarters.

At the outset, President Kitaoka congratulated Mr. Metoki on his election as the next director general of the UPU. He added that the postal service is essential, making people's lives more convenient, and it is a sector that can benefit from Japan's comparative advantage. The two exchanged views on the UPU's efforts to make postal services universal in developing countries. President Kitaoka pointed out the importance of enhancing trust towards Japan through various forms of cooperation with developing countries.