In Thailand, JICA continues to support children with special needs and their families, who are facing constraints due to the COVID-19 pandemic. We held workshops mainly targeting children with autism and intellectual disability. Participants from eight ASEAN countries were connected online, allowing the children to join in the exercises from their homes. The participants commented, "This is an innovative and fun workshop," and "I enjoyed working out at home!"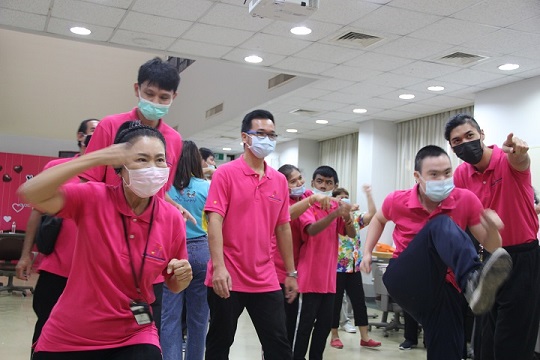 Children at the workshop were hesitant at first but gradually became bolder in their movements and more animated in their expressions
About 300 participants attended a total of three workshops
"Exercise was easy and fun," "It was a great opportunity to get to know the parents who share the same issues," "I was so happy to see my son enthusiastically joining in the exercise."

In March this year, when the world was still filled with uncertainty due to the COVID-19 pandemic, we held an online workshop targeting children with special needs and their families in eight ASEAN countries. The aim of the workshop was to introduce home workouts, and children at home and in other venues joined in remotely from each country and engaged in game-style exercises. They were enthralled with games such as throwing balls and standing on one leg, and their parents and guardians watched on with a sense of relief.


The exercises used items found in any home, such as plastic bags and newspapers. This allowed participants to join in from their homes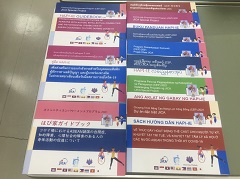 The guidebook comprises ideas on how to play with children with disabilities at home. Targeting eight ASEAN countries, it has been translated into 10 languages and includes exercises based on the traditional dance of Thailand
These workshops were held a total of three times between March and April this year in Thailand. Nearly 100 participants attended each session on different topics. In addition to the exercises for children, there were sessions geared toward parents in each country to share their care concerns. They also discussed a guidebook introducing exercises for children with disabilities.
Promptly responding to increasing issues facing families of persons with special needs
JICA, Asia-Pacific Development Center on Disability (APCD), Tsukuba University and other organizations in ASEAN region helping people with disabilities were desperate to provide support to those in need, and their aspiration led to the opening of the workshops. The reason behind this was the isolation and stress that the families of persons with special needs faced as the COVID-19 spread rapidly. For children with disabilities, being kept out of schools and facilities was an enormous stress. Family members who care for children at home 24 hours a day also felt isolated and anxious for not being able to get help from anyone outside the home.

Preparing for the workshops under the unprecedented pandemic was indeed a challenge, but the swift collaboration among the people involved in Japan, Thailand, and the ASEAN nations made all this happen quickly. These people had been engaged in many activities together to date.


It was Associate Professor SAWAE Yukinori, researching adapted sports for children with developmental disabilities at Tsukuba University, who made arrangements and steered the workshops. He has been working together with JICA as a lecturer for training programs to foster motor skills, adaptability, and positive attitude through sports for persons with special needs and relevant organizations in the Asia Pacific region. Mr. Sawae explained that he prepared for the workshops because he wanted children with special needs and their families to be able to spend joyful times with smiles, regardless of the circumstances.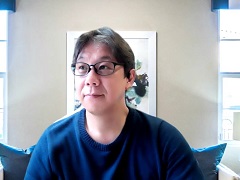 Associate Professor SAWAE Yukinori of Tsukuba University. In the "monster slayer game" at the workshop, the children were delighted to see him play the monster himself
"As we were doing the activities, there were several occasions when I felt frustrated because of language differences that prevented me from conveying nuances properly. However, I believe that this was overcome because of our relationship, in which we were able to patiently communicate again and again until we understood each other without any unpleasant faces. In the future, I would like to promote community sports (including leisure and exercise) for people with disabilities in ASEAN countries, so that the local communities will also be enriched," says Mr. Sawae.


APCD brought together the organizations of persons with special needs from ASEAN countries, gathered the participants together, and coordinated the event in a short period of time. APCD was established with the help of JICA aiming at fostering human resources that support persons with special needs in the Asia Pacific region. Since its establishment in 2002, APCD has deepened its relationships with persons in the field of social welfare and with special needs organizations.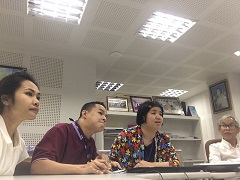 Members of APCD holding a meeting on the workshop.From left to right: Ms.Siriporn Praserdchat, Mr.Watcharapol Chuengcharoen, Ms.Supaanong Panyasirimongkol, and the manager, Mr.Somchai Rungsilp
"We believe in the importance of exercising and maintaining physical and mental health during the COVID-19 pandemic, and that is why we held these workshops. However, even within ASEAN, each person in each country thinks differently and their knowledge varies. For example, there were parents and guardians who were not familiar with online meeting tools at all, so having them join in the activities was a challenge. The guidebook, which was translated into 10 languages after numerous SNS communication with the local offices, is the culmination of our efforts," recalls Mr. Watcharapol Chuengcharoen and Ms. Supaanong Panyasirimongkol at APCD.
Promoting cooperation with various partners to support socially vulnerable people
In Thailand, the COVID-19 pandemic has brought about problems in many households, not only in the families of persons with special needs. Women were subjected to domestic violence, children were abused by their parents, and older adults were unable to receive necessary medical care. In response to these issues, JICA's Thailand Office has been collaborating in various activities.

Assistance has been provided to women in raising their income to become self-reliant, for mental health research for children, and for material support such as masks for the elderly. Educational materials for preventing infection were produced for use in schools, and support was provided for migrants near the border.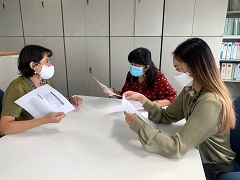 National staff at JICA Thailand Office. They are steering the project from planning to implementation
JICA's national staff were instrumental in realizing many of these initiatives. Although onsite activities were restricted due to COVID-19, they reached out to government bodies and NGOs active in the community, aggregating information from its network, and developed collaborative support measures.
KAWAI Yuko, who is in charge of cooperation in the social security sector at the Thailand Office, explains, "Anyone can suffer from stress and anxiety under the COVID-19 pandemic. Domestic circumstances are difficult to identify from the outside, so helping people with their issues is a challenge. In addition to cooperating with the NGOs and other organizations active in the community, we use our imagination and empathy to tackle the projects." While drawing on the experiences and relationships JICA has accumulated over the years, we will carefully uncover issues that may arise in the future, and continue to cooperate with a range of partners to support socially vulnerable people who tend to be left behind.