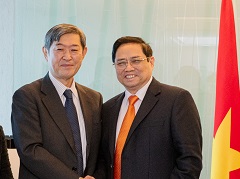 President Kitaoka (left) and Prime Minister Chinh
On November 24, JICA President KITAOKA Shinichi held talks with Prime Minister H.E. Mr. Pham Minh Chinh of the Socialist Republic of Vietnam in Tokyo.

At the outset of the meeting, President Kitaoka touched upon his visit to Bach Mai Hospital in Hanoi, which was at the forefront of the COVID-19 response, during his visit to Vietnam in December 2020. He mentioned that he was impressed by Vietnamese government's successful measures against COVID-19, including the acceptance of patients from Laos and other neighboring countries. He expressed JICA's intention to do everything possible to suppress the COVID-19 pandemic and simultaneously enhance economic development in Vietnam.

In response, Prime Minister Chinh expressed his appreciation for JICA's support and added that he would like to deepen their discussions to achieve a cooperation in a new era aiming at recovery and development from the impact of COVID-19.

President Kitaoka highlighted the cooperation with three core hospitals in Vietnam (Cho Ray Hospital, Bach Mai Hospital, and Hue Central Hospital) being a model for promoting "JICA's Initiative for Global Health and Medicine". In addition, he stated that JICA will continue to promote human resource development, including training programs in Japan for next-generation leaders.

JICA will continue to pursue its cooperation with Vietnam based on three pillars; 1) promotion of economic growth and strengthening international competitiveness, 2) response to fragility (addressing environmental issues and climate change), and 3) good governance.