In Iran, aquaculture has a long history of more than 50 years and aquaculture production such as carp, rainbow trout and sturgeon has exceeded 440,000 tons annually. The country is currently aiming to develop the Marine Cage Aquaculture and needs to gain more knowledge on how to improve productivity while protecting the marine environment. This includes environment friendly feeding methods, cage structure and Japan's regulations in this field.

During FY 2021, JICA organized a series of seminars on Marine Cage Aquaculture for the experts of Iran Fishery Organization(IFO) and Fishery related members of JICA Alumni Association to share information about Aquaculture in Japan. A total of 250 relevant people attended in this event and was completed successfully.
The Seminar themas and the lecturers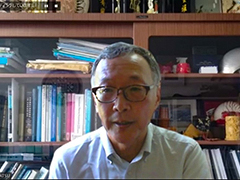 No.1 July 26,2021, Marine Cage Aquaculture (Introduction)
Lecturer: Prof.Dr. Yoshimatsu TAKAO / Mie University Professor Emeritus, Aquaculture experts
Contents: History and Overview of Japan's Marine Cage Culture, Aquaculture and fisheries cooperatives, Types of sea cages and structure, Sustainable aquaculture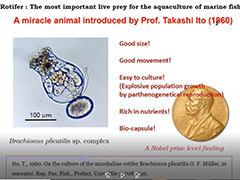 No.2 August 23, 2021,Marine Cage Aquaculture (Exposition 1)
Lecturer: Prof.Dr. Yoshimatsu TAKAO / Mie University Professor Emeritus, Aquaculture experts
Contents: Artificial seedling production, Artificial seedling production technique as an example the red sea bream.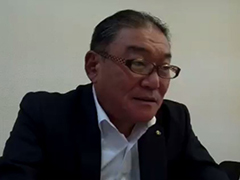 No.3 November 8, 2021, Marine Cage Aquaculture (Exposition 2)
Lecturer: Mr.Yoshiomi TAKAYOSHI / Nittoseimo Co., Ltd. Senior Managing Director
Contents: The structure and preserve installation techniques of Marine Cage in Japan


No.4 January 31, 2022 January 31, Marine Cage Aquaculture (Exposition 3)
Lecturer : Dr. Junya HIGANO / Marino Forum 21 ,Executive Technical Adviser
Contents: "Marine Cage Culture and Environment"

Cooperation with the aim of Sustainable Aquaculture !
The main focus of throughout this series seminar was "reduction of environmental load". It's imperative for the Iranians to not only improve productivity but to protect the environment as well. In addition to the highly environmental awareness, the knowledge and technical level on aquaculture and fisheries of the Iranian side is quite high.

Every Japanese lecturer with a professional expertise and full of knowledge was well received by Iranian side and the advanced question-and-answer sessions have been taken a place.

Due to the COVID-19, it has not been realized the training in Japan for the past years, however, Iranian side is very glad to be able to deepen the knowledge by having a meaningful seminar about Marine Cage Culture in FY 2021.

From FY 2022 if the situation will get improved, JICA plan to carry out the training in Japan on " Management of Production in Marine Cage Culture " to target the experts of Iranian Fishery Organization.

Based on the knowledge gained in this seminar, we hope the participants is able to visit the actual farming sites that have been practiced in Japan as soon as possible.