Overview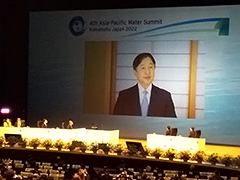 Their Majesties the Emperor of Japan delivers his speech at the Opening Ceremony
Name of the event: 4th Asia-Pacific Water Summit Kumamoto Japan 2022
Date: 23-24 April, 2022
Organizers: Kumamoto City of Japan and Asia-Pacific Water Forum (APWF)
Location: Kumamoto Jo Hall (Sakuramachi, Chuo-ku, Kumamoto City, Kumamoto, Japan)
Moderators and panelists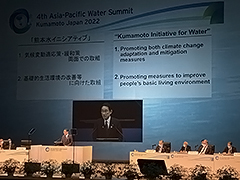 Announcement of the Kumamoto Initiative for Water by Prime Minister Kishida at the Summit-level Meeting
- Government officials, including heads of state, heads of government, and cabinet-level officials from the Asia-Pacific region (11 out of 49 countries participated by face-to-face.)
- UN agencies, other international and inter-regional organizations, research institutes, NGOs/NPOs, private companies and business entities working on water-related issues in the Asia-Pacific region
- Japanese government ministries and agencies, local governments and business entities, specialized agencies working on water-related issues in the Asia-Pacific region (government agencies, private companies, academic institutions, NGOs/NPOs, etc.)
- Including online and video messages, approximately 3,000 participants from 38 countries
Primary objectives and outcomes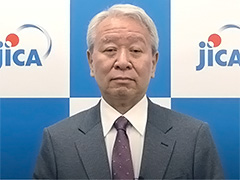 Statement by President Tanaka at the 4th Asia-Pacific Water Forum
Overarching Theme: Water for Sustainable Development - Best Practices and the Next Generation -

Through online and face to face discussions by leaders and ministers from the Asia-Pacific region (49 countries), the conference deepened awareness of water issues and promoted action to resolve them. 4th APWS adopted "Kumamoto Declaration", which is expected to make a great contribution to lead to the achievement of the Sustainable Development Goals (SDGs).

Content of the discussions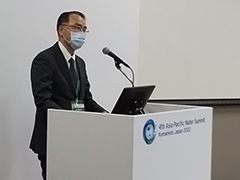 Senior Vice President Onodera delivers opening remarks at the sub-sessions Water Supply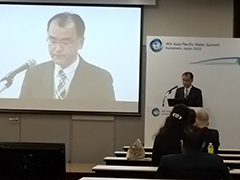 Senior Vice President Onodera delivers closing remarks at the integrated session Governance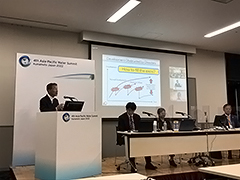 Special Advisor for Disaster Risk Reduction, Mr. Takeya delivers the keynote speech in the integrated session Finance
Their Majesties the Emperor and Empress of Japan attended the opening ceremony online and delivered remarks and a commemorative speech. At the summit-level meeting, Prime Minister Kishida delivered a keynote speech, announced the "Kumamoto Initiative for Water," which offers financial assistance worth approximately 500 billion yen over the next five years, and adopted the "Kumamoto Declaration".

From JICA, President Tanaka contributed a video message to the "High-Level Statement". Senior Vice President Onodera spoke at the thematic sessions on "Water Supply" and "Water and Sanitation/Wastewater Management," and the integrated session on "Governance". Special Advisor for Disaster Risk Reduction, Mr. Takeya, spoke at the integrated session on "Finance". In these presentations, JICA explained its track record as the world's largest bilateral aid organization in the water sector and its cooperation policy on various water-related issues such as climate change, disaster risk reduction, water supply and sewerage, irrigation, and integrated water resources management.

In the thematic session "Water Supply," the Managing Director of the Samoa Water Autority presented the case study of how JICA's support in collaboration with water utilities in Okinawa Prefecture has achieved remarkable improvements in water service and water utility management.

The results of the conference will be disseminated to the international community including the UN Water Conference scheduled for March 2023.