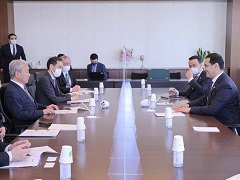 scene from the meeting
JICA President TANAKA Akihiko met with H.E. Mr. Sardor Umurzakov, Deputy Prime Minister and Minister of Investments and Foreign Trade of the Republic of Uzbekistan, at JICA Headquarters on April 22.

They exchanged views on the past cooperation between and future prospects for Japan and Uzbekistan, touching on such issues as the meeting held by H.E. Mr. Shavkat Mirziyoyev, President of the Republic of Uzbekistan, with then-JICA President KITAOKA during his visit to Japan in December 2019.

President Tanaka commented on the relationship of trust between Uzbekistan and Japan, conveying that Uzbekistan is an important partner for Japan. He also expressed his belief that cooperating in areas such as job creation, investment promotion, healthcare, and infrastructure development will become even more important in light of the impact of crises facing the international community, such as COVID-19. He also communicated his desire to strengthen relations between Japan and Uzbekistan through education-related exchanges of personnel and other activities, and thereby contribute to the stability and development of Uzbekistan.

Deputy Prime Minister Umurzakov noted the importance of cooperation for employment stability and economic growth, and explained that the Horticulture Value Chain Promotion Project, agreed upon by the two countries in December 2019, is helping to promote agriculture in Uzbekistan, strengthen export capacity, and create jobs in rural areas. He expressed appreciation for JICA's cooperation in human resource development through Knowledge Co-Creation Programs, and he expressed his hopes for cooperation in the areas of power generation including renewable energy, agriculture including horticulture and livestock production, and industrial human resource development. He also conveyed his interest in the development of Uzbekistan's health and medical care through Japan's expertise in this field.

JICA will continue to promote economic growth and social development in Uzbekistan through multifaceted cooperation that combines human resource development and infrastructure development.