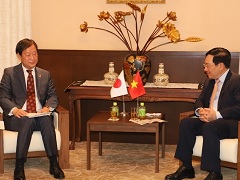 Scene from the meeting
JICA Executive Senior Vice President YAMADA Junichi met with the First Deputy Prime Minister of the Socialist Republic of Vietnam, Pham Binh Minh, in Tokyo on May 27.
Mr. Minh had spoken at the 27th International Conference on the Future of Asia on May 26, stating the importance of trade, investment, and supply chains for economic normalization, and the need for bilateral and multilateral cooperation towards this purpose. In light of these comments, at the start of the meeting, Mr. Yamada remarked upon JICA's commitment to make utmost effort to promote robust and inclusive growth in Vietnam.

In response, Mr. Minh stated that Vietnam is aware of the importance of Japanese ODA to Vietnam as Japan being the largest donor of ODA to Vietnam. He also stressed the needs of further cooperation to strengthen Japan-Vietnam relations and utilize the ODA effectively. Mr. Yamada responded that JICA will continue strengthening its cooperation towards Vietnam. Both parties frankly exchanged their views for sustainable development of Vietnam and the challenges on project implementation.