From May 18 to 27, JICA President TANAKA Akihiko visited the Republic of South Sudan and the Republic of Moldova as his first trip overseas since taking office in April. As well as attending the completion ceremony of a new bridge over the Nile River in South Sudan, known as the Freedom Bridge, he met with government officials in each country and made field visits to JICA support projects.
South Sudan: Attending the Freedom Bridge completion ceremony, and reaffirming the importance of peace and stability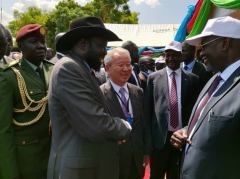 With President Kiir and First Vice President Machar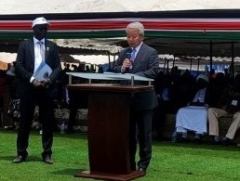 Speech at the completion ceremony
On May 19, President Tanaka attended the completion ceremony of the Project for Construction of Nile River Bridge, which was supported by Japanese grant aid. Construction of the Freedom Bridge, which commenced in 2013 just after independence, was completed over a period of 10 years after South Sudan overcame two armed conflicts and a total of three construction stoppages due to the COVID-19 pandemic. The bridge is the country's first permanent bridge over the Nile River, and is expected to facilitate logistics connecting Kenya and Uganda with South Sudan's capital Juba, and to contribute to the peace, stability, and economic development of South Sudan. The completion ceremony was attended by many dignitaries, including H.E. Mr. Salva Kiir Mayardit, President of the Republic of South Sudan; H.E. Dr. Riek Machar Teny, First Vice President; Rt. Hon. Raila Amolo Odinga, AUC High Representative for Infrastructure Development in Africa and Former Prime Minister of Kenya; and H.E. Mr. TSUTSUMI Naohiro, Ambassador of Japan to the Republic of South Sudan, among others.

In his speech at the completion ceremony, President Tanaka touched on the significance of the bridge as (1) a contributor to logistic and economic development; (2) a tool for nation-building through human resource development; and (3) a symbol of freedom and peace. He also expressed his hope that the opening of this bridge, which has been named the Freedom Bridge by the government of South Sudan, is a sign that peace has been restored to Juba, and that the people of South Sudan will love and utilize the bridge for a long time to come as a symbol of freedom and peace.
President Kiir thanked Japan as a true friend for responding to the country's nation-building needs via cooperation in the construction of high-quality infrastructure. He also explained that the opening of this bridge marks the start of the road to development for South Sudan, and he called on South Sudan's people to make efforts to sustainably maintain not only the bridge but peace, so that the former can be used in perpetuity.

President Tanaka also met with Hon. Simon Mijok Mijak, Minister of Roads and Bridges, and H.E. Mr. Kureng Akuei Pac Garang, Ambassador of the Republic of South Sudan to Japan, and promised to undertake future cooperation with South Sudan, expressing his hopes for strong initiatives by the government of South Sudan toward peace and development.
Minister Mijok and Ambassador Kureng praised JICA's cooperation and leadership in standing with the people of South Sudan, and, with the increasing demand for infrastructure development as peace gets underway, expressed their hopes for Japan's continued support.

Moldova: Affirming the outcomes of Japan's support, and discussing further support in the future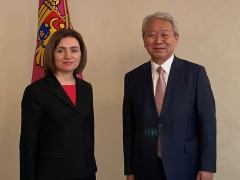 Meeting with President Sandu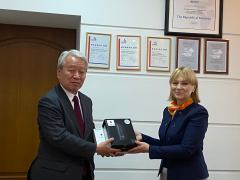 Delivery of medical equipment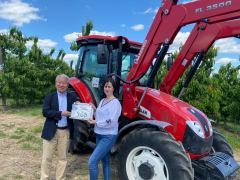 Presentation ceremony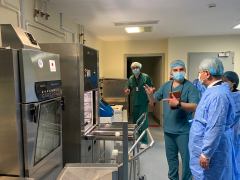 Visiting a hospital
In Chișinău, the capital of Moldova, JICA President Tanaka met with H.E. Ms. Maia Sandu, President of the Republic of Moldova; H.E. Mr. Dumitru Budianschi, Minister of Finance; H.E. Mr. Viorel Gherciu, Minister of Agriculture and Food Industry; and H.E. Dr. Ala Nemerenco, Minister of Health. President Tanaka also officially handed over medical equipment provided as assistance to countries neighboring Ukraine, and visited a facility for the intake of displaced persons from Ukraine as well as a farmhouse and a hospital, which have been supported by JICA projects.

In his meeting with President Sandu, President Tanaka spoke on JICA's cooperation with Moldova to date, thanked the Moldovan side for their efforts to help facilitate JICA projects, and expressed his hope for further cooperation in the future. President Sandu expressed her gratitude for JICA's efforts in considering and implementing prompt assistance measures, especially in the field of health and medical care, in response to the Russian invasion of Ukraine. The two sides then discussed possibilities for future cooperation in various fields, including health, agriculture, and climate change countermeasures.

During meetings with the ministers, specific possibilities for future cooperation were raised. During President Tanaka's meeting with Minister of Health Nemerenco, President Tanaka handed over the medical equipment aiming at improving systems for delivering medical care in Moldova, which are currently under pressure from the influx of displaced persons from Ukraine. The Minister of Health expressed her gratitude for JICA's technical cooperation, noting that her own participation in JICA's Knowledge Co-Creation Program had made a great impact on her career.

President Tanaka visited farmers who have purchased and utilized agricultural equipment with support from JICA*1 and handed over new tractors to them—their most recent purchases. During his visit to the hospital, he heard how medical equipment provided with JICA support*2 helps contribute to the establishment of stable healthcare infrastructure in Moldova. In addition, during his visit to the facility for the intake of displaced persons from Ukraine, JICA mission confirmed the importance of the role that Moldova plays in supporting Ukraine, as it receives a large number of displaced Ukrainians.


*1 To support Moldova's agricultural sector, JICA provides modern agricultural machinery and equipment to small- and medium-scale agricultural enterprises through the "Project for Modernization of Agricultural Machineries and Equipment," a Japanese ODA loan program for the improvement of agricultural productivity.

*2 To support Moldova's healthcare sector, JICA is working to help improve healthcare services by strengthening and streamlining the healthcare service supply system. It does so by providing medical and laboratory equipment via the "Project for Improvement of Medical Care Service," a Japanese ODA loan.