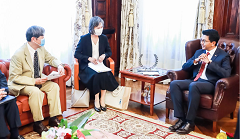 scene from the meeting
On May 24, JICA Special Advisor to the President (former President) KITAOKA Shinichi met with H.E. Mr. Andry Nirina RAJOELINA, President of the Republic of Madagascar during his visit to the country.

Dr. Kitaoka spoke of the development potential of Madagascar in light of the country's hardworking people, and explained how Japan's experience of modernization could contribute greatly to solving Madagascar's development issues. He also introduced JICA Chair (JICA Program for Japanese Studies), on which he offered a lecture during his visit.

In response, President Rajoelina assented the importance of learning from Japan's experience as well as his appreciation for JICA's cooperation, which is in line with Madagascar's development priorities in education, agriculture, energy, water, and infrastructure development.

Both parties exchanged views on Japan's experiences in the modernization process with regard to measures to promote agriculture, as well as the challenges and potential of agriculture in Madagascar.