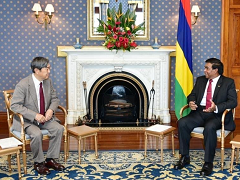 scene from the meeting
On May 27, JICA Special Advisor to the President (former President) KITAOKA Shinichi met with H.E. Mr. Prithvirajsing ROOPUN, President of the Republic of Mauritius during his visit to the country.

Praising the natural beauty of Mauritius, Dr. Kitaoka mentioned that he was heartbroken for ship-grounding of the bulk carrier MV WAKASHIO in 2020, and that JICA had offered its utmost cooperation in its cleanup. He also stated his belief that sharing Japan's experiences of modernization can contribute to solving problems in developing countries, and explained that JICA Chair (JICA Program for Japanese Studies) is being implemented for this purpose.

In response, President Roopun expressed his appreciation for Japan's prompt assistance at the time of the accident, and expressed his agreement on the importance of sharing Japan's experiences.

Both parties also communicated their interest in deepening the future-oriented and cooperative relationship between Mauritius and Japan.