Time:
17:00 - 18:40 (CEST)
16:00 - 17:40 (WAT)
18:00 - 19:40 (EAT)
00:00 - 01:40 (+1) (JST)
15:00 - 16:40 (UTC)
Location:
Hybrid event (Zoom webinar / Onsite venue in Paris, France)

*General public can join online (no registration required)
*Meeting link:
Language:
English, French (simultaneous interpretation available)

Organizer:
Japan International Cooperation Agency (JICA)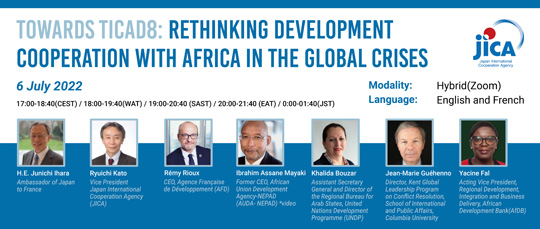 Background and Objective:
Africa has been hit by multiple global crises simultaneously. The COVID-19 pandemic brought the first recession in twenty-five years to Africa, setting back progress in poverty reduction, causing massive loss of employment, and depriving children of learning opportunities, among other things. As Africa attempted to recover from the impact of COVID-19, sluggish vaccination progress and the war in Ukraine obstructed the continent's transition to post-pandemic development. The global increase in food prices and fertilizer triggered by the Ukraine crisis has translated into serious food insecurity, with adverse socio-economic impact. In this context, international solidarity is needed to better support Africa's recovery towards resilient and inclusive socio-economic development and achievement of Human Security.

The 8th Tokyo International Conference on African Development (TICAD8), to be held this August, is expected to be an opportunity to showcase strong international solidarity to overcome Africa's challenges. Ahead of TICAD8, the Japan International Cooperation Agency (JICA) is hosting this high-level event to discuss paths for advancing development cooperation in Africa in response to the current crises with representatives of its important partner agencies.
Programme
17:00 - Opening
17:05 - 17:10 - Opening remarks:
- H. E. IHARA Junichi, Ambassador of Japan to France
17:10 - 17:20 - Video Message:
- Dr. Akihiko Tanaka, President, Japan International Cooperation Agency (JICA)
17:20 - 18:30 - Panel discussion
18:30 - 18:40 - Q&A session
18:40 - Closing
Panelists and moderators
Panelists
- Mr. Rémy Rioux, CEO, Agence Française de Développement (AFD)
- Mr. KATO Ryuichi, Vice President, Japan International Cooperation Agency (JICA)
- Mr. Jean-Marie Guéhenno, Director of SIPA's Kent Global Leadership Program on Conflict Resolution, Columbia University
- Ms. Yacine Fal, Acting Vice President, Regional Development, Integration and Business Delivery, African Development Bank (AfDB) (*joining online)
- Ms. Sarah Poole, UNDP Deputy Regional Director and UNDP's Deputy Assistant Administrator (*joining online)
- Dr. Ibrahim Assane Mayaki, former CEO of AUDA-NEPAD (*video message)

Moderator
- Ms. Ragnheiður Elín Árnadóttir, Director of Development Centre, OECD
Contact:
Kreab Tokyo (PR agency) jicaevent@kreab.com