People all over the world enjoy sweets and desserts made from chocolate and cocoa after meals or during breaks from work. Few are aware that much of the cacao used in their production is harvested by children who are forced to work instead of attending school. JICA recently collaborated with Deloitte Tohmatsu Group in an initiative that used blockchain technology in an effort to eradicate child labor and safeguard children's educational opportunities. The project took place in Côte d'Ivoire in West Africa, where many children labor in support of the world's largest cocoa-producing country.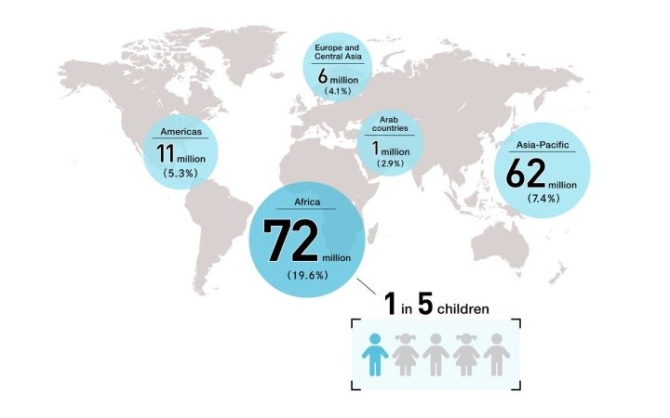 Number of child laborers in each region. The figures in parentheses are the proportion of children who are laborers.
Child labor is on the rise in Africa: One in five is now involved.
The International Labor Organization (ILO) estimates that one in ten children are child laborers. In Africa, where child labor is most common, the rate is one in five. Seventy percent of the world's working children are engaged in the agricultural sector, which includes the production of cacao and coffee beans. Most of them are also engaged in domestic labor, helping their parents and not attending school. Because it deprives children of educational opportunities, child labor continues to be a global problem. Although it has been decreasing in the Asia-Pacific region, Latin America, and the Caribbean since 2016, it is actually increasing in Sub-Saharan Africa.

One of the major issues regarding child labor is that it prevents children from attending school. Depriving children of educational opportunities greatly limits their future access to jobs that provide sufficient income.

Côte d'Ivoire accounts for 43 percent of the world's cocoa production. It is reported that 38 percent of the country's children between the ages of 5 and 17 who are raised in cocoa-producing households are engaged in child labor related to cocoa production.*1 There are multiple reasons for the proliferation of child labor. Côte d'Ivoire's many small, family-owned farms rely on children for labor—a practice that has been passed down from generation to generation. Another major factor is that as consumers demand cheaper products, costs are shifted onto farmers, reducing their income. Of course, using children for the labor helps lower costs.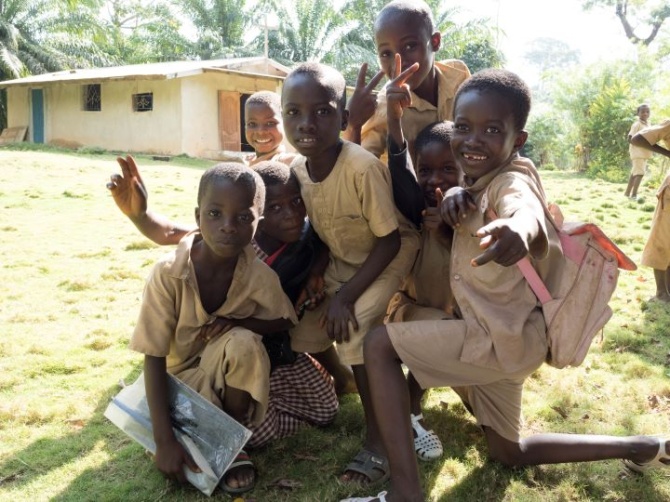 School children in the rural community of Gagnoa, south-central Côte d'Ivoire. The enrollment rate of primary school in Côte d'Ivoire's largest city of Abidjan is 91.1 percent and the junior high school enrollment rate is 62.4 percent. In contrast, the enrollment rate in rural areas is lower: 74.1 percent for primary schools and 38.5 percent for junior high schools. (From Integrated regional survey on employment and the informal sector 2017)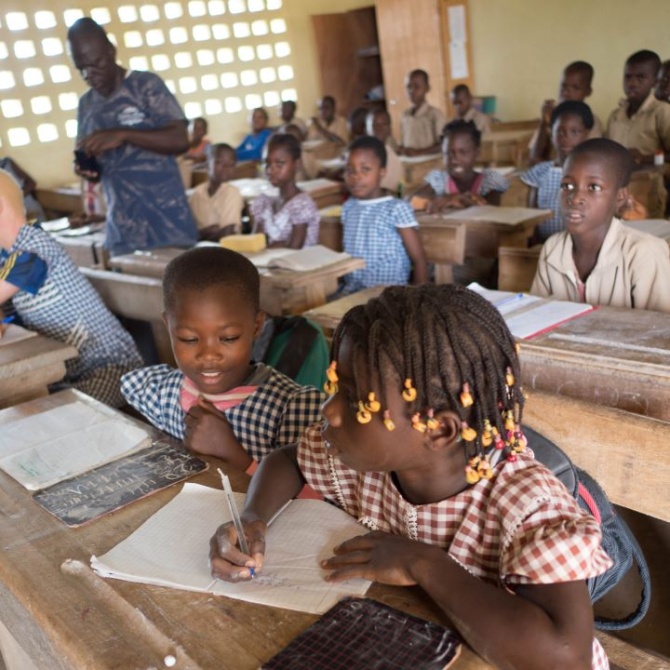 Children attending classes at the same school as above. The literacy rate among those aged 15 and older in Côte d'Ivoire has improved significantly, from an extremely low 43.9 percent in 2014 to 89.9 percent in 2019. However, many people in rural areas are still unable to read and write. (From UNESCO Institute of Statistics: http://uis.unesco.org/en/country/c)
The blockchain-based child labor deterrent system
In order to eliminate child labor, it is important to make the production process of cacao transparent. This makes buyers such as exporters, retailers, and consumers aware of issues related to production, including child labor and farmer poverty. Buyers who are aware of these problems can be encouraged to purchase sustainable cacao instead at a premium (incentive) price. Paying this premium to farmers who do not employ child laborers not only improves these farmers' incomes, but improves their future quality of life by liberating the children from work so that they can receive an education.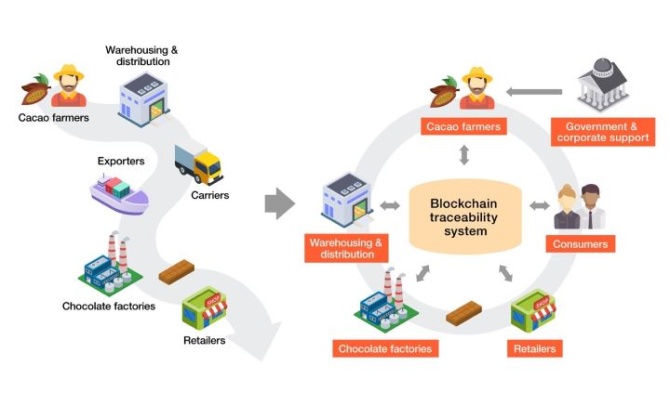 The current supply chain (above left), in which information channels between producers (e.g. farmers) and buyers (e.g. retailers) are not interconnected. Information from the buyer side to the producer side is not traced, making it impossible for retailers, for example, to grasp the nature of problems in production areas. The goal is a circular supply chain (above right) in which producers and buyers share information in real time. Blockchain technology can be used to ensure traceability while preserving information.
JICA collaborated with Deloitte Tohmatsu Group for establishing a system for monitoring child labor by utilizing blockchain technology to make the current situation more transparent.

Blockchain technology allows many participants to share the same data, and protects the reliability of any information shared on this system. It is characterized by its high transparency and low cost of operation, as once registered, all the data is extremely difficult to alter and cannot be erased.

The project started as a trial demonstration in November 2021 in Gagnoa, a rural community 140 kilometers southwest of Yamoussoukro, the capital of Côte d'Ivoire. Participants include farmer-parents of children, members of farmer organizations, teachers and other school staff, and the monitoring team consisting of members of Beyond Beans, an NGO working to eradicate child labor practices in West Africa's cocoa cultivation.

In the first step, school teachers input data of the attendance of the children into a database, while representatives from the farmer organizations also input information as to whether child labor was used on their farms. If two correlated entries did not match, the monitoring team interviewed both parties and conducted field visits before correcting the database entries. Then local traders paid premium prices for the cocoa beans produced by those farmers' groups that had low rates of child labor and high rates of school attendance. Meanwhile, schools were rewarded for the accurate input of information in the form of maintenance and renovation of school facilities, improved school lunches, and educational materials.

As a further incentive, the project team provided cash or mobile funds to farmers' organizations on behalf of the operators. Retailers and consumers did not take part in this demonstration experiment; however, the database will be accessible in the future through QR codes or other means attached to products, allowing buyers to instantly check the information registered with the database. By utilizing blockchain technology with a database, producers and buyers can share information with a high degree of assurance. The application of this blockchain system is also expected to expand in the future to provide information about financial services (such as payments and loans) that are available to farmers.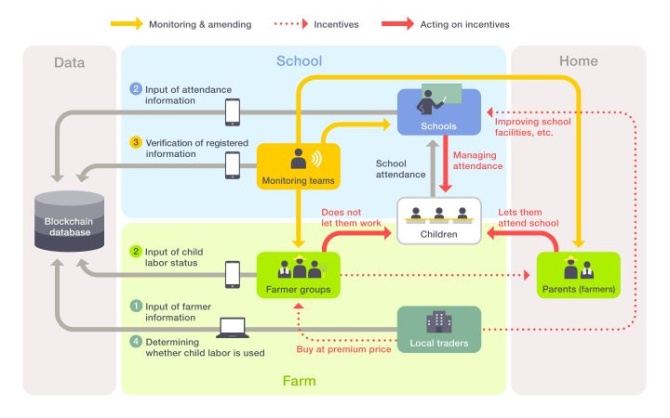 The flow of data input and incentives in a blockchain system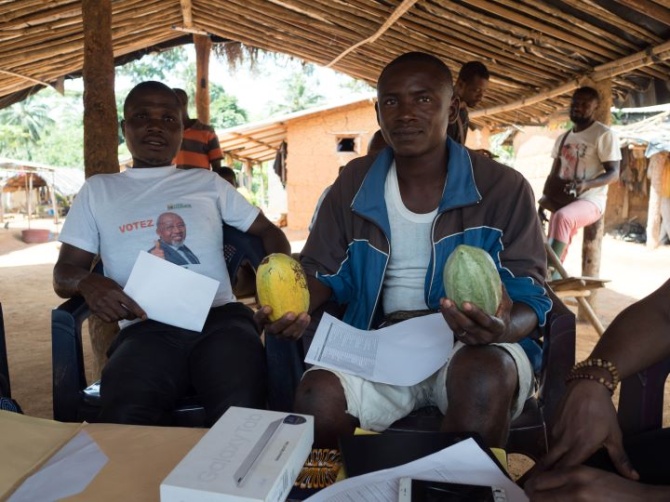 The leader of a local farmers' group (holding cacao nuts) receives a computer terminal in which data will be regularly input.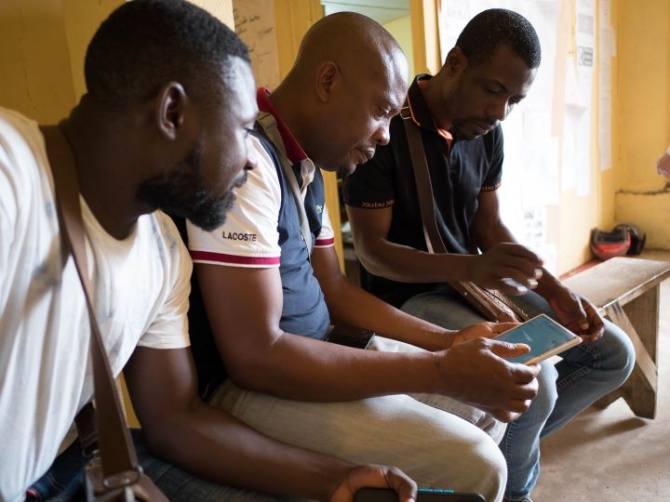 The monitoring team checks information in the database using a terminal.
A successful demonstration: "We want our children to go to school."
ONO Miwa of Deloitte Tohmatsu Consulting was in charge of the field survey. "The farmers and schools we asked to cooperate with this experiment were very supportive," she said. In addition to their curiosity about this novel idea, many of them were eager to see a decrease in child labor. Global awareness of child labor has been increasing. European and US companies involved in the chocolate business need to certify that they use cacao harvested without child labor, and they have been working on programs to eliminate child labor and to improve farmers' incomes. The government of Côte d'Ivoire is also aware of the problem, and is acting on measures such as the regular declaration of the status of child labor, as monitored by NGOs and local volunteers who patrol farmland areas. Prior to this demonstration, the farm management company that got involved was already implementing a program to stop child labor in the area, so awareness of this issue has spread among the farmers as well.

The results of the demonstration experiment proved the effectiveness of this system. The rate of involvement by farmer groups was 100 percent, whereas the involvement rate by schools reached 95.6 percent. When the registered data was inconsistent, the monitoring team interviewed the children and their parents, who confirmed that most inconsistencies were due to input or application errors. Child labor was revealed in three cases out of 2,366 applications (103 cases applications were not made due to the school's communications environment or excessive workload).

FUJINO Kojiro, Chief Representative of the JICA Côte d'Ivoire Office, was involved in the survey. "Our impression is that this system is viable from a technical standpoint," he said. "We think this system will enhance the reliability of child labor reporting because it enables more efficient and accurate monitoring of child labor compared to conventional methods that rely on manpower." He spoke about the needs of the community. "The truth is that farmers want to send their children to school, and their children want to go to school too," he said. "Education is essential to improving their lives. Free of child labor, they can go to school. It's important to design incentives to achieve this."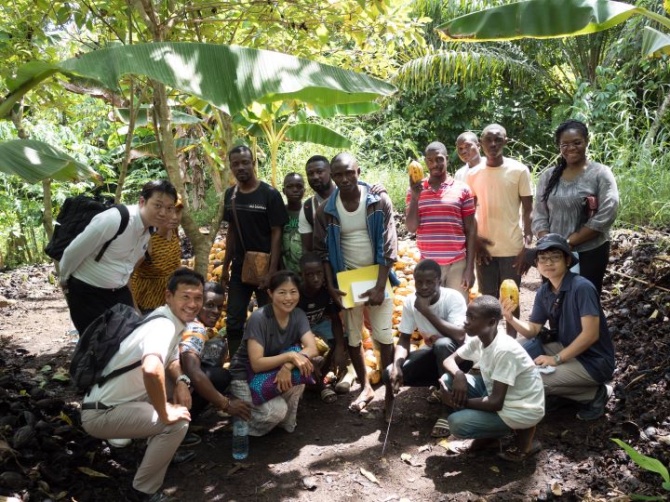 Ms. Ono of Deloitte Tohmatsu Consulting (bottom row, third from left) poses with the research team and farmers who participated in the demonstration experiment.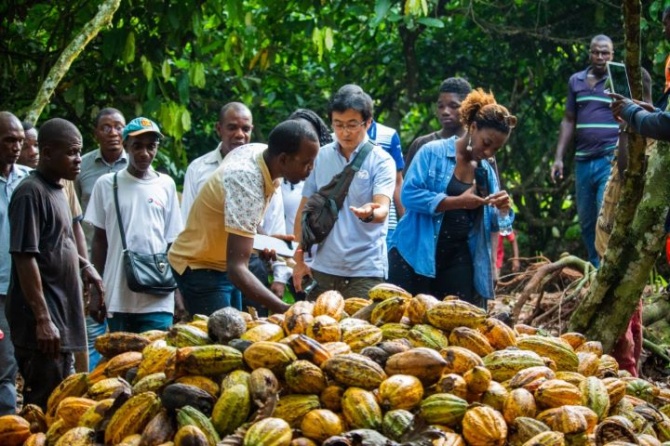 JICA's Mr. Fujino (center) interviewing farmers who took part in the project.
Making the system sustainable
Certain issues were revealed in the process of this field survey. Some data were unable to be input on the application due to the communications environment. The application should be improved so that daily data can be input even in areas with a poor communication. In addition, in order to keep communities involved over time, it is important to provide incentives for farmers who do not use child labor to improve their income, for example, by ensuring their products are purchased at a premium price.

A consumer survey conducted in Japan at the same time as the demonstration revealed that teenagers are the demographic most interested in purchasing sustainable chocolate. The most commonly stated reason was to alleviate poverty and cooperate internationally (nearly 35 percent), followed by the desire to safeguard the rights of cacao producers (31 percent). These results indicate a high awareness of the desire for sustainable products among teenagers. Furthermore, there were people who are willing to spend 1.2 to 2 times as much for sustainable products. However, awareness of sustainability goals is low overall, so the need to raise consumer consciousness about production areas and to encourage consumers to purchase more sustainable products at premium prices remains. The proceeds gained through consumer purchases at premium prices will bolster farmers' incomes, protecting their children's educational opportunities, and creating a "chain of happiness.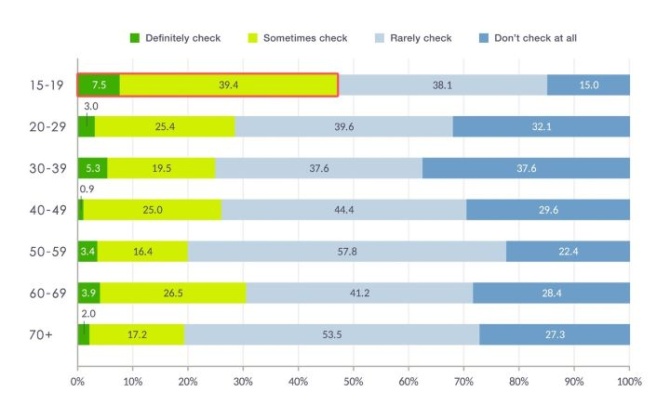 Percentages of sustainable chocolate buyers in Japan who check the sustainable certification mark at time of purchase, by age group. Nearly half of the teenagers surveyed said they check the mark before purchasing—a remarkably high ratio compared to other age groups. (From a web-based survey conducted from October 29 to November 1, 2021. This survey included at least 100 people in each age group; a total of 1,400 respondents)
Based on the results of the experiment, government agencies and companies in Côte d'Ivoire have expressed interest in this system as a new method of monitoring child labor, and are considering using it in other projects. It may be possible to use the system to build upon other programs to eliminate child labor and improve farmers' incomes, helping to achieve a sustainable, positive society where children do not have to engage in child labor and can attend school.

WAKABAYASHI Motoharu, Deputy General Director of JICA's Africa Department, spoke about using blockchain-based traceability systems more widely in the future.

"By recording the origin of mineral resources and timber and distributing products free of human rights issues and fraud, we can protect human rights, and we can also work together to prevent corruption by making administrative procedures transparent via the blockchain," he said. "Technology is a crucial tool for overcoming many of Africa's challenges. JICA intends to continue providing support by connecting social issues with technology."